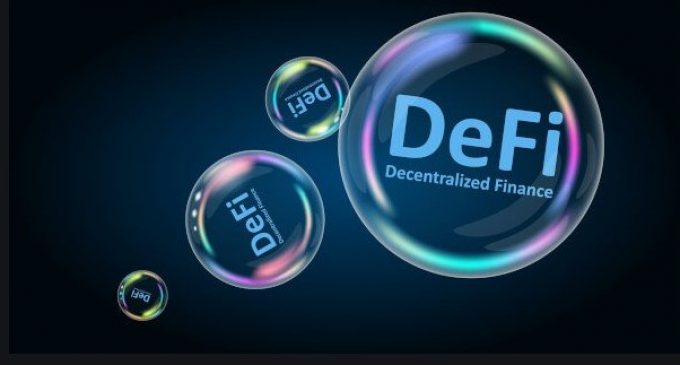 This had not started with the right foot for the cryptocurrency market and we've already covered yesterday how Bitcoin dropped. However, the weakness in Ether, the second-largest cryptocurrency, triggered impulsive selling across most of the DeFi tokens, after being the lead performance for months, these tokens continue to erase gains at an alarming pace, raising questions on their ability to maintain elevated market valuations.
Chainlink (Link) lost 55% since mid-August
Reaching $20 had been a major development for Chainlink, but it had also been the place when the top of the trend took place. Since August 16th, the price dropped impulsively, currently trading below $9, accounting for a 55% drop in little over a month. We've warned that Chainlink might be in a bubble before the price topped and the past month's development only confirms our theory.
There is no encouraging sign for LINK buyers, considering the current price action move is parabolic on the bearish side. It could easily continue to extend further on the downside, in case weakness will persist over the coming days and weeks.
Other DeFi tokens on the same path
A similar situation can be spotted across most of the well-known DeFi tokens. YFI, UNI, and DEX are all down more than 40% from their highs, and between 15%-25% for the past two days alone. Buyers are exiting their position at an alarming pace, as risk sentiment continues to deteriorate across all asset classes, not just cryptocurrencies.
A lot of hope had been associated with DeFi tokens, but it seems like they carry the same speculative nature as any other cryptocurrency, not having the ability to maintain stable valuations over a long period.
Ether weakens – more downside ahead?
Considering the latest market selloff had not been triggered by any specific event, we can assume this is technical development. With valuations overstretched, a reversion to the mean should have been expected.
Since most DeFi tokens are operating on the Ethereum blockchain, a drop in Ether has a meaningful impact on their valuations as well. If we look at the ETH performance, we can easily notice the price broke on the downside, reaching the $330 level yesterday. Sellers gained traction after breaking below a short-term ascending trend line we've mentioned in our last weekly crypto analysis.
Persistent ETH weakness will be bad news for DeFi tokens in the near term. However, we can't speculate if the current selloff is part of a much larger corrective structure. Traders need to monitor how the risk sentiment evolves and most importantly, how the price will react to key technical areas.