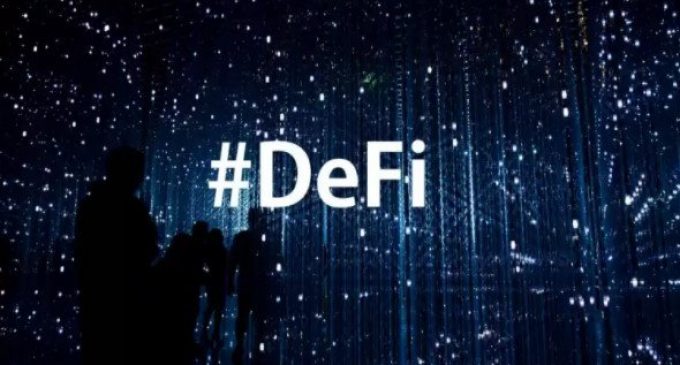 DeFi or decentralized finance is one of the sectors where growth had been skyrocketing and the locked-in value is a great indication with that respect. Even though for the past two weeks cryptocurrencies eased lower as momentum weakened, DeFi projects kept going higher, with Chainlink as one of the most-favored tokens.
Record value locked in DeFi projects
According to Cointelegraph, the locked-in value had surpassed $9 billion recently, showing a great interest in DeFi projects. Aave is leading the way as the biggest one, with approximately $1.71 billion locked, MarketDAO follows with $1.43 billion, and Balance is on the third spot with $136 billion.
This year we've seen altcoins outperforming Bitcoin as risk sentiment improved since March, but DeFi tokens had been major performers, raising concerns about bubble conditions. Recently, the YFI token held by Yearn surpassed $1 billion in market capitalization, while Chainlink, one of the DeFi tokens that had been in the spotlight for months, had an impressive year so far, surging from $1.7 in March, to as high as $20 this month, on the Kraken exchange.
Why DeFi projects sparked so much interest?
The industry is on a rampage and is growing by nearly half a billion dollars per week, as investors are attracted by this new financial innovation. There are multiple reasons why this is happening and some of them are financial data, lending capabilities, decentralized cryptocurrency exchanges (DEX), asset management, and insurance.
Attracted by impressive returns, investors continue to pour money into these projects, but it is also important to note, that despite the massive potential brought by decentralized, there are some downsides associated with DeFi projects as well. To encourage mainstream adoption, companies will need to address security and ease of use issues, considering in their current shape, DeFi can't replace the already outdated financial system.
In the longer-term, however, there is massive potential with DeFi projects, and increased investments will create a self-reinforcing pattern, where companies continue to develop new and innovative solutions with blockchain at their core. The Ethereum blockchain is the foundation for most of the DeFi projects and that can be seen from the massive price performance of Ether in August and more broadly in 2020.
Even though Bitcoin is still the most popular and most-used cryptocurrency in the world, altcoins, including DeFi tokens had a pretty impulsive run this year, showing to the crypto community that a lot of blockchain solutions can be developed outside of the Bitcoin ecosystem.