INTRODUCTION
Eidoo.io is a multicurrency wallet developed by EIDOO SAGL, a company based in Chiasso, Switzerland. The company also offers a hybrid exchange, via its mobile apps and desktop platform. Eidoo's goal is to build a blockchain to human interface in order to simplify the interaction between the blockchain and its users. They also try to make the complexity of the cryptocurrency world more understandable with their special focus on the user experience.

Founded in 2017 by Natale M. Ferrara and Marco Polci, the success of the wallet is due to a 25-member team, well-experienced in the cryptocurrency space. The wallet solution started as a light mobile app for Android and iOS, but in 2018, Eidoo had released a desktop app as well, and in January 2019, the hybrid exchange integration followed. This wallet makes it easy to interface the BTC and ETH blockchain. Through the hybrid exchange, easy swaps between ERC20 and ERC223 tokens are possible.
WALLET DESCRIPTION
Eidoo.io cryptocurrency wallet is available for Android, iOS, and desktop. It supports Bitcoin (BTC), Ether (ETH), and all ETH tokens including ERC20 and ERC223. This means there is a comprehensive list of cryptocurrencies supported, but at the same time, users that want to focus on other altcoins, not just the Ethereum ecosystem and Bitcoin can find the Eidoo wallet not attractive.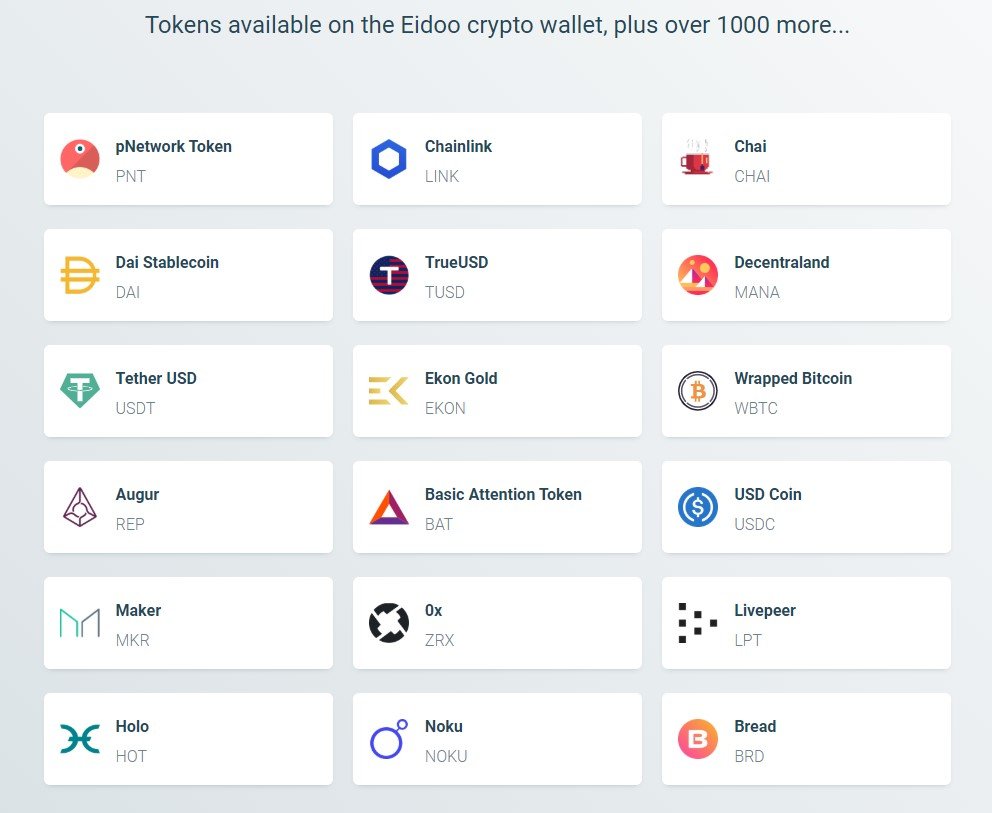 Additionally, Eidoo had a native token – EDO- currently up for trading on several digital exchanges. Users can buy EDO tokens with other digital assets at Binance, Bithoven, Covesting.io, Bitqist, and others.
Speaking of the wallet fees, Eidoo does not charge anything to the wallet access. Users must pay the gas price as transaction fees. They can use EDO tokens to pay for that. The company currently charges between 0.2-0.4 EDO as a transaction fee for a withdrawal. For people wanting to benefit from exchange services alongside the wallet, 0.1%-0.15% is the trading fee.
The good news about the Eidoo wallet is that it comes with a user-friendly interface. Several additional features had been introduced to make the overall user experience smoother. ICO engine and Token Recognition are just two of them. In terms of anonymity, this isn't the right wallet for those wanting to keep their transaction information private. Eidoo complies with AML policies and thus users must provide identification documents to benefit from the wallet and exchange services.
WALLET FEATURES
Some of the most important features of the eidoo.io wallet are as follows:
Support for Ethereum, Bitcoin, all ERC20, and ERC223 coins, which are stored in the wallet with a single backup passphrase.
All private keys are managed by the user and are encrypted on the device.
The Eidoo's Recovery Tool offers a high-security level.
Thanks to light architecture, no full node is required.
Hierarchical deterministic support, which means you can create sub-wallets in order to keep your main wallet address confidential.
Mobile apps for Android and iOS, plus a desktop version of the wallet compatible with OSX, Windows, and Linux.
Collaborations with great projects like Maker, Uniswap, WBTC, and others.
Relatively low wallet fees and trading fees.
AML compliance suggests Eidoo is committed to regulate its activity.
Exclusive access to token offerings (ICOs, STOs, and IEOs).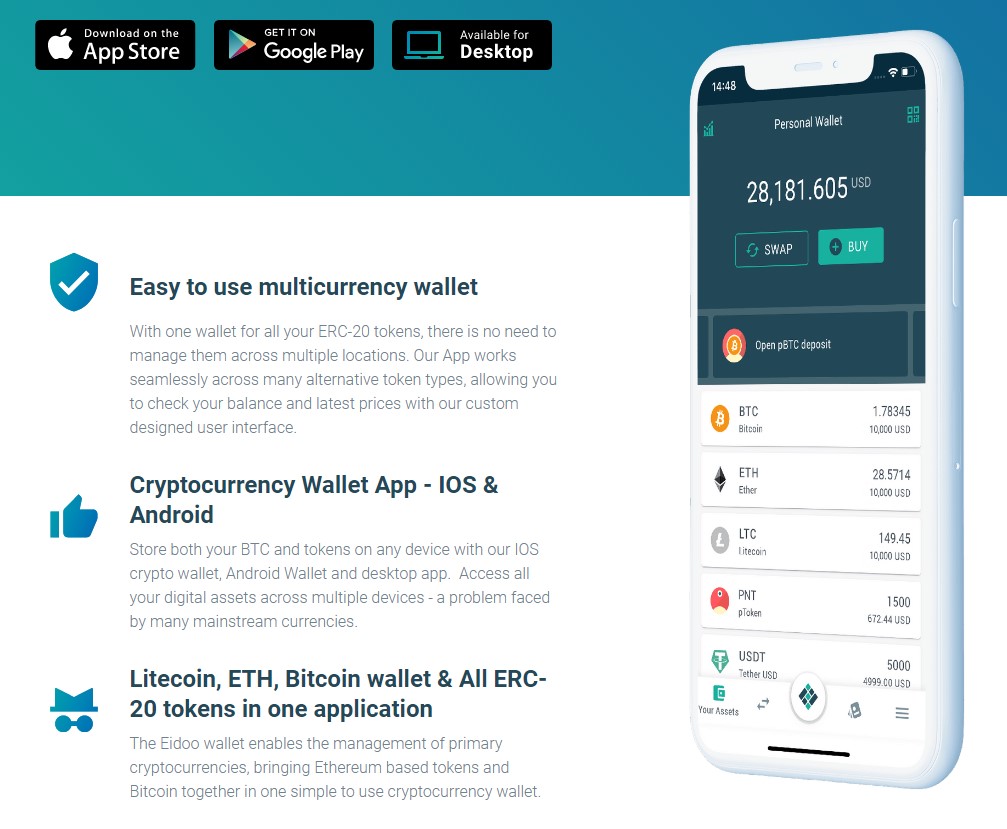 SECURITY
Eidoo.io tried to create a common ground for technologies that find it hard to cooperate due to different visions and have built a tool that manages different technologies via unique user experience. Security is one of the key priorities, the main reason why deep encryption techniques are used to secure users' private keys. This wallet is non-custodial, meaning users must make sure they don't lose the password and seed phrase.
As part of the security features list, Eidoo users HD settings providing a backup phrase, private key stored on the user's device and not a server, plus a recovery tool making it as fast as possible to recover wallets from lost devices.
PROS AND CONS
A multidimensional, multicurrency cryptocurrency platform
The ability to link crypto-powered debit cards
Multiple account types available, each with different features
Support for BTC and ETH-related tokens only
Painful registration process due to the AML compliance and the non-custodial nature of the wallet
Identification requirements needed to start trading or swapping cryptocurrencies on the wallet
SUMMARY
Eidoo is a multicurrency wallet that provides access to a solution supporting Bitcoin, ETH, ERC20, and ERC223 tokens. Backed by a Swiss-based company, Eidoo had been gradually expanding its services since 2017 and is currently providing enhanced services for both retail individuals and businesses. This is without a doubt a reliable wallet solution, but despite its numerous features, it could be an issue for cryptocurrency users wanting access to other altcoins that are not necessarily part of the Ethereum blockchain. Based on your objectives, you can now assess whether the Eidoo cryptocurrency is a wallet worth considering in 2020.