Changelly crypto exchange review
Changelly is an online cryptocurrencyexchange, developedbythe team of cryptocoinenthusiaststhat team of cryptocoinenthusiaststhathave created MinerGate. The people behinfChangelly have an extensive track record in the crypto currency industry and they've managed to gain the trust of their clients in the last few years. Changelly came to life due to the need of a crypto currency exchange that should be simple and cost-savvy.
Main Features
Changelly comes with an affordable offer for their clients and some of their main features are as follows:
• Support for 89 crypto currencies, platforms based on crypto currencies, tokens and many others
• Standard 0.5% commission for each transaction. It is charged after an exchange process is finished, but before your money is sent to a recipient's address.
• Deposit money with Credit or Debit Card.
• Fast execution of transactions. Just enter the amount and the address. Then transfer your coins and that is all.
• An exchange platform developed by a team with one of the longest track record in the crypto currency industry.

The Changelly services are worth to mention because you can get access to the best available rate in the market. The crypto coins reach the final destination for a reasonably low fee.
What stands out when it comes to Changelly is that the exchange manages to facilitate all transactions without the need of a trading platform. In this way, people with little or no background in the crypto currency industry can manage to exchange digital coins without the need of an expert.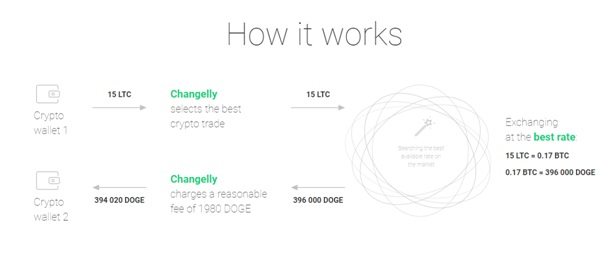 Pros and Cons
Changelly is an exchange developed by a team of crypto currency experts that got involved in other projects as well. It does not rely on a trading platform. Also, there is a standard commission of 0.5% for each transaction. As a whole, Changelly is an exchange that tries to satisfy everybody.
In terms of the negative points, the fees are higher when you want to exchange fiat money. All transactions made via the exchange are not completely anonymous.
Summary
Changelly is an exchange that relies on experts and tries to offer to best services to clients at a reasonably low costs. Their exchange mechanism is fast and it offers access to a wide variety of crypto assets.