Introduction
Bitcoin.com is a website owned by a US company called Saint Bitts LLC that provides wallet solutions for customers that need to make transactions with Bitcoin or Bitcoin Cash. Besides bitcoin wallets, the company offers cloud mining services and the ability to buy bitcoin with a credit card. The website also serves as an educational place for people who want to learn more about the bitcoin system. The website promotes other bitcoin wallet solutions and also hardware wallets, that could be useful for people or institutions that get involved in bitcoin transactions frequently.

Based on the information available on the official website, bitcoin.com is "the fastest Bitcoin wallet ever created" thanks to the ability to store Bitcoin and SLP tokens in one safe place and to pay faster with InstantPay. Live price charts for both Bitcoin and Bitcoin Cash are provided, as well. Let's see some of the most important characteristics and then assess whether this is a trusted wallet for Bitcoin users.
Wallet Description
Bitcoin.com offers wallet solutions for all types of operating systems: Android, iOS, Windows, OSX, and even Linux. It claims more than 11.3 million wallets had been created so far, with several positive customer reviews highlighted on the website. One of the most important functionalities is the InstantPay. Developed for Bitcoin Cash transactions, payments move faster than Visa, MasterCard, and any other cryptocurrency wallet currently on the market. Users simply have to set their spending thresholds, scan the QR code, and their payment will be completed automatically in an instant.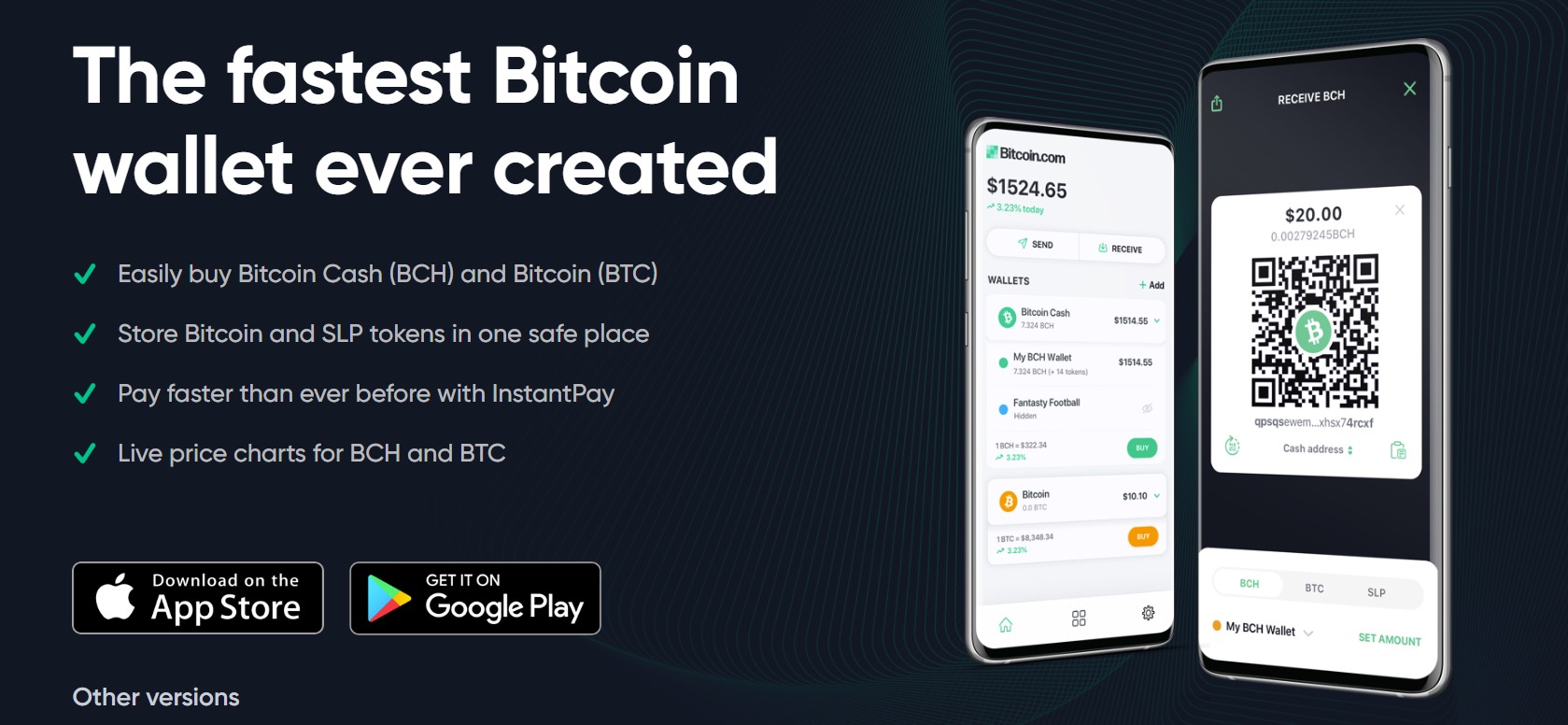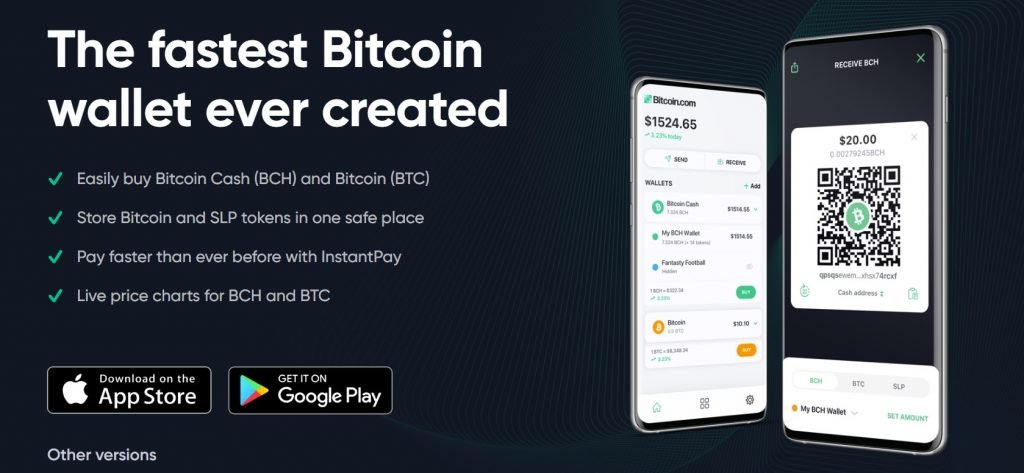 People using the bitcoin.com wallet can store, exchange, and buy Bitcoin and Bitcoin cash easily. The wallet facilities the purchase of crypto using credit cards. At the same time, they can create saving and spending wallets to manage funds. Additionally, there's an option to swap Bitcoin for Bitcoin Cash, or vice versa, at the market rate.
This is a wallet designed to help people send and receive Bitcoin anywhere in the world without bank fees or delays. In the case of Bitcoin Cash transactions, the cost is less than a cent, enabling faster and cheaper cross-border payments.
Wallet Features
Some of the key features of bitcoin.com wallet are as follows:
Multiple OS supported, meaning you have access to your wallet anytime, by using any type of device.
The ability to buy bitcoin fast and easy, using a Credit/Debit Card or a bank account.
Receive funds in a few seconds and request bitcoin payments from any email address.
 Easy to use apps, that do not require advanced knowledge about bitcoin or blockchain in general.
Buy, send, and receive Bitcoin or Bitcoin Cash.
Storage for Bitcoin/Bitcoin Cash in one safe place.
Live price charts for both BTC and BCH.
Fast BCH payments with InstantPay, working faster than Visa or Mastercard.
Manage SLP tokens – send, receive, and store SLP tokens directly in your Bitcoin Cash wallets. Tokens like Spice, USDH, GoC, or SAI exist on the BCH blockchain.
Interactive map locating nearby merchants accepting Bitcoin Cash as payment and the ability to browse websites listed in the app accepting BCH.


Security
Since bitcoin.com is a wallet designed for the wider public, it comes with a series of safety features designed to keep tokens safe. This is a non-custodial wallet app, preventing anybody but you from accessing your assets. It allows you to add personal notes to your transaction history, so you can easily keep track of the account activity. Thirdly, the wallet app supports fingerprint authentication. Lastly, the wallet starts off with a paper backup for enhanced security. Although there are the usual hot wallet vulnerabilities, as long as you take precautionary measures, the likelihood of your tokens being stolen is reduced.
Pros and Cons
Cross-platform crypto wallet, working on Android, iOS, Windows, Mac OS, and Linux.
SLP tokens managements directly in the Bitcoin Cash wallet.
Fast payments with InstantPay, allowing payments in Bitcoin Cash.
Support for Bitcoin and Bitcoin Cash, only.
Relatively high charges for credit card purchases of cryptocurrencies.
No customer support provided via email or phone.
Summary
Bitcoin.com is a cryptocurrency wallet for Bitcoin and Bitcoin Cash providing access to a wide range of features. The list includes InstantPay, storage for SLP tokens, swap between Bitcoin and Bitcoin Cash, live charts for both BTC and BCH, and fingerprint authentication. The app is very popular both on Google Play and on the App Store, benefiting from good ratings and positive feedbacks. It would have been great, though, if bitcoin.com would expand its support for more cryptocurrencies. In 2020, cryptocurrency users are involved in diversified crypto, not just Bitcoin and Bitcoin Cash. Still, in case you want access to a reliable Bitcoin wallet, this is an option worth considering.