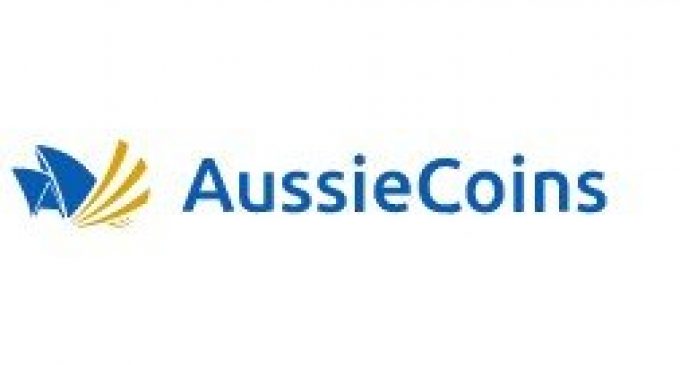 AussieCoins Exchange Overview
As a cryptocurrency exchange platform, AussieCoins is a brand owned and operated by SITA Global PTY LTD. Considering the mother company is based in Australia and at the same time, it's registered with AUSTRAC, this exchange works only for Australian residents. The website aussiecoins.com.au is registered by the local regulator in order to provide services of exchanging fiat into virtual currencies.

At the present time, this is an exchange platform only focused on Bitcoin. You can easily deposit fiat via POLi Payments, PayID, or wire transfer, provide a BTC wallet address, and via the AussieCoins platform you can make the exchange. We would like to provide this AussieCoins Review mainly because the exchange targets a broad audience, not just experienced cryptocurrency individuals.
Registration
One of the most important aspects to note, providing AussieCoins with confidence and reliability, has to do with its registration. As you can easily check on the exchange website, SITA GLOBAL PTY LTD, the mother company, is incorporated in Australia and at the same, it is registered with AUSTRAC. Local regulation requires all cryptocurrency exchange to do so and AussieCoins is not an exception.
Because of that, Australian residents now have a new cryptocurrency exchange brand to work with, benefiting some enhanced features, some of which are described in the next few paragraphs.
Bitcoin Exchange
Via the AussieCoins exchange, you can now buy Bitcoin with no hidden fees or commissions, paying only what you are quoted by the exchange at the time. It is very simple to work with the platform because all features are packed into one account.


To deposit money, the Australian Dollar is the only fiat currency supported. You can use either POLi Payment, PayID or wire transfers. The option for BPAY Payments will soon be available also. Withdrawals will be made to a Bitcoin wallet you provide before the exchange transaction is completed.
AussieCoins made the process simple and you can benefit from quick signup. Open an account, provide your personal details, upload only a driving license, and once you get verified, you can make a deposit and exchange it into BTC fast. Due to flexibility, you can either keep your crypto with AussieCoins or transfer to a personal wallet.
In terms of fees, for POLi Payment/PayID Payment exchange you will pay 11.8%, and for a wire transfer 8.8%. Also, keep in mind the fee is already built into the quote that will be displayed in your aussiecoins.com.au account.
For all accounts, the minimum initial deposit is 200 AUD. If you completed the Client Questionnaire but didn't upload yet the required Proof of Identity (for small transactions it is just a driving license), the maximum amount you can deposit in your account is 5,000 AUD. For funding via wire transfer, there are no limitations, but it is important to note it could take up to a few business days until the funds reach AussieCoins.
Main Features
AussieCoins is a suitable Bitcoin exchange thanks to several important features:
Registration: aussiecoins.com.au is registered with AUSTRAC, the Australian regulator in charge of all the exchange platforms operating inside the country.
Simplicity – the AussieCoins platform is very simple and easy-to-use, even for those with no experience in the field of cryptocurrencies.
Transparency – the exchange provides all the information about fees, commissions, how it operated and it's fully transparent with customers.
Multiple funding methods – deposit via POLi Payment, PayID or wire transfer and send the BTC to your own wallet.
Verification process – for small purchases, you will need to provide your driving license. Only for larger amounts, AussieCoins requires proof of identity and proof of residence.
Affordability – AussieCoins is an exchange created to enable the wider Australian public to the world of cryptocurrencies. Anyone able to deposit at least 200 AUD can buy Bitcoin.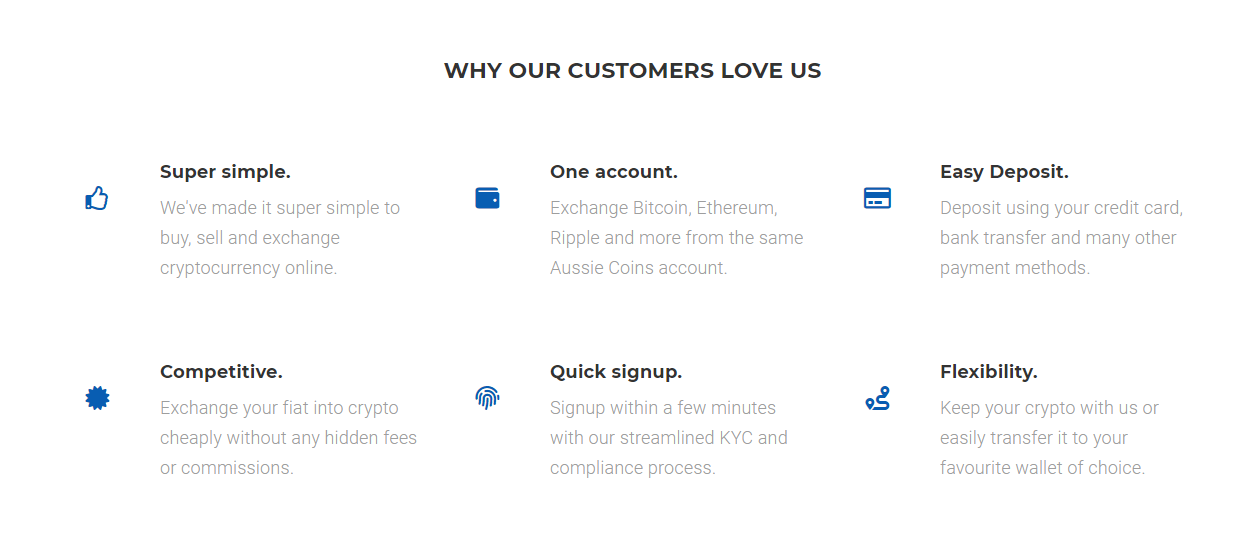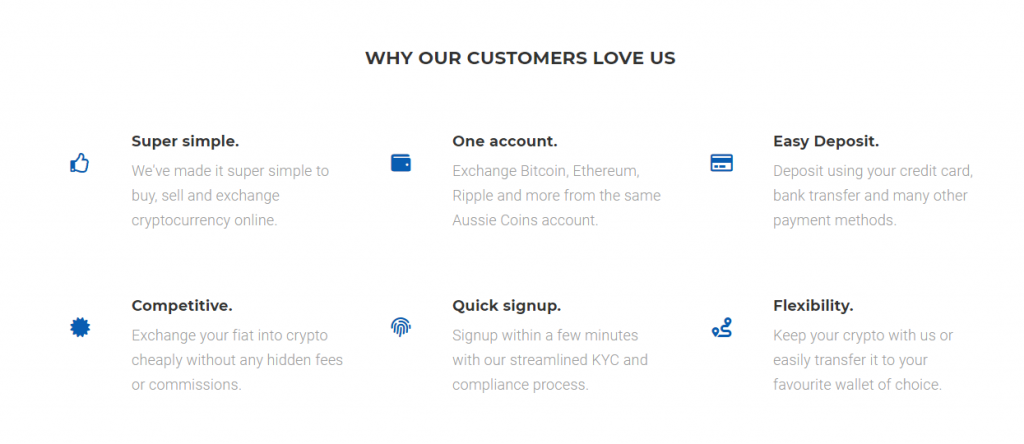 Pros and Cons
AussieCoins is an AUSTRAC-registered cryptocurrency exchange platform.
The exchange ensured transparency and a solid work ethic.
Reliable customer support via email and live chat.
Limited cryptocurrency coverage. For now, you can only buy BTC.
Only Australian residents allowed to use the exchange.
Wire transfer deposits could take up to a few business days.
Summary
Based on our analysis, AussieCoins is an exchange you can work with at any point, due to its transparency and reliability. If you are interested to buy Bitcoin via a simple and convenient platform, then this might be the right pick.
Unfortunately, as we've highlighted in our review, you can only use the services if you are a resident of Australia. That happens because the mother company of AussieCoins is only registered with AUSTRAC. All in all, our conclusion is very positive and this is a trusted exchange. Have you already used the AussieCoins services? Share your thoughts in the comments section below!