INTRODUCTION
Coinsbank.com is a website owned by CB Exchange OU, a company based in Tallinn, Estonia. It offers a wide variety of services related to the cryptocurrency industry: wallet for storage of digital coins, debit cards so clients can have direct access to their wallets without any app or device and it also provides access to an exchange.

Aside from that, Coinsbank had designed a merchant solution, enabling e-commerce and online services to get payments in cryptocurrencies. Our review will focus on its wallet solution and will try to show some of the important features, so you can assess whether this is the right e-wallet to use. At first glance, what we can say is that this solution comes with a series of strengths, but at the same time, there are some areas where Coinsbank could make serious improvements.
WALLET DESCRIPTION
The cryptocurrency wallet you can find at CoinsBank supports Bitcoin, Litecoin, Ethereum, and Ripple. This is a decent offer, considering the company is in the market since a few years ago and in the meantime, there's little done to improve the cryptocurrency coverage. Things are much better when it comes to fiat currencies coverage since Coinsbank supports the US Dollar (USD), British Pound (GBP), Russian Ruble (RUB), Japanese Yen (JPY), Australian Dollar (AUD), and Swiss Franc (CHF).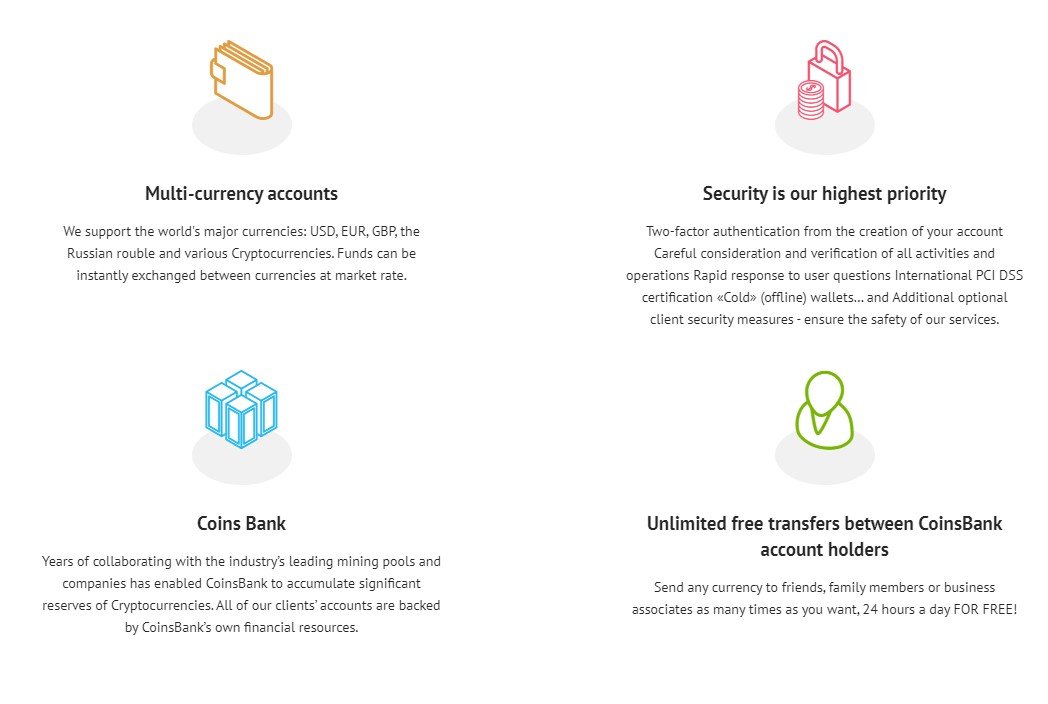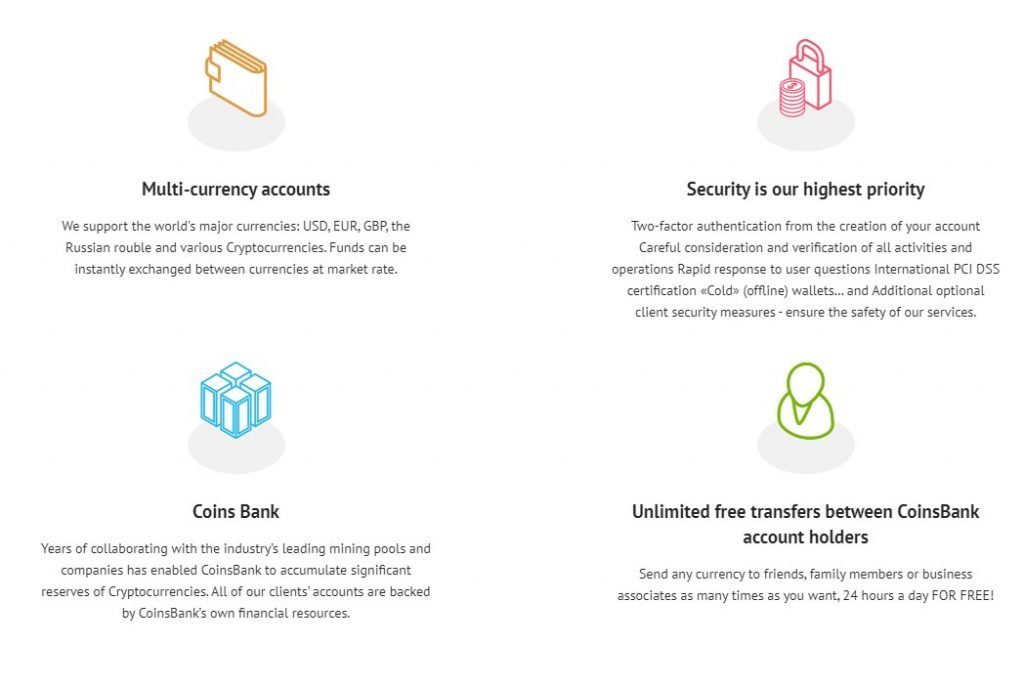 Another important aspect to note is that CoinsBank has years of collaboration with the industry's leading mining pools and companies, which had enabled the accumulation of significant reserves of cryptocurrencies. All the clients' accounts are backed by CoinsBank's financial resources.
Security is one of the highest priority and two-factor authentication is enabled right from the creation of a new wallet account. Careful consideration and verification of all activities and operating s are conducted frequently. Also, the rapid response to user questions, the Internation PCI DSS certification, and additional options to ensure security makes the CoinsBank solution reliable.
We must highlight this is one of the few wallet providers which have customer support services available 24 hours a day, 7 days a week. Once logged into their account, clients can only click on the live support tab and get assistance from a representative. CoinsBank is also allowing unlimited free transfers
WALLET FEATURES
Some of the most important CoinsBank wallet features are as follows:
Reliable and instant deposit and withdrawal methods
All transactions made in the system benefit from a high level of security
Support for all major currencies: Euro, US dollar, Sterling, and others
Unlimited free transfer between CoinsBank account holders
Customer support 24 hours a day, 7 days a week
Secure mobile app
Two-factor authentication to increase security levels
Four cryptocurrencies supported: Bitcoin, Litecoin, Ripple, and Ethereum
Mobile app compatible with both Android and iOS devices
Several reliable, instant deposit and withdrawal methods
Reports and account management tools available on the mobile app
SECURITY
The CoinsBank mobile app comes in versions for both Android and iOS devices and has the following features: Data encryption on the mobile app, so nobody can use your money without permission. The ability to configure all security settings, giving you the freedom to choose what level of security you wish. Notifications about transactions made from your account, as well as important news and system notifications.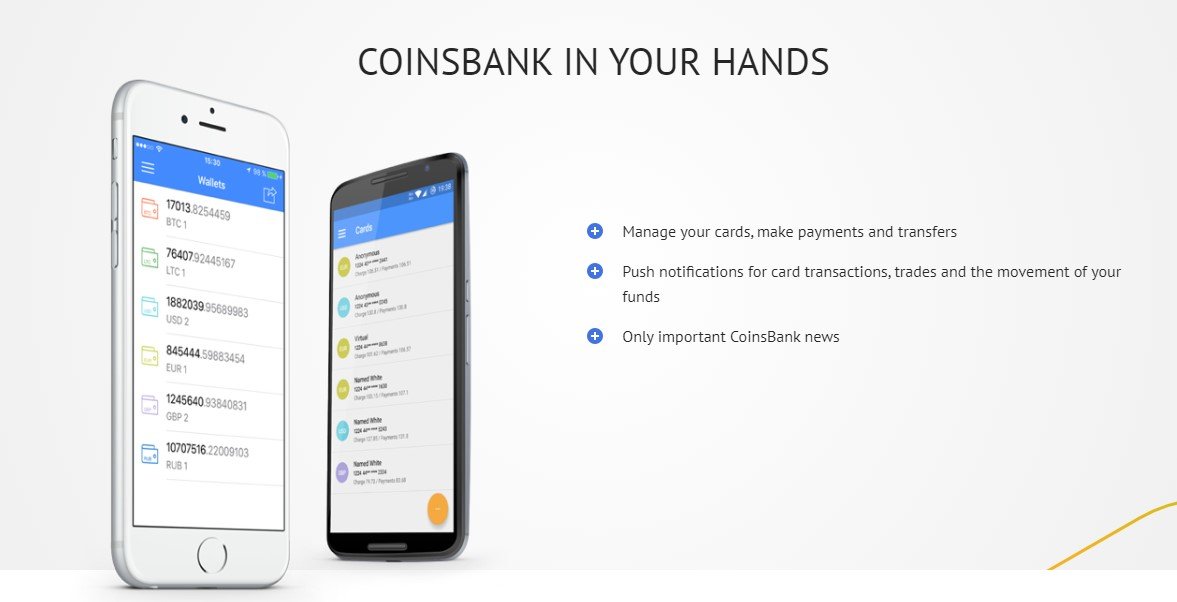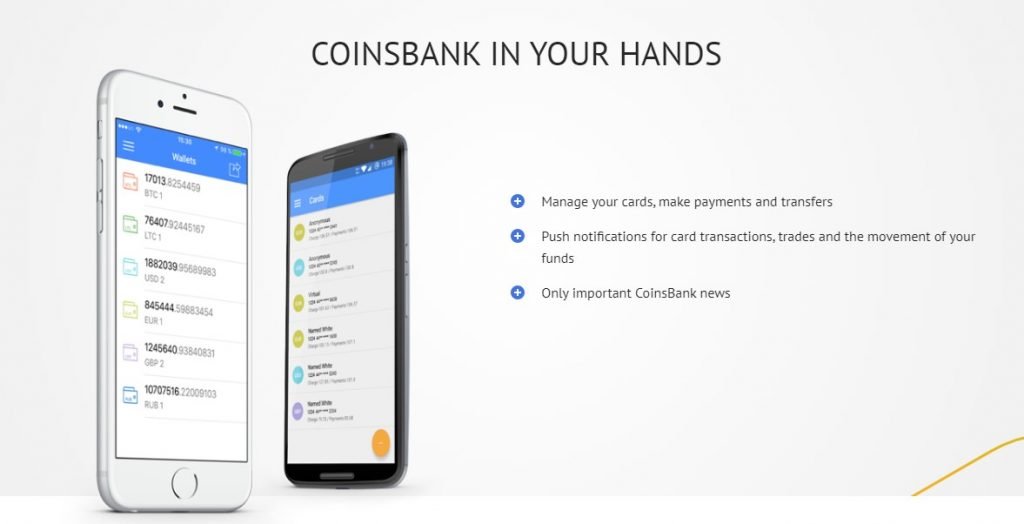 Additionally, a strong and reinforced log-in process provides reliable security levels. Users must provide their mobile phone number, a password, and confirmation code (for 2FA). At the same time, CoinsBank allows the option to use Google Authentication as a second option, not just mobile phone 2FA.
To further enhance their account security, users will be able to set a session time for their wallets, which will automatically log them out after the period expires. The activity log will show IP details of every session, in case suspicious activity occurred. The monthly limit for card operations had been included as well, so funds will be under close scrutiny.
PROS AND CONS
Support for multiple fiat currencies and the major cryptocurrencies
Unlimited and free funds transfers between CoinsBank users
Support for a lot of payment options
A limited number of cryptocurrencies supported
Expensive rates for deposits and withdrawals
Not regulated in its region of operations
SUMMARY
CoinsBank is one of the leading companies in the digital currency industry and manages to have a wide variety of services that can help people use in proper manner cryptocurrencies like Bitcoin, Ether, Litecoin, and Ripple. As seen in our review, the wallet solution comes with both positives and negatives. Overall, it is a good choice for people focused only on the four above-mentioned cryptocurrencies and wanting to benefit from a broader fiat currency coverage. With several years of experience in the market, CoinsBank had proven to be a reliable wallet provider. Do you have a CoinsBank wallet? Share more about your experience below!