Coinsbank.com is a website owned by CB Exchange LP, a company based in Edinburg, Scotland, UK. It offers a wide variety of services related to the crypto currency industry: wallet for storage of digital coins, debit cards so clients can have direct access to their wallets without any app or device and it is also one of the biggest crypto currency exchanges.
Wallet Description
The crypto currency wallet you can find at CoinsBank supports bitcoin and litecoin and you can deposit money via a Credit/Debit card, Bank Transfer, EPay or Perfect Money.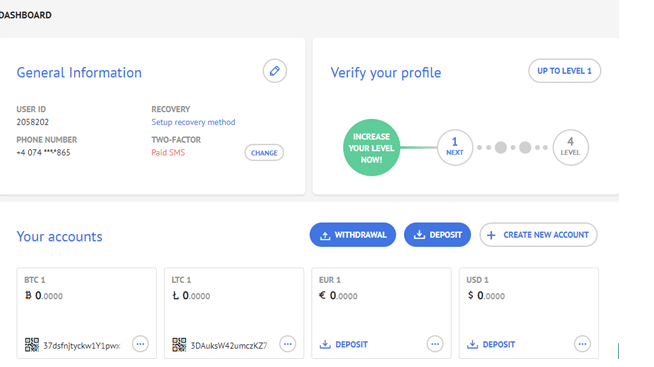 The user interface is friendly and easy to understand for any beginner in the crypto currency industry. Other main features of their platform are as follows:
• Reliable and instant deposit and withdrawal methods
• All transactions made in the system benefit from a high level of security
• Support for all major currencies: euro, US dollar and sterling
• Unlimited free transfer between CoinsBank account holders
• Customer support 24 hours a day, 7 days a week
• Secure mobile app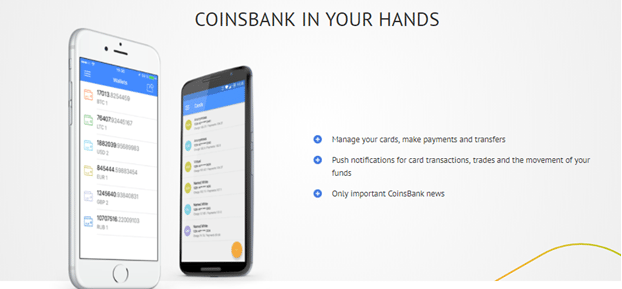 The CoinsBank mobile app comes in versions for both Android and iOS devices and has the following features:
Data encryption on the mobile app, so nobody can use your money without permission. The ability to configure all security settings, giving you the freedom to choose what level of security you wish.
Notifications about transactions made from your account, as well as important news and system notifications.
Pros and Cons
CoinsBank is one of the biggest crypto currency exchanges and because of the fact it has a lot of clients, we assume that the company is aiming to satisfy their clients. They have accounts for all major currencies and also, fast deposit and withdrawal methods.
When it comes to the negative points, CoinsBank offers support just for bitcoin and litecoin. A wider variety of crypto currencies will most likely be a strong point. Also, since it is one of the biggest companies in the blockchain industry, it gets lots of negative feedbacks from clients.
Summary
CoinsBank is one of the leading companies in the digital currency industry and manages to have a wide variety of services that can help people use in a proper manner crypto currencies like bitcoin and litecoin.