Coinbase is a digital currency wallet and platform, founded in 2012 and based in San Francisco, United States. It is a place where institutions as well as retail clients can exchange fiat money for digital coins or send and receive crypto currencies. Since its foundation, Coinbase had more than 10 million clients and traded over $50 billion.

Wallet Description
With the Coinbase wallet you can buy, send and receive the following crypto currencies – Bitcoin, Ethereum, Litecoin
From January 2018, Bitcoin Cash will also be available for Coinbase customers.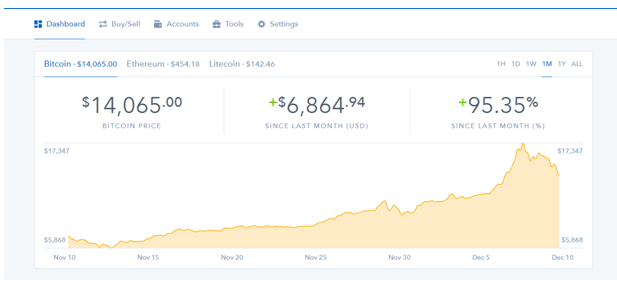 The San Francisco based company is available for 32 countries worldwide and had become one of the most famous cornerstone of the blockchain industry.
Among the most important features, the Coinbase wallet offers secure offline storage, an instant exchange and a free mobile wallet. Coinbase customers can enjoy recurring buys and also have insurance protection covered by the company's insurance policy.

Customers can add funds to their wallet via Credit/Debit Cards, Wire Transfers or Bank Transfers. The fees for Coinbase services are as stated below.

Pros and Cons
Since Coinbase is one of the most famous digital currency exchange and wallet provider on the world, it already has a reputation in the industry and you can also enjoy high liquidity. The Coinbase wallet also offers access to a selection of the best crypto currencies: bitcoin, ethereum and litecoin. You also have instant buy features, if you make deposits via credit or debit card. The wallet is easy to use for beginners and the company also has an insurance policy that protects your funds.
When it comes to the negative aspects of Coinbase, what stands out is the fact that all accounts are monitored. Also, there limited payment methods available and their customer support service had received mixed results.
Summary
The Coinbase wallet has definitely a lot of good features which can facilitate the exchange of bitcoin, ethereum and litecoin. Coinbase is a company that gained respect over the course of the years, which also adds to their reliability. A popular exchange and e-wallet, based in San Francisco, United States that will continue to improve its services.