Introduction
Blockchain.com is one of the most popular and most trusted crypto companies, managing to help millions across the world to have an easy and safe way to access cryptocurrencies. According to the information available on the official website, more than 49 million wallets had been created since the website stated operating, +100 million cryptocurrency transactions, coverage for 140 countries, 25k API developers, and leading research.


Although our review will be focused solely on the wallet solution available at blockchain.com, exchange, an institutional portal, and access to API for developers are other important services provided. When it comes to the wallet, it continues to be one of the most popular solutions for people wanting a reliable e-wallet for crypto. There is support for Bitcoin (BTC), Ether (ETH), Bitcoin Cash (BCH), Stellar (XLM), and USD digital (USD-D). The provider also claims that its fees are the lowest in the industry. Let's dig into some of their most important features and then conclude whether it's worth holding an e-wallet with blockchain.com.
Wallet Description
The blockchain.com wallet is an e-wallet for cryptocurrencies developed by Blockchain, a company based in Luxembourg, specialized in software development. Currently accessible via browser or through mobile apps (compatible with both Android and iOS), the wallet enables people from 140 different countries to store:
Bitcoin (BTC)
Ether (ETH)
Bitcoin Cash (BCH)
Stellar (XLM)
USD Digital (USD-D).
Although there's little information on the fee structure, blockchain.com claims to have some of the lowest features in the industry. There are no fees associated with holding cryptocurrencies in the wallet. Users must take into account the blockchain fees when sending cryptocurrencies to other wallets.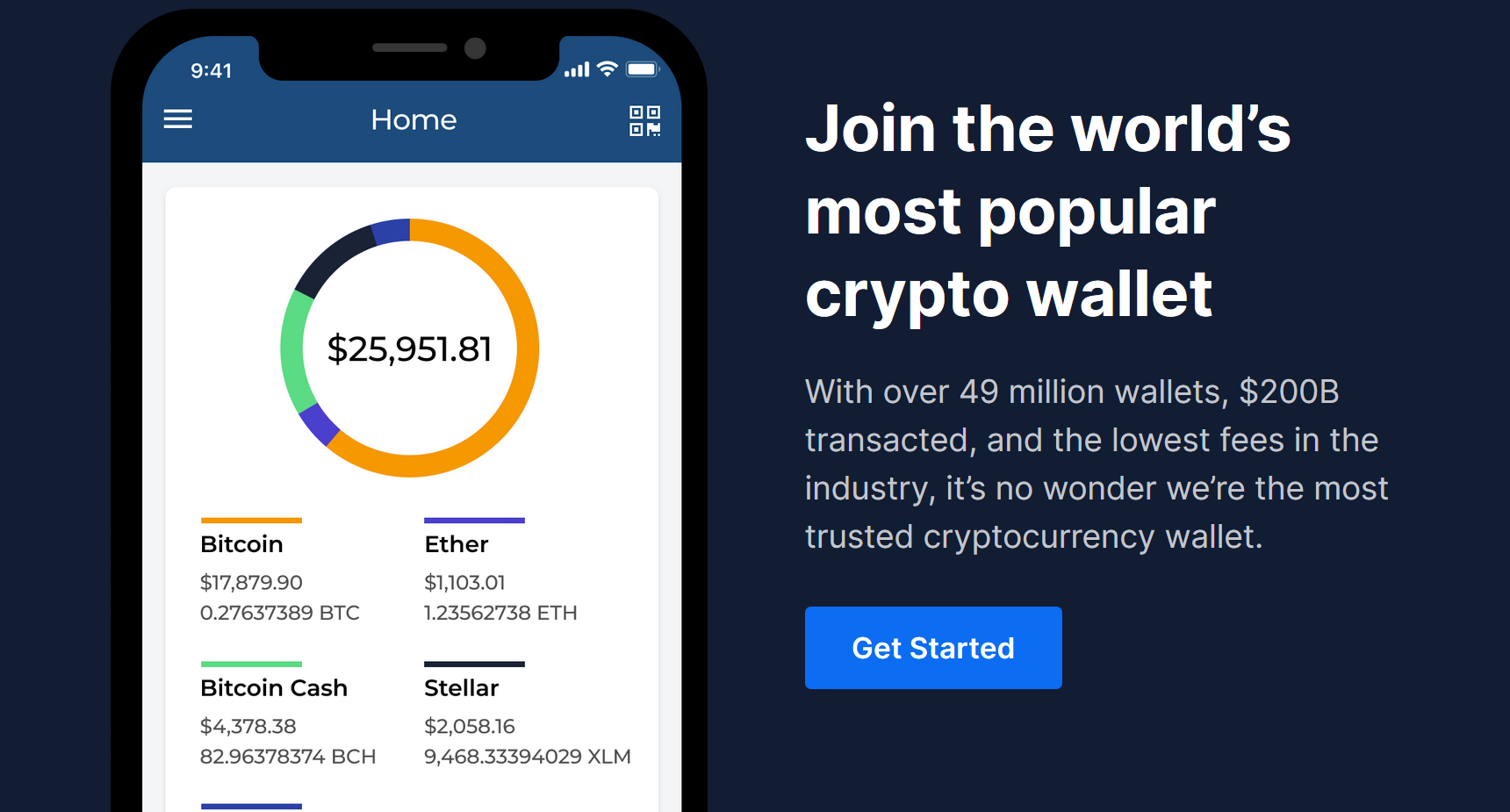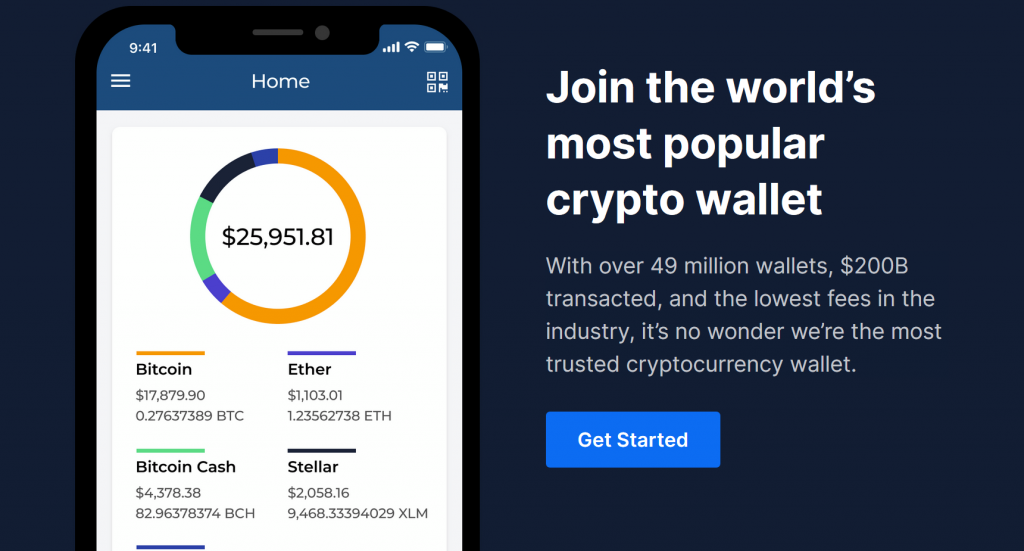 The blockchain.com app is compatible with both iOS and Android devices, allowing users to create a new wallet or pair an existing wallet on a mobile device. The app has a decent rating on both Google Play and the App Store.
Blockchain.com Features
Accessibility – with blockchain.com people can trade, send, and receive different types of cryptocurrencies. All transactions are posted in real-time; the account is always up to date and you can easily check your balance whether in an online or offline transaction.
Privacy and security – blockchain.com provides three levels of security for customers, each with its characteristics. Privacy is key for the provider, which is why full control of the wallet is ensured. Every time a login occurs, an email will be sent for confirmation, before access to the wallet will be allowed.
Broad cryptocurrency support – at the time of writing, blockchain.com has support for Bitcoin, Ether, Bitcoin Cash, Stellar, and USD-Digital. Over the past few years, the wallet had gradually expanded its coverage, which means we should expect more coins to be supported in the future.
Usability – the blockchain.com wallet lets users operate with ease. There's support for 21 different languages, enabling customers from many different countries to understand better the wallet's features. The wallet app is also very easy to navigate, the user interface is friendly, and you'll get used to it very fast.
Security
We must start by reminding that blockchain.com is an e-wallet which means the provider holds wallet data on a private server. A third-party risk could be associated, but to reduce the risk of that occurring, there are three different levels of security.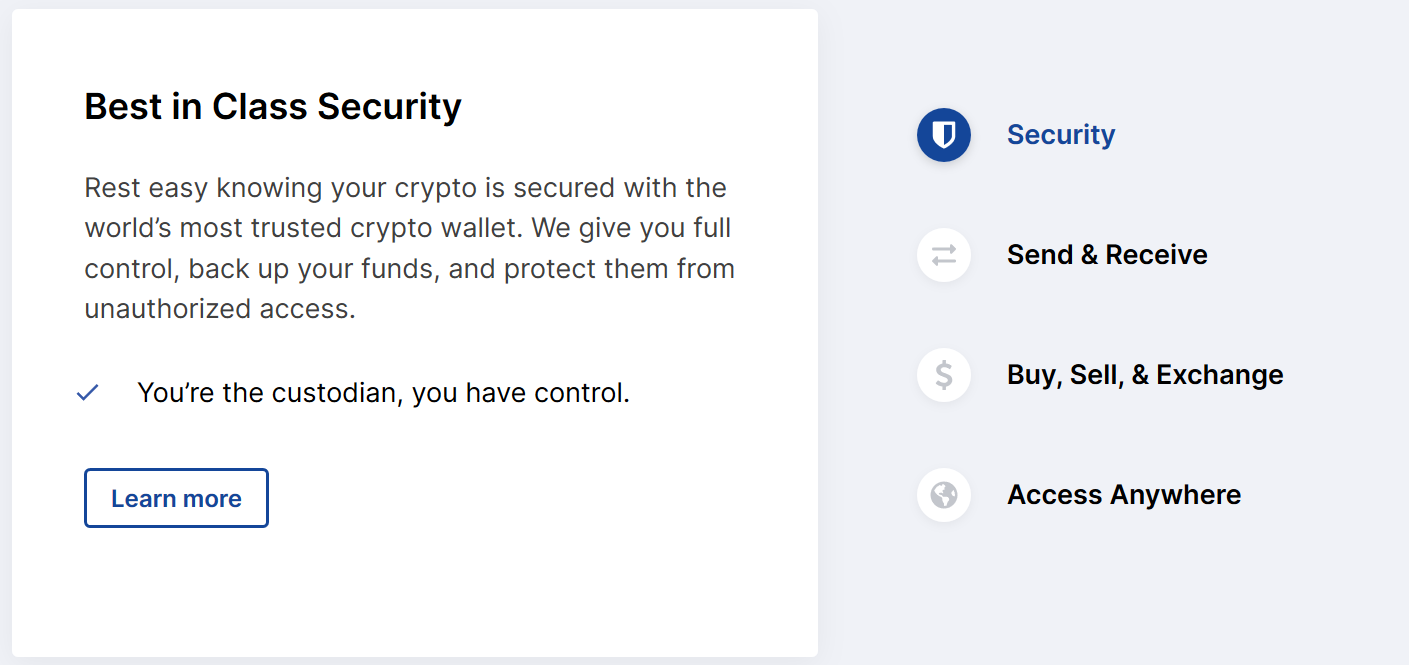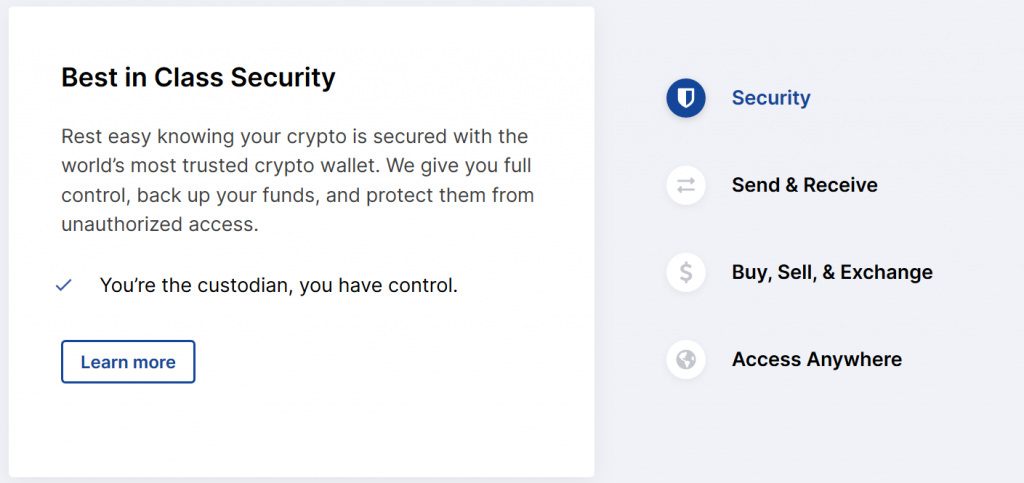 Level 1 – consists of three components. Firstly, there is the email verification process, required each time you want to log into your wallet. At the same time, log-in codes are sent via email to confirm payments or related to unusual activity on the wallet. Secondly, there is the passphrase – a secret passphrase created as a way to restore the account in case the password is lost. Thirdly, a password hint will act as a reminder for the password.
Level 2 – The second level of security comes with 2-step verification and a link to your phone number.
Level 3 – allows to "block Tor request", which is an option designed to block IP addresses coming from the Tor network. Tor is an anonymous tool often used by hackers.
Pros and Cons
Blockchain.com provides advanced security features.
Intuitive user-interface design and easy to navigate.
Owned by a company from Luxembourg, a reputable European country with strong regulation.
There's no option to purchase cryptocurrency with fiat via the wallet.
As an e-wallet, it comes with the usual security vulnerabilities.
The verification process could be annoying and might take at least a few days.
Summary
We conclude that blockchain.com had proven to be a reliable e-wallet solution. With over 49 million wallets already in use and coverage for some of the most popular cryptocurrencies, users can find it as a good option when it comes to hot storage. However, it's important to note the wallet comes with three different levels of security, enough to prevent thefts and hacks. Blockchain.com had good ratings online, which means a lot of other users share our positive opinion.