Blockchain.info is a website that provides customers with electronic crypto wallets, which people could use in order to exchange, send and receive bitcoins and ethers. The website is knows as one of the most popular bitcoin wallet. What the company offers to its clients is a hybrid wallet, which means the company stores your wallet online, but it does not have access to your private keys. Also, the wallets generated by blockchain.info can be accessed via a web browser or a mobile phone app.
Wallet Description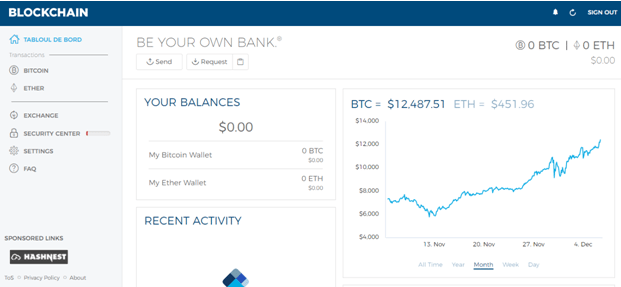 Blockchain.info does not have a diversified offer for clients. It has just a standard wallet type for all customers that could be used to buy, send and receive bitcoin and ether. The user interface is friendly and has just a few menus on the dashboard: Bitcoin, Ether, Exchange, Security Center, Settings and FAQ. On the first page, you can also see live quotes and charts for the bitcoin and ether price, together with your current account balance + recent activity.
Main features
The website has a small number of features and it can be used just for sending and receiving bitcoin and ether.
Pros/Cons
Pros: Blockchain.info is a trusted company in the community, has a good and user-friendly interface and it is available for mobile and web.
Cons: The wallet is loaded from their servers and some trust in the company is needed. It is hard to make completely anonymous payments, due to third party trust that is required. Clients can make digital transactions with just two crypto currencies: bitcoin and ether. Although those two are the most popular in the market, a wider variety of digital currencies would have been better.
Summary
Blockchain.info is a company that managed to gain trust in the bitcoin community, but the fact that they have a limited offer for clients, makes them not suitable for all crypto currency users. It is more recommended to beginners who are trying out bitcoin for the first time. Since the dashboard is very easy to use, beginners can enjoy exchanging fiat money with bitcoin and ether, sending and receiving digital currency.