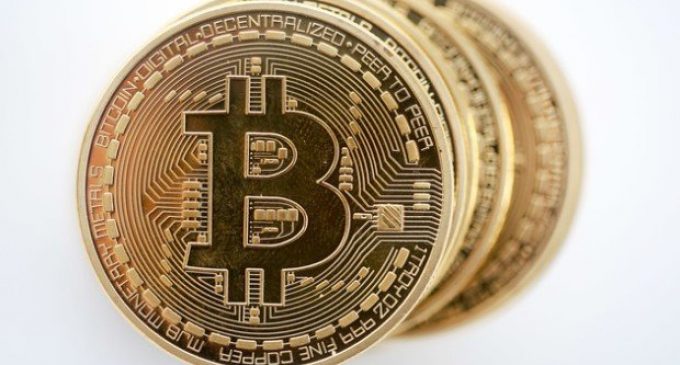 The conditions are not getting better for Bitcoin buyers, who must deal with the price pressure. Unfortunately, this week does not bring encouraging signs, as several conditions are not favorable for a continuation higher. Last week we've seen Bitcoin falling after a short-term deterioration of the bullish sentiment and now the same thing is happening, but more impulsively.
$12,000 still a key resistance area for Bitcoin
As we've expected in our last weekly crypto analysis, the $12,000 is where the upside momentum had been capped. Following two days of gains, Bitcoin is now in the negative for the week, looking to test the August 27th lows. Five 4h chart candles had erased almost 8 days of gains and this is reinforcing our view that a short-term topping formation might be in play for BTC.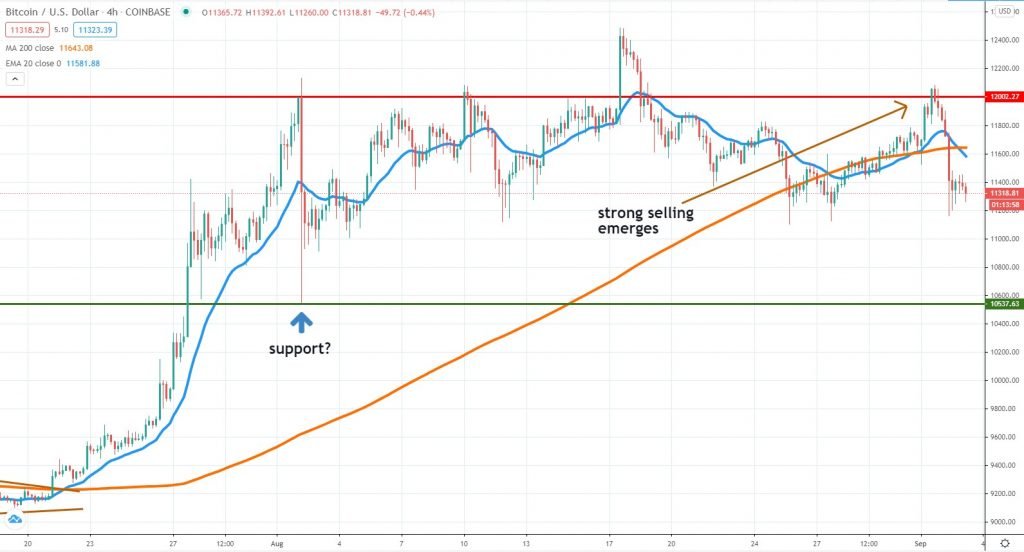 According to the chart above, the mid-term sentiment is gradually shifting, now that the price trades below the 4h chart 200 MA. There's no major support ahead, other than the August 2nd low, which means Bitcoin could break below $11,000 and give back more gains. Despite the deteriorating technical picture, another fundamental reason is contributing to the BTC weakness and must be mentioned.
US Dollar starts to gain traction
For the past several months in a row, US dollar weakness had been a major tailwind for Bitcoin, but now that the dollar starts to recover some of the losses, Bitcoin is not benefiting anybody, due to the negative correlation.
Since September kicked in, the DXY or the US dollar index had moved on the upside impulsively, repeating a pattern we've seen over the years. With demand for the US currency on the rise during the first half of the month, the trend is expected to advance further in the coming days, diminishing the probabilities for a Bitcoin recovery in dollar terms.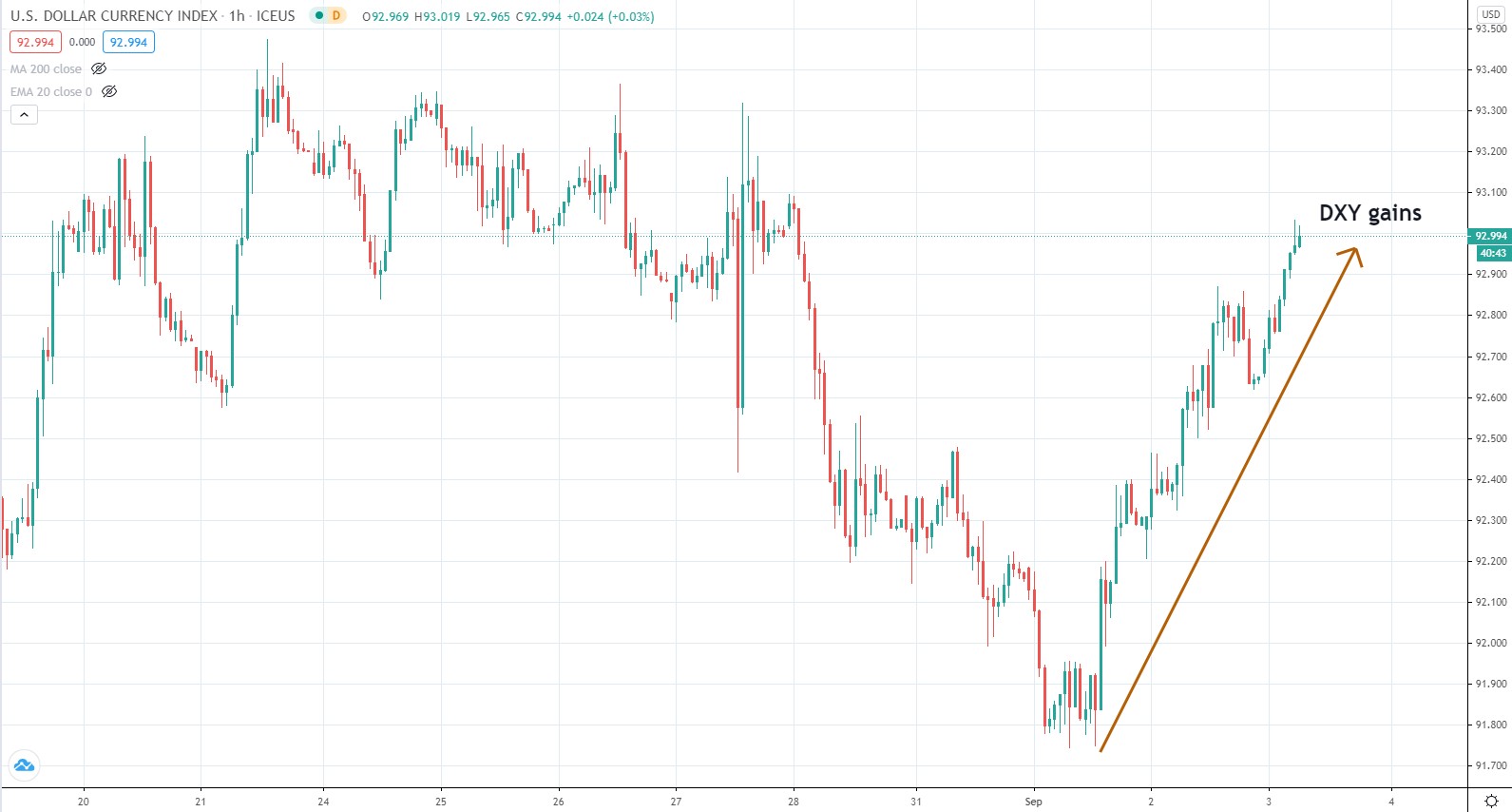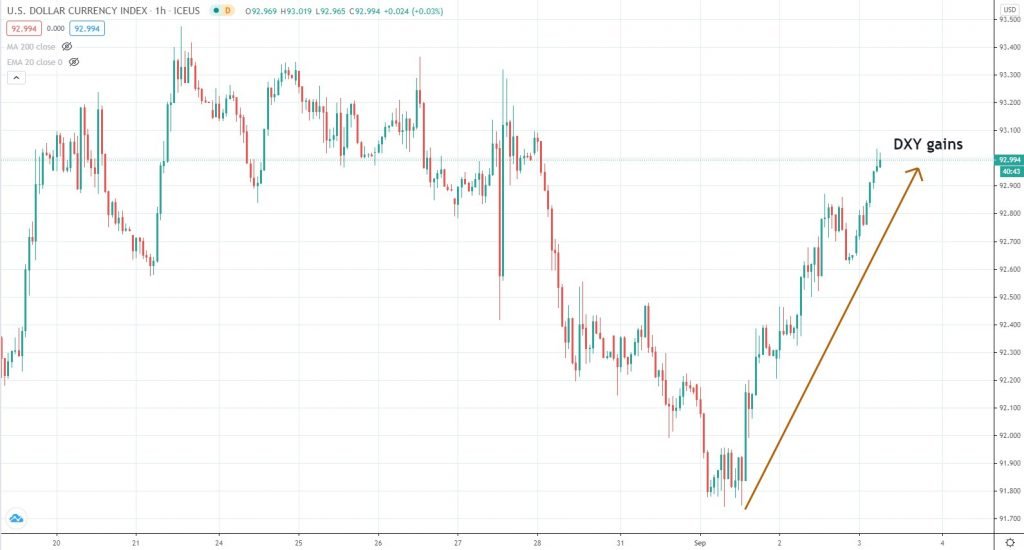 We don't know yet if this is just a temporary spike, following consistent weakening for several months. What is important for cryptocurrency traders, though, is that changes in the currency market can have an impact on Bitcoin and other altcoins. In a similar fashion, Ether, Litecoin, XRP, and Stellar are also weakening, showing the crypto markets as a whole is in a corrective phase.
Important technical levels and the US dollar performance are critical factors to monitor in the days and weeks ahead because that should set the tone for Bitcoin and its peers. Do you think Bitcoin can weaken further before starting to move up again?