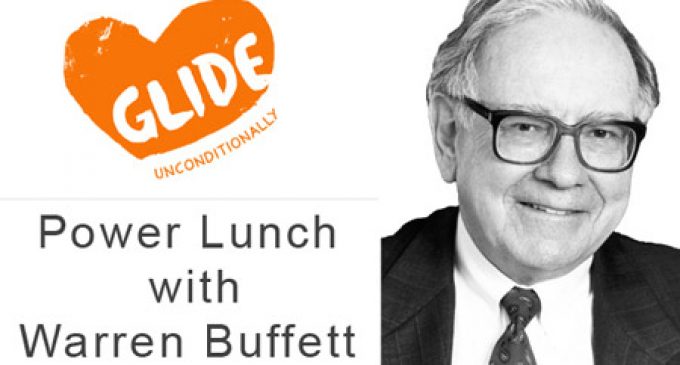 When we talk about the crypto industry, Warren Buffett is perhaps one of the strongest critics of digital money. Not once he made his view on Bitcoin and other cryptocurrencies public and there's wasn't any positive mention among them. Yet, it seems like one of the most influential people in the crypto space, Justin Sun, will have lunch with the Oracle of Omaha.
The Glide charity
The Buffet charity lunch auction hosted by eBay recently broke a new record, reaching a staggering $4.57 million. Over the past few decades, the action had raised more than $30 million for the Glide charity, an organization supported by Buffett's late wife Susan. Among its other activities, the charity provides meals to the homeless in San Francisco, offers support for domestic violence victims and helps poor people find shelter.
What's even more interesting about this year's lunch, is that a solid crypto investor, and he will also be able to bring seven other friends at the Smith & Wollensky steakhouse in New York.
Justin Sun and TRON
A Chinese entrepreneur, Justin Sun is well-known for its contribution to the TRON blockchain project. He's also CEO of Bit Torrent, an ICO which had been hosted on Binance's platform – Launchpad. Even though he's only 29 years old, Justin has a net worth estimated at $200 million and it is considered to be one of the people who had great contributions in the crypto sphere.
Speaking about the upcoming lunch with Warren Buffett, he emphasized the importance of contributing to a San Francisco-based foundation, given that TRON's headquarters are there, while also saying that even Buffett can miss out new trends in the economy:
I want to point out that even one of the most successful investors of all times can sometimes miss a coming wave. Buffett has admitted he overpaid for a big investment food giant Kraft Heinz Co. while failing to realize the potential of the likes of Amazon.com Inc., Alphabet, the parent of Google and even Apple.
It's very unlikely that the lunch will make Warren Buffett change his view on Bitcoin or cryptocurrencies, but still, the subject is very likely to be among the topics discussed at the table. The fact that big and famous investors are still reluctant to the idea of digital money is one concerning factor and shows that the industry still has to go through some profound changes before it will be able to attract the current big financial companies.