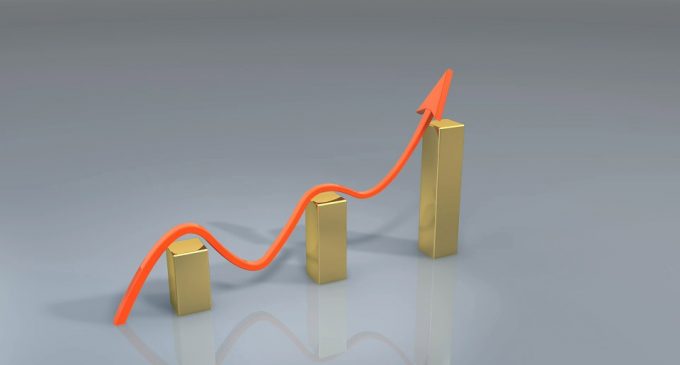 As cryptocurrencies continue to recover in 2019, so does the interest people have, a similar pattern seen in late 2017 when prices had reached record highs. There's a huge emotional influence in the market and we've discussed how the price of cryptocurrencies is heavily influenced by emotions.
Bitcoin passed above the $6,000 area and currently trades around $6,700 on the Coinbase exchange, meanwhile, the statistics show that the people's interest in cryptocurrencies is again going up.
Exchanges enjoy record daily traffic
Widely known for his in-depth analysis on social media, Kevin Rooke recently showed some interest statistics that show how Coinbase (blue line on the chart) and Binance (yellow line) enjoy some record daily traffic on their website. Coinbase has an estimated 930,000 visitors every 24 hours, while Binance has almost 1.2 million.
It will be interesting to see whether Binance will manage to maintain at this level, considering that it had been recently hit by a scandal. As you may have already seen in our previous article, hackers managed to steal $40 million worth of Bitcoin from Binance's hot wallets, 2% of their holding, an event which raised further questions about the security of the funds stored by an exchange operator.
Interestingly, though, Bitcoin continued to climb higher and a short-term drop following the Binance news, an unusual activity, if we consider that prices had been under pressure in the past, each time a similar event took place.
Bitcoin-related keywords are trending again on search engines like Google, and recently Bitcoin had become the hottest new keyword on Baidu, China's most popular search engine, with 9715 points awarded by the platform.
Despite the aggressive stance of China's authorities when it comes to Bitcoin and cryptocurrencies in general, it seems like citizens continue to find appealing the idea of digital money. Although experts and economics label cryptocurrencies as "the mother of all bubbles", the masses continue to give credit to digital money, a detail showing that the trust people have in the traditional banking and financial system is low.
With interest for cryptocurrencies at new records for 2019, we maintain our view that the market is up for a corrective move, or even a deeper pullback, which might erase a good portion of this year's gains. People wanting to invest in crypto should not give up on their fear of missing out (FOMO) and should stay put while valuations will adjust and move lower. Their interest should be to buy low and not at the highs when euphoria is up by a substantial amount.