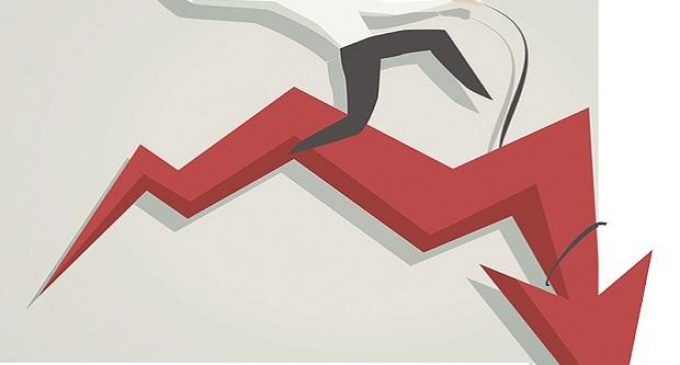 The cryptocurrency market had almost reached the $200 billion threshold after a new round of selling had pressured most of the prices. Online publications are debating which might have been the reason behind this aggressive selling, but based on our assessment, this looks like a mini "pump-and-dump" scheme, which is what we'll detail in today's article.
Bitcoin approaches support level
As it can be noticed in our screenshot below, Bitcoin had erased all the gains made in the last few days of October when news from China and blockchain had emerged. Since then, a nice bearish parabolic structure had been forming, showing how buyers had been gradually evaporating from the market.
Things don't look good for Bitcoin, which could be vulnerable for more selling in the near term. A strong breakout below $7,290 will be a bit hit for buyers, since that the October low. There are some rumors that yesterday's selling had been triggered by another news from China. More specifically, Chinese authorities could have shut down a Binance office in Shanghai, communicating the crackdown on cryptocurrencies continues.
This is still under question, given that Binance did not share any information about its offices, even though the company claims it has more than 1,700 employees. It's true that Binance started its activity in China but moved once the government started to ban cryptocurrencies.
Altcoins in the same situation
At the time of writing, Ether is down 10.93% for the past 24 hours, being one of the worse-performing altcoins. The price is close to the September lows, located around $152 on the Kraken exchange and a breakout below could open more room towards $130. The selling seen in the past few days had tilted the bias towards the sell side completely and now we expect the price to continue south.
Litecoin is another altcoin currently under pressure, located near the September lows. The impulsiveness of the selling communicates that a breakout lower is the most likely scenario. XRP moves in line with its peers and is now one cent away from our key support area. It should continue to move lower and find buyers between 20.5 cents and 22.8 cents, as it happened on September 24th.
The bottom line is that the market will most likely end Friday in a downbeat note, but traders must be aware things could change during the weekend, when price movements had sometimes a strange performance.