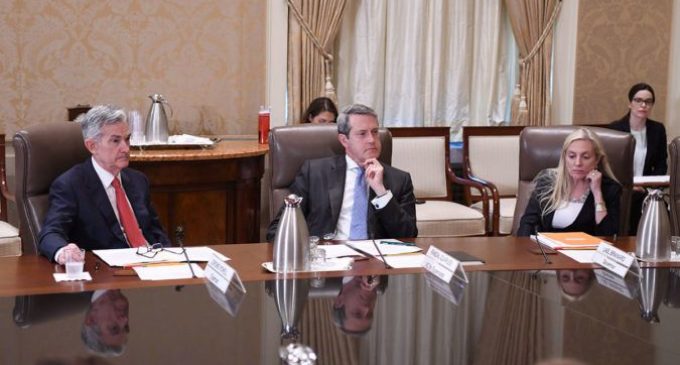 On September 6th, the Fed's Chair Jerome Powell attended a forum sponsored by the Swiss Institute of International Studies, where the issues of cryptocurrency regulation, Facebook's Libra, and state-own digital assets had been discussed. Although the world had been waiting for his speech in expectations for some hints about monetary policy decisions, questions from the audience brought cryptocurrencies into the discussion.
After recently we've seen remarks from a US delegation which had traveled to Switzerland in order to get more insight on how Facebook's Libra will be regulated, it was Powell's turn to reinforce his view and raise the bar even further, contributing to a sudden drop in the market valuations.
Cryptocurrencies drop after his comments
Bitcoin dropped more than $500 after Jerome Powell mentioned Libra should "comply to higher regulatory standards" mainly due to Facebook's large user base. The Fed's Chair also hinted at crypto regulation, when he said that this law enforcement is not possible under the current regulatory system.
Just recently we had the PBoC denying rumors it will launch its own cryptocurrency and the same answer had been given by Powel three days ago:
If you think about one currency that was for the United States, it would really need to be cyber secure because it's one thing to be able to counterfeit paper currency, it's another thing to hack into a cyber currency and create, with a computer, however much of it you want.
The rumors surrounding Libra had been one of the main engines behind the cryptocurrency rebound seen this year and with the latest pessimistic remarks of the Fed's chair, the market sentiment is visibly affected. Bitcoin is down to $10,150 at the time of writing after it started the week in a negative mood.
Ether is trading around $176.6, failing to remain above the $180 area, but still inside the bearish pennant which we've mentioned in our last weekly crypto analysis. The global market cap lost $7 billion in the past 24 hours and with no other significant news, it seems like the market participants continue to price in the Fed's Chair comments.
What we can conclude is that there's this anxiety around the idea of regulation, given that some business models may become illegal. During 2018 the fear of regulation had been the main drag on cryptocurrencies and in case we'll see concrete steps from global agencies with this respect, further pressure could mount of valuations.