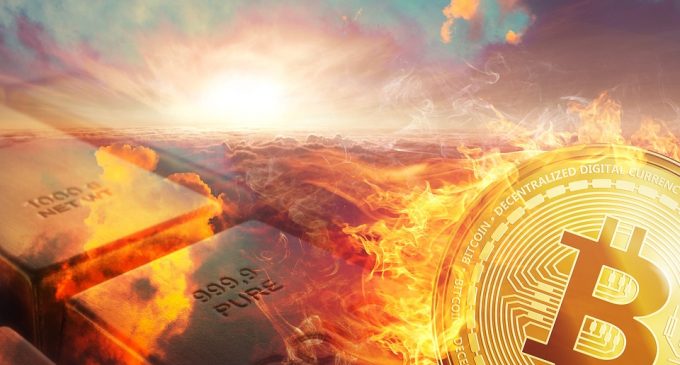 Following an impressive upward breakout that started at the beginning of April, Bitcoin is slowly beginning to show signs of weakness. Although Bitcoin began April above $4,000, which was an encouraging detail, it seems like the bulls are no longer able to sustain the move.
Recently, the cryptocurrency market cap broke above $180 billion, but in the last 48 hours $10 billion had been lost. There are already serious questions on whether Bitcoin will be able to consolidate at the current levels and maybe climb higher, considering that there were no highlights supporting a massive increase in interest from the buyers.
IMF comments and overbought territory?
The price of Bitcoin did not manage to hold above the $5,200 key resistance area which we've mentioned in our last weekly crypto analysis, and it is currently trading at $5,030 on the Coinbase exchange.
Although the price action is still above the 200-daily moving average, we could see the price weakening further and retest the MA again. There was no positive news on the upside and no negative news now that price is weakening, only some comments from the IMF chief Christine Lagarde.
She recently gave an interview with CNBC, where she acknowledged that cryptocurrencies are "disruptive" and clearly "shaking the system". Other important aspects like regulation for digital assets have also been discussed, as well as the importance of stability in the financial sector. According to her speech:
I think the role of the disruptors and anything that is using distributed ledger technology, whether you call it crypto, assets, currencies, or whatever … that is clearly shaking the system…We don't want innovation that would shake the system so much that we would lose the stability that is needed.
Other majors losing more ground
For the past 24 hours, Bitcoin is down by 3.5% according to coinmarketcap.com. However, other major cryptocurrencies are facing greater losses. After more than doubling in price since the Mimblewimble news, Litecoin is currently down by 8.32% in the last day, a move which we have also anticipated in our weekly analysis.
EOS with a 6.3% loss, Ether with 4.12%, and XRP with 4.03% in losses complete a growing concerning picture.
We've mentioned several times in the last month that one of our biggest concerns was that Bitcoin did not manage to retest the 2018 lows. V-shape bottoms occur very rare and considering the impulsiveness of the bearish market we saw last year, we might see a strong down move before we see Bitcoin really picking up higher.