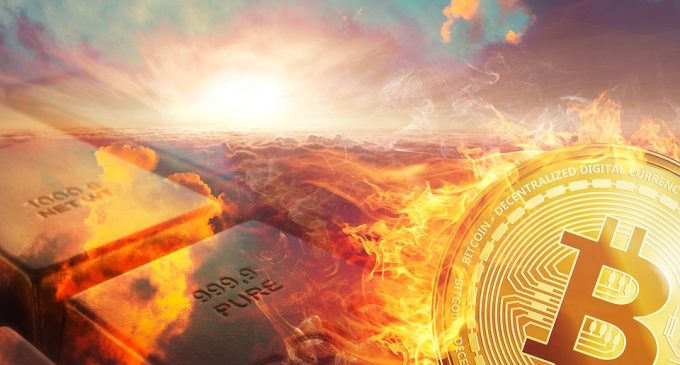 The idea of "digital gold" is again attributed to Bitcoin, given that it managed to rally in tandem with gold this year, despite fluctuations in global risk sentiment. Even though billionaires like Mark Cuban already mentioned that they "see Bitcoin and Gold as the same thing", is it really the case to label Bitcoin as a safe haven?
Both assets rise – correlation low
Bitcoin started the year around the $4,000 area and since then managed to rally towards the $13,800 area on the Coinbase exchange. Gold, on the other hand, started 2019 around $1,280 and currently trades around $1,500, near levels not seen since April 2013.
Although both assets managed to rise meaningfully this year, the correlation between them remains non-existent. According to Mati Greenspan, senior market analysts at eToro, the 90-day correlation factor is less than 0.2:
With everything above, one might expect bitcoin to come in as a hedge and react to things like trade wars and or rate cuts, but the data suggests otherwise… For all three assets measured against bitcoin, the 90-day correlation factor is less than 0.2, meaning it's virtually nonexistent.
Recently we've seen US President Donald Trump trashing Bitcoin, joining a select list of famous Bitcoin critics, yet Bitcoin managed to remain elevated, even after the surge in regulatory concerns surrounding Facebook's Libra.
Mark Cuban and Bitcoin
The owner of professional basketball team Dallas Mavericks, Mark Cuban made a very bold remark on August 9th, when he said he views Bitcoin as fundamentally similar to gold:
They're both collectibles. The value is based off supply and demand. And the good news about Bitcoin is there's a finite supply that'll ever be created.
Even though we cannot put into question the 2019 recovery of Bitcoin, we must consider the fact that it still does not compare with gold from a few points of view. Generally speaking, a safe haven asset is much more stable in terms of long-term price performance. Up until now, Bitcoin did not prove to be able to qualify.
Second of all, a safe-haven asset has a certain reputation and popularity on a global scale. Gold had been used as a medium of exchange for centuries and it was the foundation of the previous monetary systems (Bretton Woods and Gold Standard).  Does that mean Bitcoin can no longer move higher? Absolutely not. But it must evolve in many different ways until it will be considered similar to gold.