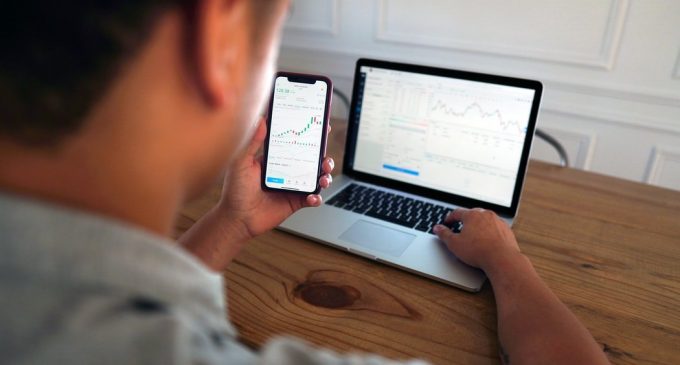 BTCUSD (Coinbase)
Bitcoin buyers are still holding the upper hand and have new reasons to continue actively buying, considering the price managed to break above the $49k – $50k key resistance area. The new week comes in hand with additional gains, as BTC is now trading above $52k for the first time since May 2021.
Looking at the 4h chart, the price is trading above the 20 EMA, inside the channel structure we've recently highlighted. The next resistance lies around $55k, followed by $59k in the mid-term. A weakening US dollar acts as a tailwind for Bitcoin and as long as taper prospects in the USA will be subdued, this is one of the assets that can benefit.
We should start getting concerned if sellers rejoin and drive the price back below $50k impulsively. It would be difficult to achieve, now that the area is a role reversal level and a place where buyers could rejoin at more attractive valuations.
ETHUSD (Kraken)
Ether is outperforming Bitcoin and thus far, managed to recover more of the lost ground. At the time of writing, it trades little below $4k and is only 10% below the all-time highs reached in May.
We suspect the move up could encounter resistance near $4.2k, given the RSI is in overbought conditions, also posting a divergence. However, the move is solid looking at the daily chart, and that could mean there is still some upside left to squeeze.
Buyers wanting to get long should have a more conservative approach and wait for a pullback towards the daily 20 EMA. That could ease the overbought conditions and also provide an opportunity to buy ETH at a cheaper price.
Until the all-time highs are broken, there is no technical proof the major bullish trend resumed. That leaves long-term buyers in a tricky position, as they remain vulnerable in case a large A-B-C corrective pattern will start to unfold.
LINKUSD (Kraken)
Market participants are once again pilling into DeFi tokens due to low valuations and Chainlink seems to be one of the favorite names. The price broke above the daily 200 SMA and now is testing a key resistance area located around $35.
If a breakout above will occur, further upside towards $45 should be expected. The move up is solid and sellers did little to cap the upside, which suggests the buyers are in control of the order flow.
One of the weak points is that the RSI is already trading above 70 and that could mean a short-term pullback might happen. Even if that will be the case, the price needs to break below 200 SMA again to confirm the sentiment shifted in favor of sellers.
The long-term structure is not yet bullish, but, the performance seen over the past several weeks is a solid foundation to add more gains. We suspect a pullback towards the $30 will be a short-term opportunity to buy.