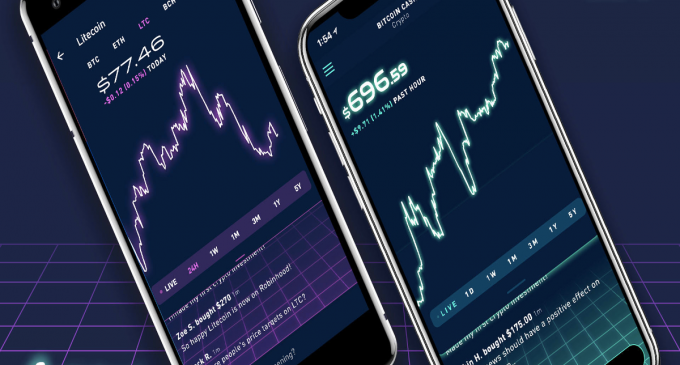 Robinhood announced that it is gradually rolling out its new recurring virtual currency purchase option for long-term investments to all its clients this month. The new feature is detailed in the online brokerage firm's official blog.
We find this latest cryptocurrency-related news worthy of following and sharing with our readers because we think Robinhood's new offering will give substantial value to its customers. We also believe our readers who are into cryptocurrency investing will feel glad and excited to learn about the trading platform's new feature.
Based on the report posted online by Gadgets 360, an online information source delivering the latest technology news and gadget reviews, Robinhood confirmed that its new feature permits customers to invest in their favorite cryptocurrencies regularly.
One of the perks of the new service is it is commission-free. Robinhood is attracting investors, citing that these customers can pour their investment funds in multiple virtual currencies without incurring a charge.
The American financial services company compared this advantage of its new offering with other platforms, which it said usually charge a commission fee of up to four percent for every virtual asset trade.
Additionally, Robinhood's blog mentioned that interested customers would receive US$100 worth of Bitcoin if they spend US$100 to buy the flagship cryptocurrency. The trading platform affirmed that its mission is to democratize finance for all people.
Robinhood's recurring cryptocurrency investments feature will enable Robinhood application users to invest in virtual coins automatically on a daily, weekly, bi-weekly, or monthly basis. Besides Bitcoin, these cryptocurrencies include Dogecoin, Ethereum, and other leading crypto-assets.
Furthermore, Robinhood relayed that recurring or regular investments introduce a strategy to grow wealth over time while potentially diminishing the volatility in the cryptocurrency market's repercussion. The digital brokerage company's approach of introducing its new feature is to motivate automatic investing.
Therefore, investors will have peace of mind despite the market fluctuations. They can also regularly invest the same amount of funds, building a corpus that eventually yields monetary gains.
We feel delighted to learn about Robinhood's new offering. The company allows investors to purchase and sell leading cryptocurrencies and has brought commission-free trading to novice investors.
Robinhood has raked in massive benefits from crypto-assets. We all know that the virtual asset business is volatile and many potential investors can feel discouraged by the fear of losing their investment money.
Hence, we think Robinhood's offering of recurring or regular cryptocurrency investments can aid investors in concentrating on decreasing the risk and stress of timing the markets. Plus, we find this new feature worth trying for interested investors as regular cryptocurrency investments let people save money for the long term and build an emergency fund.