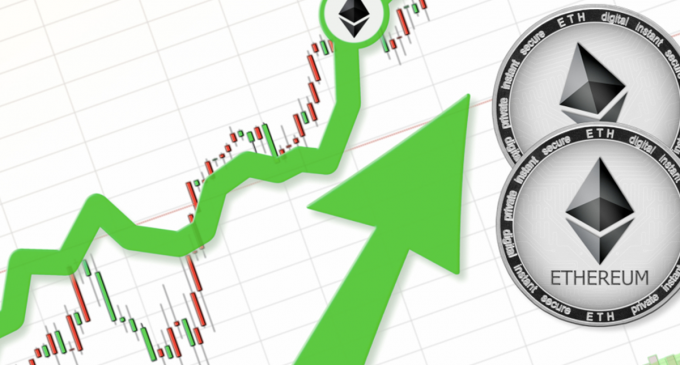 Ethereum's trading price surged by almost 5 percent during yesterday's trading session, September 1. For the first-ever time since May 15, 2021, the world's second most valuable cryptocurrency crossed the trading price level of US$3,500.
We feel elated to read this latest development about Ethereum. We think it is among the crypto-assets that prove virtual currencies will remain and continue their rallying action.
According to the news posted online by multi-asset online trading knowledge center Finance Magnates, on-chain analytics company Santiment disclosed on Twitter that Ethereum's trading price had exceeded US$3,500 for the first time since the middle of last May.
A year ago, this virtual currency's trading price stood at US$442. Santiment cited that they had found out that the ratio of Ethereum's top 10 non-exchange whales is now 3.12 times as much Ether as the top 10 exchange whales, and this scenario is a favorable indicator.
At the time of writing, Ether trades at US$3,784.87 apiece, per the trading price posted on CoinGecko.com. During the start of this year, Ethereum began at a trading price level of roughly US$740.
This crypto-asset's total cryptocurrency market dominance presently stands at approximately 19.4 percent. Ethereum's trading price also jumped by over 50 percent within the last four weeks.
The latest information from Coinmarketcap demonstrates that Ethereum now has a market capitalization of US$412 billion as of the first day of September 2021. As for the latest jump in Ethereum addresses with active balances, Glassnode relayed that 60.7 million Ethereum addresses now have active balances, and this figure is the highest level on record.
Additionally, the blockchain data and intelligence provider remarked that Ethereum investment products enticed US$17-million worth of institutional inflows last week. This amount is reportedly more than any other virtual asset.
Alexandra Clark commented on the latest development regarding Ethereum's trading price movement and the cryptocurrency's overall network activity. The sales trader at London-based digital asset trading firm GlobalBlock pointed out that Ethereum's on-chain activity is bullish and indicates that the bull run's second leg is close.
Clark said that the recent increase in non-fungible token or NFT activity had prompted a surge in transaction volume, active addresses on the Ethereum network, and a deflationary supply. Furthermore, the GlobalBlock sales trader added that the amount of Ether burnt and Ethereum fees rose significantly, owing to NFT activity.
Clark explained that this situation meant more Ether being burnt than issued at times. As a result, Ethereum's daily issuance dropped below that of Bitcoin for the first time.
Additionally, Clark mentioned that after exceeding the psychologically important US$3,400-mark, Ethereum has one last resistance barrier at the US$4,078-level. She explained this level is where more than 1.5 million addresses bought Ether before it rallied to a new all-time high.
From trading US$442 last year, to about US$740 during the start of 2021, to US$3,784.87 today, we can tell that Ethereum's trading price will continue its improvement in the coming months. We also think this development is another of the many indicators that virtual currencies will continue to rally and evince that the future of the financial markets is digital.
Apparently, in our view, externalities and other impeding factors cannot halt this upbeat momentum. We believe this trend will also be possible as more investors have expressed their interest in pouring their investment funds into the second most valuable cryptocurrency after Bitcoin.