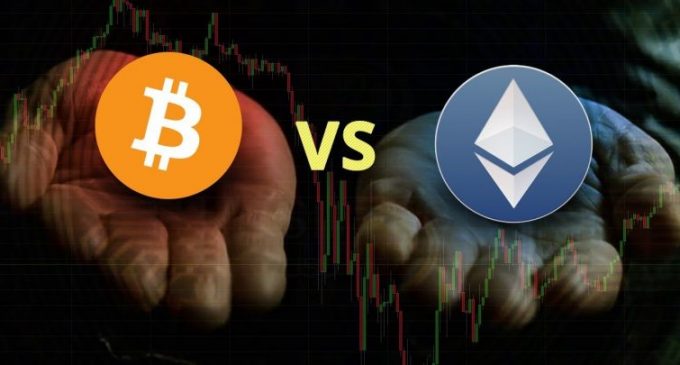 Although the market cap is heavily in favor of Bitcoin, other metrics are putting the Ethereum platform shoulder-by-shoulder with the largest cryptocurrency. According to Messari, a firm specialized in blockchain analytics, the total value of assets moved on the blockchain per day is equal both for Ethereum and Bitcoin.
As we're about to see, transactions in cryptocurrencies are highly correlated with the crypto market performance and had been slumping in March, when valuations dropped meaningfully. At the same time, there are a few metrics that put Ethereum above Bitcoin.
Parity for value transferred
Speaking strictly about the total value of assets moved on the blockchain daily, the Ethereum and the Bitcoin network are now both accounting for $1.5 billion/day. The Messari chart below shows how Bitcoin transactions topped around $3 billion in July 2019, but dropped by 50% until the time of writing, as the price was not able to sustain those high valuations.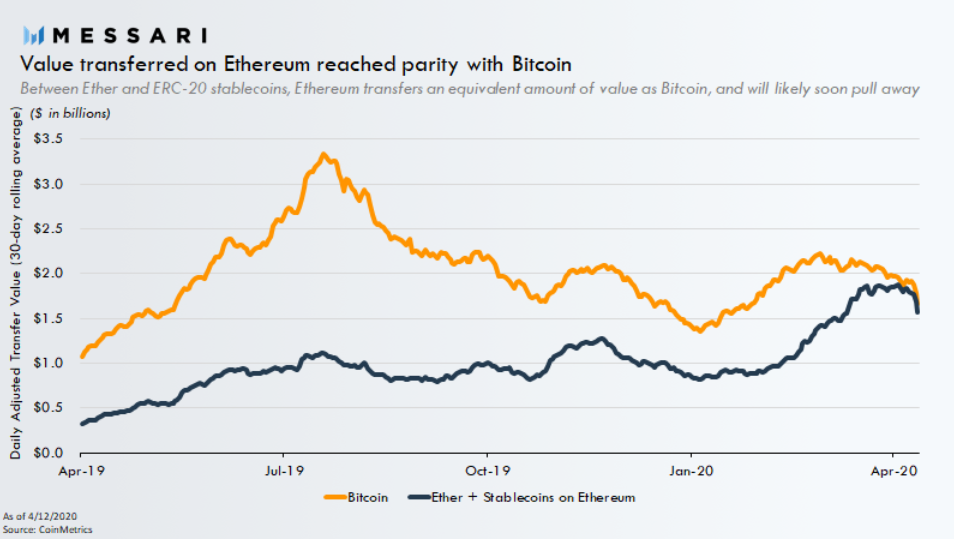 What's even more important to note is that transactions on the Ethereum network (including Ether transactions and transactions in stablecoins like Tether) had been gradually increasing since April 2019, even though the Ether price had gone through ups and down same as Bitcoin.
The improvements on the Ethereum network had started since December 2018, when the total daily transaction volume was estimated at $115 million. Transactions on both Ethereum and Bitcoin blockchain had been declining since March 2020, which led to the current parity in terms of daily value transferred on each blockchain.
Ethereum above Bitcoin?
There is one metric favoring Ethereum over Bitcoin and that is transactions per second. Right now, the Ethereum blockchain is processing 9 transactions per second (TPS), while Bitcoin is processing under 3 TPS. Before the cryptocurrency market started to drop in March, however, it processed an average of 12 TPS.
One of the main reasons behind this shift towards the Ethereum blockchain has to do with the number of core protocol developers. Based on statistics released in March, an average of 99 monthly developers were active on Ethereum and Bitcoin was trailing way behind, with only 47.
Metrics will continue to fluctuate as the market valuations change, but the increased interest for altcoins like Ether is raising questions on whether the Bitcoin dominance will remain elevated for a long period. Ethereum 2.0 represents another set of important updates for the blockchain that could spur increased interest in the upcoming years, as long as the cryptocurrency community will consider the improvements are beneficial.