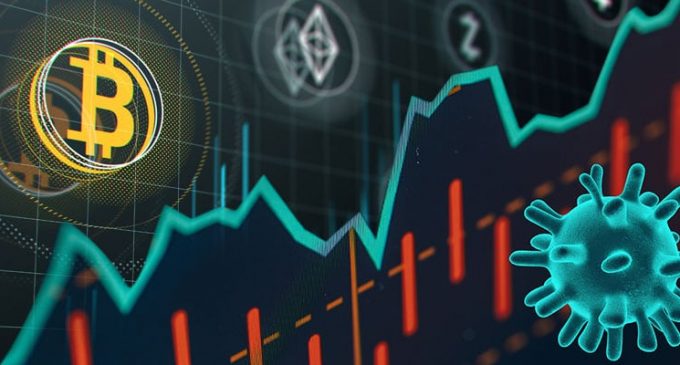 Following a promising start of the week, most cryptocurrencies resumed the downside impulsively, as the fears surrounding the COVID-19 pandemic are rising once again. The reopening of economies all around the world is facilitating the spread of the virus and the total number of discovered cases is close to 10 million.
The past three months had been a rollercoaster for the crypto market. It had risen when positive news about a COVID-19 drug emerged and eased lower each time uncertainties had been on the rise. All of this is showing that despite significant gains since mid-March, the upside is very fragile and could at any point resume impulsively.
Large-cap tokens under pressure
Three days ago we've seen how Bitcoin managed to break on the upside a triangle formation, which has, at that time a short-term bullish signal. However, that wasn't enough to prompt a new retest of the key $10,000 since the price started to trend lower and it's currently trading around $9,200 on the Coinbase exchange. This choppiness in the BTC price is not encouraging and could suggest some added weakness might follow in the near term.
Ether managed to hold above the 4h chart 200 MA and edged higher towards the upper line of the range we've mentioned in our last weekly analysis. However, sellers emerged impulsively, and all the week's gains had been erased. The pressure seems to be mounting and a continuation lower is not excluded at this point.
Globally, the market cap erased more than $15 billion between June 24-25, showing that investors had become reluctant from investing into cryptocurrencies. Analysts had been warning for weeks in a row that asset prices are too disconnected from the actual economic conditions and now as hopes for a V-shaped recovery are diminishing, a repricing process had started.
What could happen in the near term?
What's obvious is that cryptocurrency prices react to negative headlines related to COVID-19. As cases continue to rise, pressure on the medical system increases, and despite a lower death rate, hospitals being overwhelmed will mean people will not get the proper care. Economies are not keen to go on another lockdown, as the consequences had proven to be severe. That means they'll have to handle the outbreak while keeping things running.
At this pace, the pandemic will continue to expand and fears of a second-wave will become more intense. In case the situation turns on the positive side, we suspect cryptocurrencies will continue to be under pressure in the near-term. What do you about the cryptocurrency market performance looking forward?