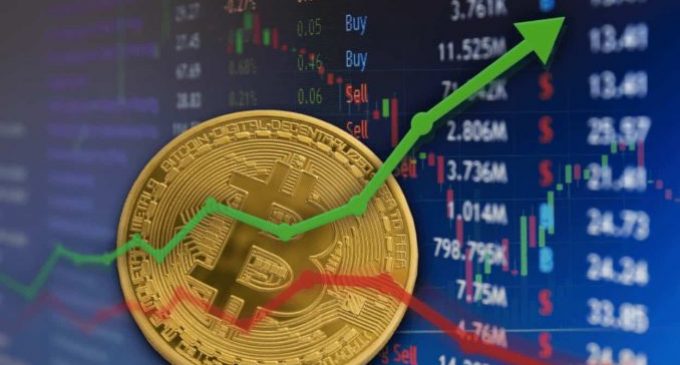 It seems like Bitcoin had not been hit hard by the recent massive selloff since bullish predictions had already started to show up. The past week had been very positive for the largest cryptocurrency, which managed to rebound towards the $7,000 area. That follows after an impulsive drop all the way to the $4,000 area, but according to Changpeng Zhao, Binance's CEO, the long-term prospects for Bitcoin are very good.
Bitcoin headed towards $100k?
The crisis created by the latest coronavirus outbreak had pushed governments and central banks around the world to act. Fiscal spending and money printing had increased, which may eventually lead to a strong devaluation of fiat money. That's good news for Bitcoin, according to Binance's CEO, which recently tweeted on the matter, highlighting also the $2 trillion package agreed by the US Congress:
As we get used to talk about Trillions, a modest $2 trillion market cap of #bitcoin will put 1 BTC at $100,000. Not such a hard to imagine number now, right?
He based his prediction anticipating a US dollar devaluation, but that's feasible right now? We may get to a point where there will be a coordinated action to bring down the value of the dollar, but at the time of writing, the world's reserve currency continues to remain strong against other peers. Fiat money may be in its final years, but one should take into account the high level of debt denominated in US dollars.
Since money = debt, that means all there will be an increasing future demand for the dollar, from the US and abroad, leading to a massive rise in the value of the US dollar, before a coordinated devaluation will occur.
Second of all, the third Bitcoin halving is scheduled to take place in May and the event had been associated with high volatility. At the same time, following the prior two halvings, Bitcoin had started new bull runs. Will the same scenario repeat itself this time around? It could be possible. Even though the Bitcoin price is not in the best condition right now, we will certainly witness a period in the future, when the market sentiment will be very exuberant.
How much the Bitcoin price will rise is a subject open to debate and in addition to that, no one can tell exactly how it will manage to perform. It's good to see, however, that Bitcoin continues to consolidate its dominant position and the demand for it remains elevated.