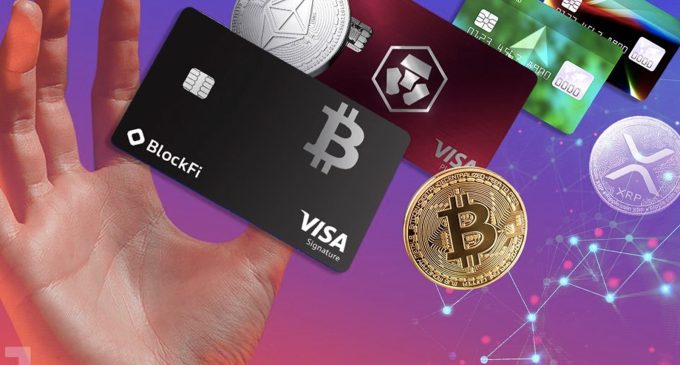 Jerry Paul Pio and Reggie Iaximana are cryptocurrency rewards credit cardholders. They recently shared their views about using these novel payment instruments.
We find this report about cryptocurrency rewards credit cards interesting. We believe our followers, who are virtual currency enthusiasts, will be interested in this topic as well, so we are posting this latest news on our website.
Based on the report posted online by advertising-supported, standalone publisher and comparison service provider Bankrate, cryptocurrency rewards credit cards are a new type of credit card offering rewards in the form of Bitcoin or other crypto-assets.
They are different from traditional rewards credit cards with cashback, miles, or points as perks for customers. Cryptocurrency rewards credit cards' process is fairly simple.
They work similarly to a traditional credit card cashback scheme. A cryptocurrency rewards credit cardholder earns a percentage of his purchases back in US dollars, which is then utilized to purchase virtual currency, typically automatically.
He can buy crypto-assets without spending money out of his paycheck, and this feature is a major appeal of cryptocurrency rewards credit cards.
Additionally, the cardholder needs to spend money to earn the rewards, similar to any cashback credit card. Two cryptocurrency rewards credit cardholders shared how they benefit from these new types of bank cards.
Jerry Paul Pio is a New York City-based early adopter of cryptocurrency rewards credit cards. He is a cryptocurrency company recruiter with the Gemini Credit Card and BlockFi Rewards Visa Signature Credit Card, two of the most popular cryptocurrency rewards credit cards today.
Pio remarked that he utilizes his BlockFi Rewards Visa Signature Credit Card the most, charging most of his spending on it. He affirmed he had had positive experiences so far.
Pio relayed that he appreciates that he could put a little money away monthly, which he believes will be a big amount in the long term.
This consumer has been a credit card rewards fan even before the cryptocurrency rewards credit cards' launch. He pointed out that he thought it was an amazing advantage when he witnessed he could get Bitcoin back on his credit card.
Pio earns and invests US$60 to US$75 in Bitcoin monthly since BlockFi offers 1.5-percent cashback, which is in addition to the US$200 he already invests in Bitcoin out of his own pocket monthly.
He cited that he knows his investment is small, though as a firm Bitcoin believer, he thinks this cryptocurrency will be a multi-million-dollar asset. Thus, Pio said he wants to invest gradually in the flagship virtual asset.
Reggie Iaximana is a cryptocurrency enthusiast who is equally bullish on Bitcoin as Pio. He follows the same strategy with his Gemini and BlockFi cryptocurrency rewards credit cards.
Iaximana disclosed that he utilized his cashback earnings to purchase cryptocurrencies. He relayed that he felt cryptocurrency rewards credit cards are completely new and different, and these characteristics had drawn him towards these payment instruments.
This credit cardholder said he felt cryptocurrency rewards credit cards give power back to customers, letting them earn incentives that can actually appreciate in value over time.
Iaximana affirmed that he has a very long-term view of Bitcoin, which trades at exactly US$21,686.88 at the time of writing this news per Coinmarketcap. Hence, he remarked that he has no intention of selling his cryptocurrencies anytime soon.
In the present bear market, Iaximana mentioned that it is the best period for investors to accumulate Bitcoin because its trading price is more affordable than during the bull market.
We find Mr. Jerry Paul Pio and Mr. Reggie Iaximana's insights about cryptocurrency rewards credit cards' advantages helpful. We agree that these payment instruments are interesting since they enable users to buy and invest in virtual currencies like Bitcoin.
We recommend our interested followers apply for cryptocurrency rewards credit cards. However, we advise them to speak with their service providers and ensure they are enlightened about these kinds of bank cards tied to the notoriously volatile cryptocurrencies.
In this manner, they can enjoy the benefits more and not have any regrets while being well-informed about the cryptocurrency rewards credit cards' pros and cons.