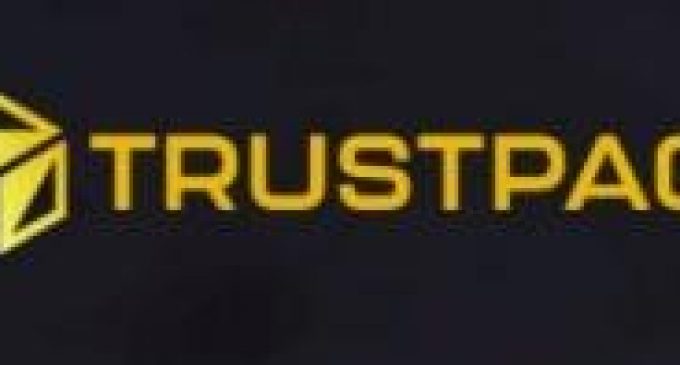 Company's Highlights
Trustpac is an advanced CFD and crypto trading platform provider that offers many trading options for traders who are interested in taking advantage of the recent cryptocurrency boom, as well as for traders who wish to diversify their portfolio with other high-quality asset classes. While some brokers focus primarily on cryptocurrencies, this broker doesn't, and has a very solid offering that provides many options for asset diversification as it also allows traders to trade in stocks, futures, FX, indices, and commodity CFDs.
But when it comes to trading in crypto, Trustpac has managed to craft a very enticing trading offer suited for traders of all levels of experience who wish to start trading in crypto. The broker offers its clients access to an innovative trading platform packed full of cutting-edge features and benefits that will provide them with knowledge of the volatility of the crypto market and how to navigate it. In our full review of Trustpac, we will be examining if this broker's offer is attractive for traders looking to get into the world of crypto trading.
Crypto Instruments
Trustpac provides traders with an opportunity to trade in Bitcoin, Litecoin, Dash, Ether, Ethereum Classic, Monero, XEM, Next, XRP, Lumens, ZCash, Bitcoin Cash, IOTA, Neo, Cardano, or EOS CFDs, denominated in USD, EUR, or BTC. With a service offer covering many different crypto instruments, Trustpac enables traders to take advantage of price movements in many different high-ranking altcoins, which could be very advantageous for traders.
Trustpac offers a max leverage of 1:25 on cryptocurrency trading, with floating spreads and no trading commission. The broker also makes it a point to post expert market analysis directly from its website and platforms, that is free to use by all and gives traders insights about the latest market information that could impact trading prices.
24/6 online support, access to exclusive reports, fast trading execution, one-on-one with trading experts, an online education center, trading guides, and mobile-friendly trading are features that Trustpac offers to all traders.
Trading Platform
Trustpac has assembled a very lucrative service offer that includes access to a proprietary trading software. This web-based solution integrates many popular features and tools that are considered a must for traders who are involved in trading crypto. The platform, which is accessible through the Trustpac website, is a flexible solution that can be used on any desktop or mobile device (both Android and iOS).
This advanced software offers cutting-edge trading technologies and offers many benefits for traders. Some of these include 24/6 customer support and fast execution. The platform offers a sleek and simple user interface that is both user-friendly and advanced, and utilizing charting powered by TradingView.
Trustpac's web-based platform is a practical and innovative solution for traders, allowing them to stay up to date on all the latest market developments and fluctuations, allowing them the ability to make better trades by sharing in-depth analysis of price performance and fundamentals. Another strong benefit to this solution is that it allows traders to stay connected, up to date and able to make and execute decisions even when on the go.
Trustpac Account
CFD traders who reside outside of the EU and wish to trade with this broker can do so and benefit from the competitive trading conditions offered by Trustpac. Signing up for an account with Trustpac has been made easy so that customers can sign up for an account and start trading within minutes.
Traders who sign up for an account with Trustpac can make their deposits in USD, EUR, or GBP, according to the currency selected in the account sign-up process. In regard to which payment methods are accepted, Trustpac accepts credit cards, debit cards and wire transfers, which are some of the most reliable payment methods available and widely accepted by brokers, traders and financial institutions alike. The same method that is used to make deposits will be used to make withdrawals as well, however traders should be aware that withdrawals will only be possible after completing the account verification process.
When it comes to KYC regulations and procedures, Trustpac requires all customers to verify their identity via submitting the required documents for identification. The purpose of this is to enable the company to verify the identity of the account owner, in order to maintain absolute account security. More than a mere formality of compliance with regulations, these measures are made to ensure the prevention of unauthorized withdrawals on trading accounts by making sure that only the original, verified account holder will be able to carry out financial operations.
Special Features
With Trustpac, traders gain access to a variety of special features, some of which include access to expert market analysis, exclusive positions, and one-on-one sessions with trading experts. Furthermore, customer support service is available to all traders 24/6 via phone or email, to ensure that any request or issue can be resolved in a timely manner.
It is also worth mentioning that in the Special Events section of their website, Trustpac offers traders many different multiple promotions, such as 100% deposit bonus, instant account funding, 24/6 professional assistance, and exclusive position access for wire transfers over 5000 USD.
Pros and Cons
– Transparency and control of more assets than in any other platform
– Access to many cryptocurrency CFDs denominated in USD or EUR
– No trading commission and tight spreads for crypto
– Cutting-edge, optimized web-based trading platform
– High quality of market analysis updates

– Limited knowledge resources for advanced traders
– Bonuses are only available for large deposits
– No REIT ETFs offered
Summary
With cryptocurrency experiencing an unprecedented boom, Trustpac sims to provide traders with an opportunity to invest in crypto while enjoying the best trading conditions. The broker's offer supports many different cryptocurrencies denominated in USD or EUR, which is a big advantage for CFD traders who are interested in accessing tight trading costs on liquid crypto pairs.
We conclude our review of Trustpac's service offering on a positive note: we did not find any reason to believe that this broker's offer may be a scam. All of the information we've covered in this review speaks to the fact that this is a legitimate broker that provides a cutting-edge online trading platform and offers attractive trading benefits.