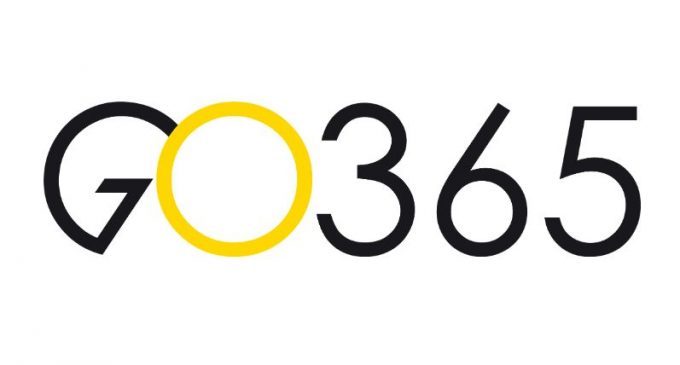 Company's Highlights
GO365.io is an online trading brand that wants to innovate in the field of cryptocurrencies. It's specialized in providing access to cryptocurrency trading services on a wide range of instruments. The website is focused solely on crypto and does not offer support for any other asset type at the present time.

In terms of regulation, KYC/AML compliance is ensured, and clients must provide identification documents in order to be able to make withdrawals from their trading accounts. At the same time, GO365.io complies with the latest European regulation for data protection and privacy (GDPR). There is no mention, however, regarding any license from a major global financial regulator.
This is a relatively new trading brand but considering that it's offer includes a series of promising features, we would like to provide a review focusing both on the positive and negative aspects when dealing with GO365.io.
Cryptocurrency Instruments
The main advantage of trading with this company has to do with the variety of instruments available. As you can see below or by signing up to a live account, there are contracts based on ADA, ARK, BCH, BNB, BTC, DASH, EOS, ETC, ETH, GNO, IOTA, LTC, NEO, NXT, OMG, OMN, REP, TRX, XEM, XLM, XMR, XRP, XTZ, and ZEC. Clients can trade contracts denominated in USDT, BTC, or ETH in either of the token previously mentioned.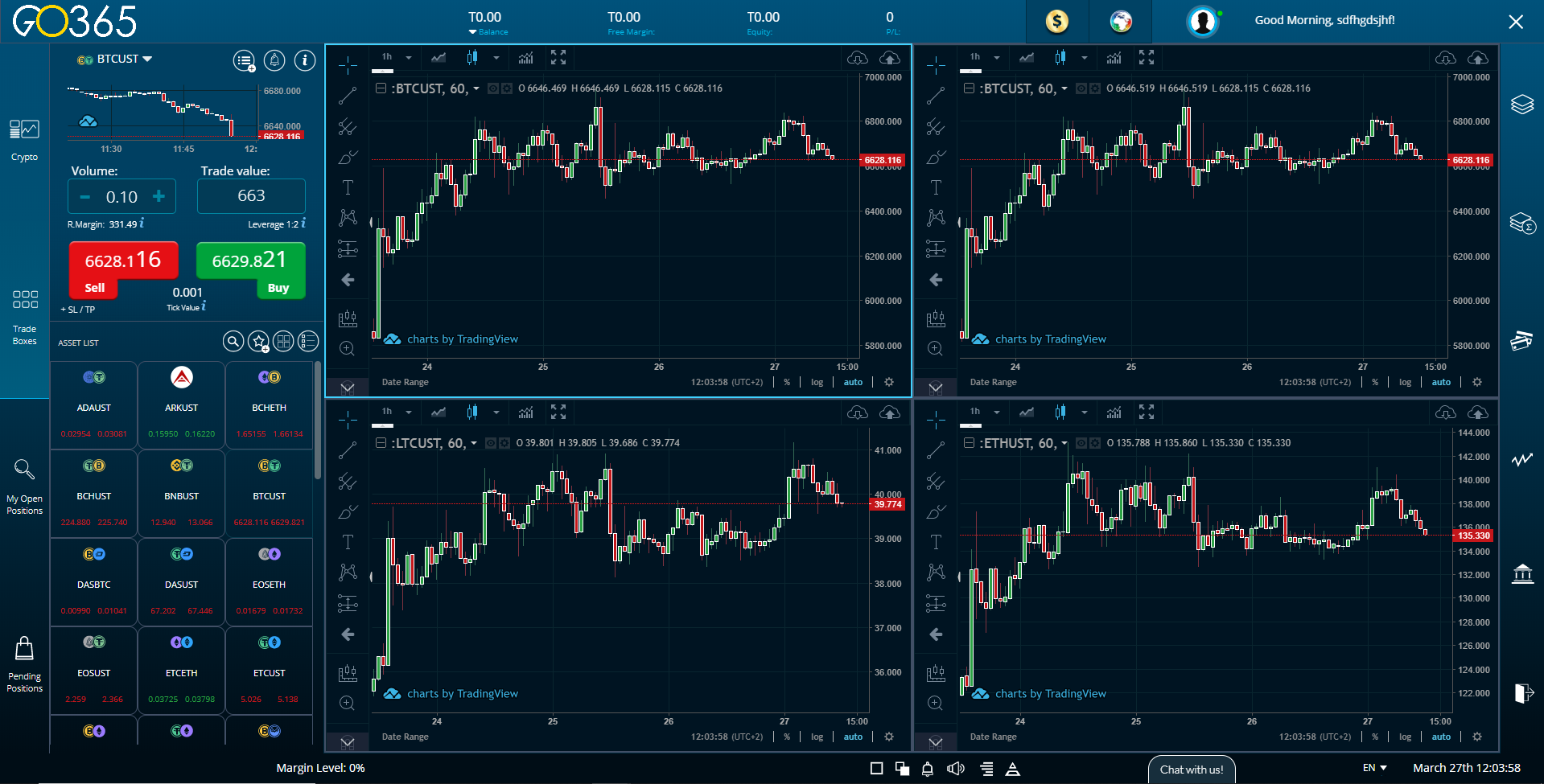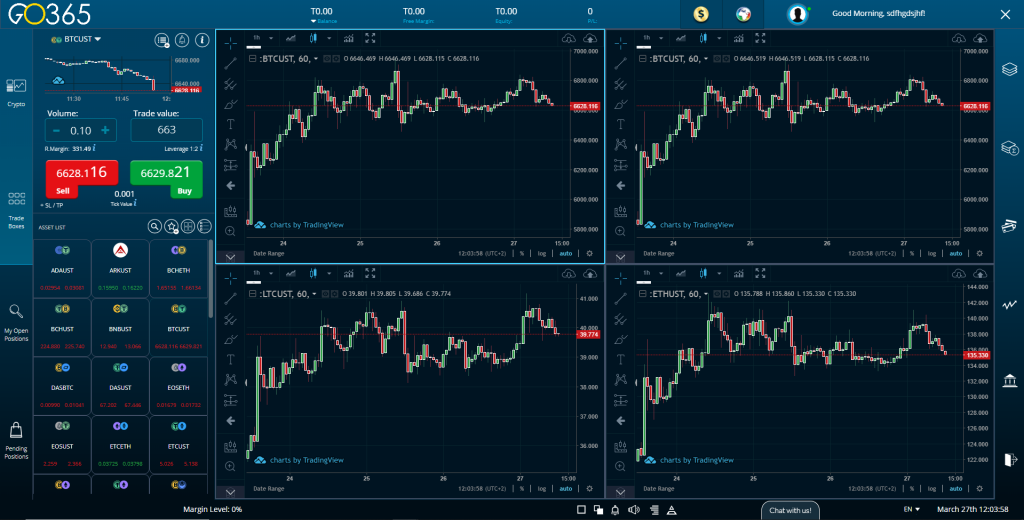 With such a wide variety of instruments, it will be easier for clients to build a portfolio and get broad exposure in order to spread the risk. Spreads are competitive and flexible, depending on the contract. Same like with other companies, trading less popular tokens will mean traders will have to pay a higher trading cost. In this case, we're talking about the spread and the overnight swaps, applying because we're dealing with CFDs based on cryptocurrencies. In addition, traders can use the maximum leverage of 1:20, also depending on the contracts they want to trade.
It may be a downside that there are no fiat-to-crypto pairs, but still, Tether pairs had been included. Fiat deposits in USD, EUR, or GBP are supported, as well as deposits in BTC. Clients can make deposits/withdrawals via credit/debit cards, wire transfers, or in BTC into their wallets. For fiat deposits, the minimum is $200 and for BTC deposits, traders should consider fees non-related to the broker (blockchain fee, wallet transaction fee, etc.).
Trading Software
Access to the cryptocurrency market is ensured via a web-based trading software developed by GO365.io. Labeled FronTrader, is yet another web platform that had been designed to meet the challenges raised by a fast-moving market like one of the cryptocurrencies. Relying on web software provides a great degree of flexibility since there's no need for any installation.


The first thing that stands out has to do with charting. Powered by TradingView, this means technical analysis methods will be applied with ease, given the wide range of technical tools available. Many professional traders are using these charts and GO365.io clients have the same possibility.
Because it's a proprietary platform, the company was able to integrate any feature, without restrictions. That's why traders can contact a representative via the live chat, read messages from the account manager, make deposits, check banking history, all via the platform.
To ensure that access to the market will be available at any point, the company had also designed an Android trading app. It comes with the same functionalities as the web platform, but with some adjustments to fit the size limitations of any mobile phone/tablet. This will be a tool to use when not at the trading desk. Monitoring all your trades, or even finding new trading opportunities is possible via mobile, as well.
Pros and Cons
Proprietary web-based platform and mobile app designed to meet the challenges of the crypto market.
Relatively low minimum deposit required of $200.
Charts powered by TradingView, suitable for any technical analysis method.
Only a standard account, with no differentiated offer for premium clients.
Limited educational material available for customers.
No desktop trading software.
Summary
We've now put all the main features into the balance and it's up to you to decide whether GO365.io is the right broker to trade CFDs based on cryptocurrencies. Based on our testing, the trading software runs smoothly, without any problems. It's important to be aware that cryptocurrencies are volatile instruments and combined with excessive leverage, big losses could occur. Make sure to study all the offers provided by the company and then assess whether you are able to meet the challenges of the crypto market.