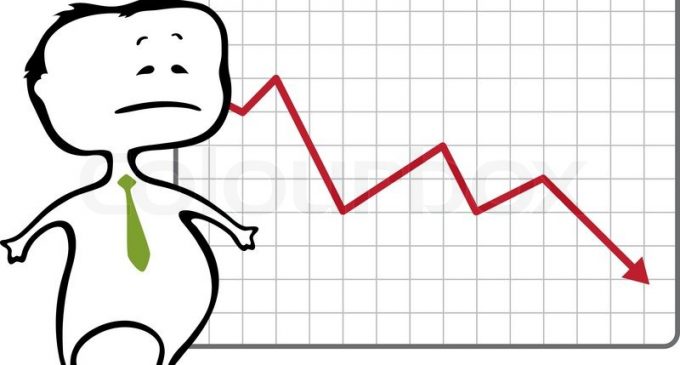 Following an enthusiasm that had propelled cryptocurrencies to new 2019 highs, the trend had become extremely unstable on May 17th, 2019, when all tokens started to head south impulsively.
We've warned in our last weekly crypto analysis that conditions are overbought and a strong correction might follow at any time. Although Bitcoin had an impressive rally since the beginning of April, it is down by 10% for the past 24 hours and it was seen losing $1000 in less than a few minutes during the day.
Market cap slumps – more pain ahead?
According to the information available on coinmarketcap.com, the cryptocurrency market cap peaked out on May 16th at $262.75 billion and even though there are only 24 hours since the peak had been reached, right now the numbers at $226.5 billion, down approximately $35 billion, as you may see in the chart below.
It is the steepest drop we've seen since the beginning of April when cryptocurrencies started to climb higher. Not a very encouraging sign for buyers, since it could signal that more losses could wait on the horizon before we see another impulsive push higher. The market momentum had now switched to bearish and there's no sign of change yet.
With interest in crypto surging, the bull run had been fueled by people afraid of missing out the trend (a.k.a. FOMO), but as we've warned in previous articles several times, extreme enthusiasm is more of the time a contrarian indicator, and smart traders should take that seriously into consideration.
The market performance
Taking some of the major tokens one by one, Bitcoin peaked on May 16th at $8,3888 on the Coinbase exchange and on May 17th is reached a low of $6,600. If we compound the losses for the past two days, it turns out that Bitcoin lost around 20% of its value, top tick to bottom tick.
Ether peaked at $280 and dropped towards $222.7 on the Kraken exchange, currently stabilizing very close to the lows. Litecoin was another token which had drawn attention this year, but it also dropped from $107.6 towards $84 in the past two days.
Volatility seems to be back on its track and it may not be an encouraging sign in the weeks to come. Such aggressive losses in short periods of time are generally hurting confidence, which puts buyers in a very difficult position. Our assumption is that the corrective move is still not over and most of the major cryptocurrencies could continue to erase losses in the near term horizon.