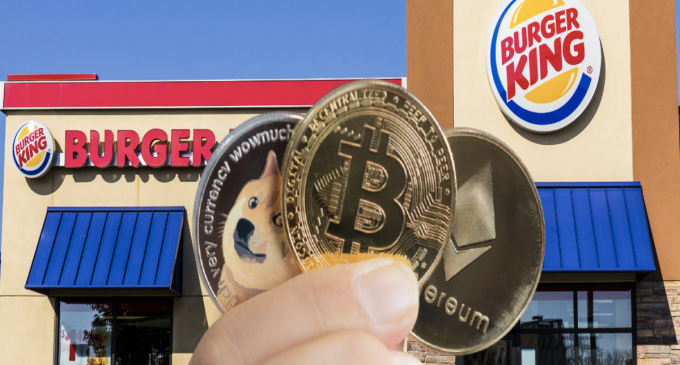 Loyal diners can take advantage of the latest Burger King cryptocurrency promo. The hamburger chain announced that it is giving away virtual currencies to its Royal Perks loyalty program members.
We are glad to read this report about the Burger King cryptocurrency promo. We think it demonstrates that crypto-assets have many usages, and in this case, the popular fast food chain is employing them for marketing purposes.
According to the news posted online by Restaurant Business Magazine, which delivers industry trends and analysis, news, expert tips, and growth strategies for restaurateurs, Burger King hopes to attract diners to its loyalty program with virtual assets.
The Burger King cryptocurrency promo involves the multinational hamburger fast food restaurant chain collaborating with investment application Robinhood Crypto on the giveaway. Customers interested and hoping to get some cryptocurrencies from Burger King have to be Burger King Royal Perks members.
Moreover, they should spend US$5 on the application, website, in the store, or using the "My Code" function at the restaurants between today and Sunday, November 21. Diners who participate in the Burger King cryptocurrency promo will then have to wait for an e-mail message with their prize code.
They can redeem that prize by utilizing a Robinhood Crypto account. Dogecoin is worth about US$0.27 apiece at the time of writing, according to Coinmarketcap.com.
This virtual currency is most of which will be given out to promo participants. Meanwhile, few Burger King diners will get crypto-assets that are far more valuable.
These cryptocurrencies include the flagship Bitcoin, currently valued at US$60,822.14 at the time of writing, and a full Ethereum, which is worth exactly US$4,315.43 at the time of writing. The Burger King cryptocurrency promo will give away a total of 20 Bitcoin, 200 Ethereum, and 2 million Dogecoin.
Earlier this year, Burger King introduced its new loyalty program. This marketing strategy offers rewards points to diners based on their purchases that they can exchange for sandwiches, hamburgers, or drinks.
We are delighted to read this news about the Burger King cryptocurrency promo. We think the hamburger fast food chain is helping virtual currencies like Bitcoin, Ethereum, and Dogecoin become more exposed to today's consumers as valid payment modes.
Additionally, we think Burger King is aiding in promoting cryptocurrencies as acceptable, relevant, and useful in today's business world. We believe more companies will view these crypto-assets as useful in the coming years, which is certainly positive news