Company's Vision
AtecsCapital is one of the most reputable and widely used Bitcoin trading and cryptocurrency trading platform, setting a high bar when it comes to financial operations, user experience, and simplicity. The company had always been focused on providing top-notch features and services.

With the offer set up by AtecsCapital, clients can benefit from state-of-the-art charting tools, fast trade execution, and an intuitive trading interface designed by professional traders. Low margins and precision-based spreads, as well as the ability to trade in a variety of crypto markets, are available for all the clients.
Through credit cards, wire transfers, and e-wallets, AtecsCapital clients are able to deposit funds fast and start trading cryptocurrencies with one of the most reliable platforms.
Proprietary trading platform
Clients have access to the cryptocurrency market through a proprietary web trading platform, packed with features that ensure a friendly user interface as well as fast execution is one of the most challenging markets.
The platform offers access to 32 cryptocurrency pairs. The offer includes crypto-fiat pairs in US dollars, Euro and Australian Dollar, crypto-to-crypto pairs like ETCETH, ETHBTC, XRPBTC, and many others, allowing clients to switch from one token to another without having a fiat transaction in the middle.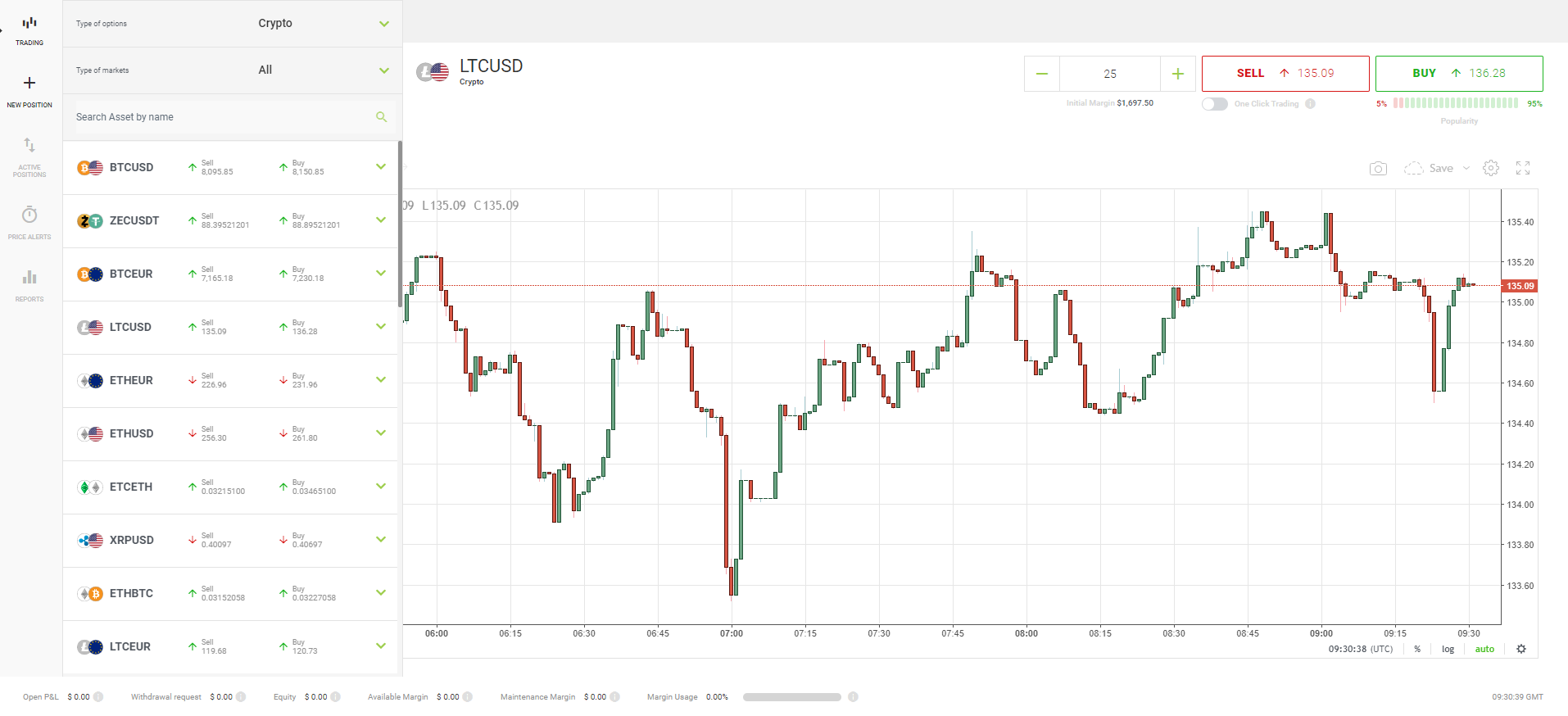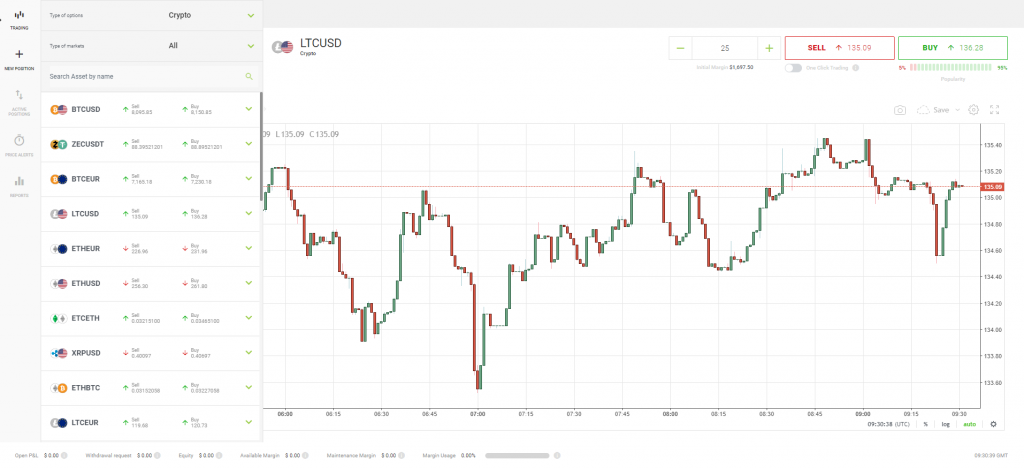 Features like one-click trading, price alerts, reports, stop loss and take profit, as well as many others, are also built into the platform, in order to improve the trading experience. It is worth to mention that the AtecsCapital platform works on any mobile device that has a browser, allowing clients to monitor their trades while on the go.
Account types
Different people have different needs and AtecsCapital took that into consideration when setting up the account type structure. With as little as €500, any person can open a Basic account. 24/6 support service, access to the educational center, daily market review, and pro webinars are the most important features.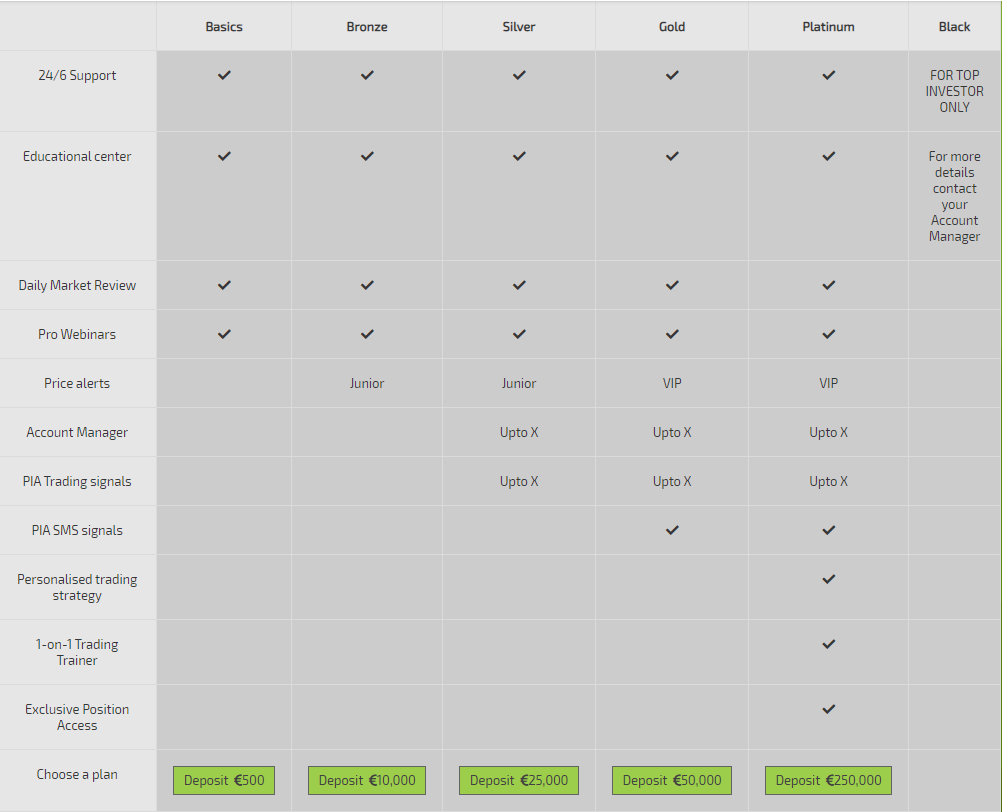 For clients who can afford to invest more, Bronze, Silver, Gold, Platinum, and Black account are part of the company's offer. They come with additional features like account manager, PIA trading signals, personalized trading strategy, 1-on-1 trading trainer and others.
Atecs Capital Academy
Education is part of the trading process and AtecsCapital has its own Academy where clients can find valuable information about cryptocurrency trading. Introductory courses, ebooks, fundamental and technical analysis, as well as cryptocurrency signals are all included in the offer. Clients who want to dig deeper into the cryptocurrency world will have access to in-depth courses designed to take their trading to the next level.
Assets you can trade with
As a top online trading platform, Atecs Capital offers you a wide range of trading assets. This is to ensure that whichever the cryptocurrency a trader has interests in, is available for them. Atecs Capital lists the world's popular currencies including;
Bitcoin (BTC),
Ethereum (ETH),
XPR (XPR),
Bitcoin Cash (BCH),
Litecoin (LTC),
EOS (EOS),
Tether
RIPPLE
Dash
Monero
With this diversification coupled with the decentralization offered by blockchain technology, this company caters to a worldwide audience of traders. Atecs Capital offers you a commission-free trading and low spreads. How about the benefits of forex trading coupled with the cryptocurrency supremacy? The result is absolute convenience. Cryptocurrencies are not very much dependent on world politics, but their corresponding base currencies are. It shouldn't be hard to see that crypto-trading makes it easier for you to trade in that you don't need to compare the endless fundamental factors affecting two economies for you to trade. Whereas you can't ignore the trends inherent to your quote (cryptocurrency) currency, crypto-trading largely requires an in-depth study of the base currency indicators.
All of these trading assets are accompanied by ready market information, as seen on the website. These market resources include indicators, analyses, and trends.
Considering the booming popularity of the Bitcoin, for example, more people are venturing into the cryptocurrency medium of exchange. This is for various advantages such as the confidentiality of transactions, lack of transacting charges,' and openness. Atecs Capital designed its Platform with all this in mind, not to compromise your convenience.
Different cryptocurrencies have different values against a common base currency. to preserve the adaptability of the cryptocurrency, this company allows you to trade even the currencies developed for specific use cases.
Safety and security
For any institution, the safety and security of the clients and customers are paramount. As it turns out, whenever money is involved, you should not sign up with a broker with doubts about your security and safety.
As much as the safety of your funds is important, your personal information must also be secure. At Atecs Capital, it is clear as to how we protect your information; thus, you have no cause for worry. At the time you sign up, we only require a portion of your confidential information. This is for identity confirmation and safekeeping of your funds with us. Your information is encrypted with unrivaled encryption algorithms making it absolutely secure.
Atecs Capital does not share your personal information with third parties without your written consent, except when the law requires so.
Our client data capture methods are two-way. First, we collect data that is given by the client willingly. The other is by use of cookies that collect information on how the client interacts with the company websites. These two methods ensure the client's data safety.
The company may contact the clients via email or contact number they provided during registration. This information may be about cryptocurrencies and/or their trading accounts.
Atecs Capital does not keep details of credit, credit, or net banking. Additionally, to ensure your absolute security, we employ Secure Socket Layer (SSL) encryption protocol. This means that the details on your registration form are scribbled and concealed from even the company personnel except for the one dealing with the storage of client(s) information.
Fast and easy registration
Opening an account is the first thing once you decide to trade with Atecs Capital. You need to decide what account type you want to open first. There are up to six account types that you can choose from. For clients new to trading, a basic account is all you need. The basic account should not be seen as less. It has all the features that a trader needs in trading.
A basic account will allow you access to charts from where you can monitor price movements before entering a trade. There's also a library of training materials to help you avoid high risks as you trade. With a basic account, you also get to receive trade signals. There're more signals with advance accounts, however. To open a basic account, you need a small sum of money as compared to the other advanced accounts. Atecs Capital is one of the few CFDs who lets you access to trading signals with just a basic account- quite prudent.
To open an account with Atecs Capital, follow these easy steps:
From the homepage, click on 

Register Now

 at the top of the page

Enter your basic information as requested on the registration form. Be careful to enter accurate information to avoid rejection of your application.

Click on Create Account

Complete the registration and verify your account.

You can now fund your account by making an initial deposit.
Minimum deposit, leverage, spreads & withdrawal
With as little as 500EUR, USD, or GBP, you can open a basic Atecs Capital trading account. During registration, you don't need to make a deposit right away. However, to trade, it is required. Advanced accounts require a bigger sum of money to open.
The leverage you access depends on the account type and the currency pair. Right on the website, it can be seen that Atecs Capital provides leverages of 1:2 and 1:5 for the majority of the cryptocurrency pairs. With advanced trading accounts, you can get leverages of up to 1:20.
Spread is one of the factors every trader pays attention to. At Atecs Capital, we offer you a zero spread, meaning if the market isn't moving, you can enter a position and exit without making a loss. This is one of the reasons why we stand out amongst other brokers.
Atecs Capital has made deposits and withdrawal very convenient. We provide several ways of withdrawing funds from your account. These include credit cards (such as MasterCard and Visa credit card), bank wire transfer, and e-payment options. E-payment methods are very convenient as you can transact on the go.
Atecs Capital does not charge you any transfer fees when you transact with a credit card or e-wallet. You're only charged a flat fee of 30$ when you choose wire transfer. There's also no minimum amount to withdraw, but your withdrawal request will be canceled if the account balance is below the withdraw request amount.
It takes just 5-7 business days to approve a withdrawal request.