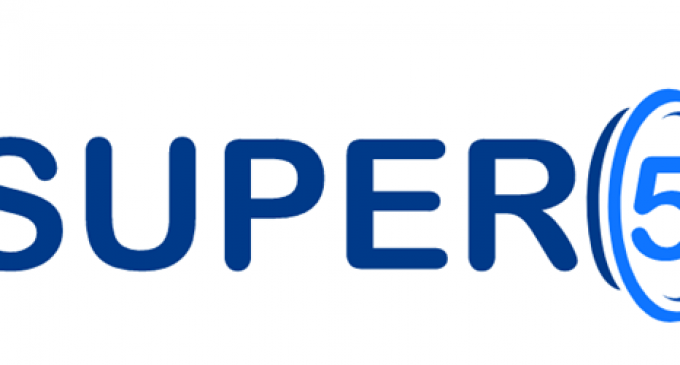 Company's Highlights
SuperFive is a cryptocurrency trading platform designed for traders that seek to experience the price movements in the crypto market using next-generation trading technologies and a series of comprehensive features.
Bitcoin had already managed to reach $19,500 by the time of writing and was close to breaching above the all-time highs. At the same time, Ether, Litecoin, Dash, Bitcoin Cash, and other large altcoins are following on the same path with impressive performances for the year.
Thanks to the trading offer assembled by SuperFive, traders can go long or short on a broad range of crypto instruments, while the still elevated volatility in the market is occurring. This brand operates internationally and targets a broad range of traders that would like to have a trading account dedicated to crypto trading.
Now that there are so many different brands offering crypto trading services, does SuperFive manage to provide an edge for those who choose to work with it? Read our full SuperFive Review to find out more about the services available.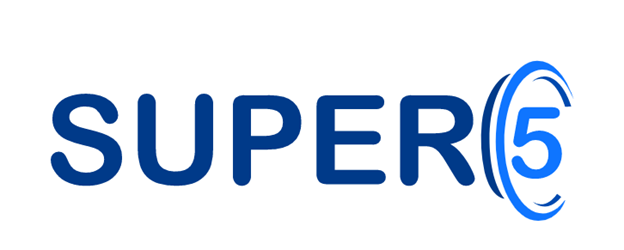 Cryptocurrency Instruments
When looking for a dedicated cryptocurrency trading platform, people first think about the instruments covered. The main downside when dealing with the largest brokerage houses is that they continue to have a slim crypto offer, which is detrimental for those that want to take advantage of the volatility in altcoins.
Trading crypto with SuperFive negates that downside because there are tens of different cryptocurrencies covered, including Chainlink, Stellar, Polkadot, Binance Coin, Bitcoin SV, and EOs, on top of the largest tokens such as Bitcoin, Ether, Litecoin, or XRP.
All these tokens can be traded against the popular stablecoin Tether, or against BTC and ETH, which are currently among the most liquid instruments. That means better trading accuracy, liquidity, and lower trading costs.
Trading Platform
With the super-five.com platform, customers can trade anytime and anywhere, thanks to proprietary web-based software that can be accessed via a browser. Either using a desktop, laptop, Android, or iOS device, it won't make any difference, given this platform can adapt to any type of environment.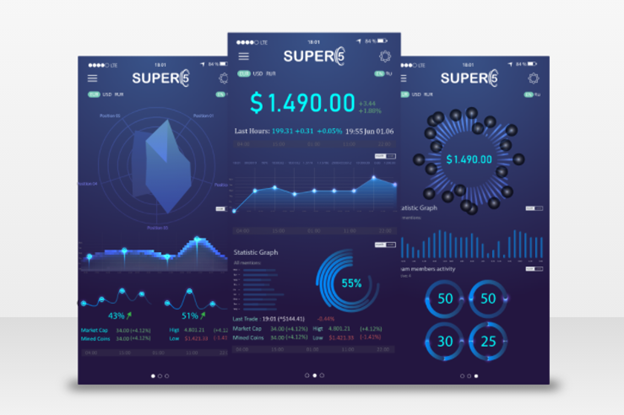 SuperFive integrated advanced charting, price alerts, risk management tools, one-click trading, customer support, and various other customization features, that will enable customers to reshape, change window sizes, or the language, depending on their needs.
Although there are no mobile apps yet released by SuperFive, this platform is mobile friendly and does not have any difficulties when running on a smaller screen.
Traders are ready to trade in less than a minute by simply logging into their account via super-five.com, regardless if they're at their place or on the go. This is a huge advantage when managing trades or looking for new opportunities, given the elevated volatility in the crypto market.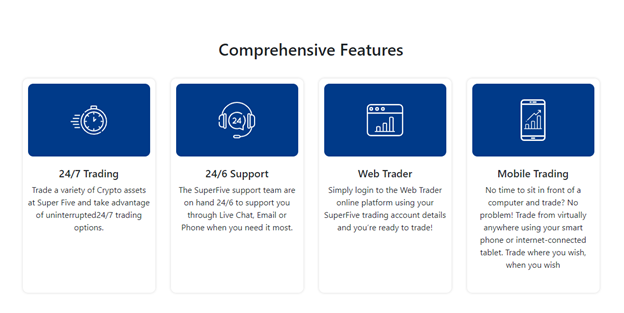 SuperFive Account
New customers will benefit from a super easy registration with SuperFive, even though they don't have any prior trading background. Opening an account, submitting the verification documents, or making a deposit are simple tasks. Even if assistance is needed, super-five.com has a dedicated team of support representatives available 24/6 via live chat or email.
There is a 24/7 trading schedule, access to the WebTrader and mobile trading, as well as multiple tools integrated into the platform. All customers get to benefit from all these features, regardless of their initial deposit.
Special Features
The most important feature when trading with SuperFive is the cryptocurrency coverage. This means traders can take advantage of price movements in many different tokens, having the ability to diversify their market exposure to negative any major implications of high volatility.
On top of that, customers benefit from 24/6 customer support via live chat and a 24/7 trading schedule. SuperFive believes that only with a client-oriented vision it can manage to thrive in the trading arena and thus far, has managed to prove that the customer always comes first.
We should not forget the trading platform, integrating multiple useful features required when dealing with cryptocurrencies. SuperFive put a lot of effort into building it from scratch and that's something to consider.
Pros and Cons
24/7 trading schedule and 24/6 customer support via live chat
Access to a flexible web trading platform
Tens of cryptocurrency instruments are currently supported.
No support for Metatrader 4 or MetaTrader 5
Mobile apps not available
Several jurisdictions are restricted from opening accounts.
Summary
Based on our analysis, there is no solid evidence suggesting SuperFive might not work on behalf of its customers. On the contrary, the brand looks fully committed to ensuring optimal trading conditions for traders that believe in the power of cryptocurrencies.
This is a trading platform to work with if you want to focus 100% on cryptocurrency trading and benefit from a diversified exposure due to the tens of different crypto pairs currently part of the SuperFive offer.