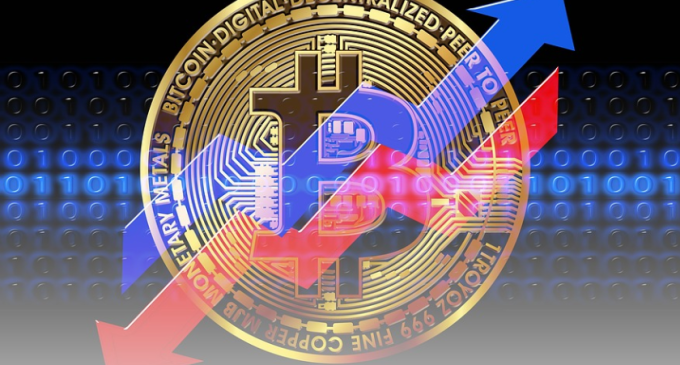 BTCUSD (Coinbase)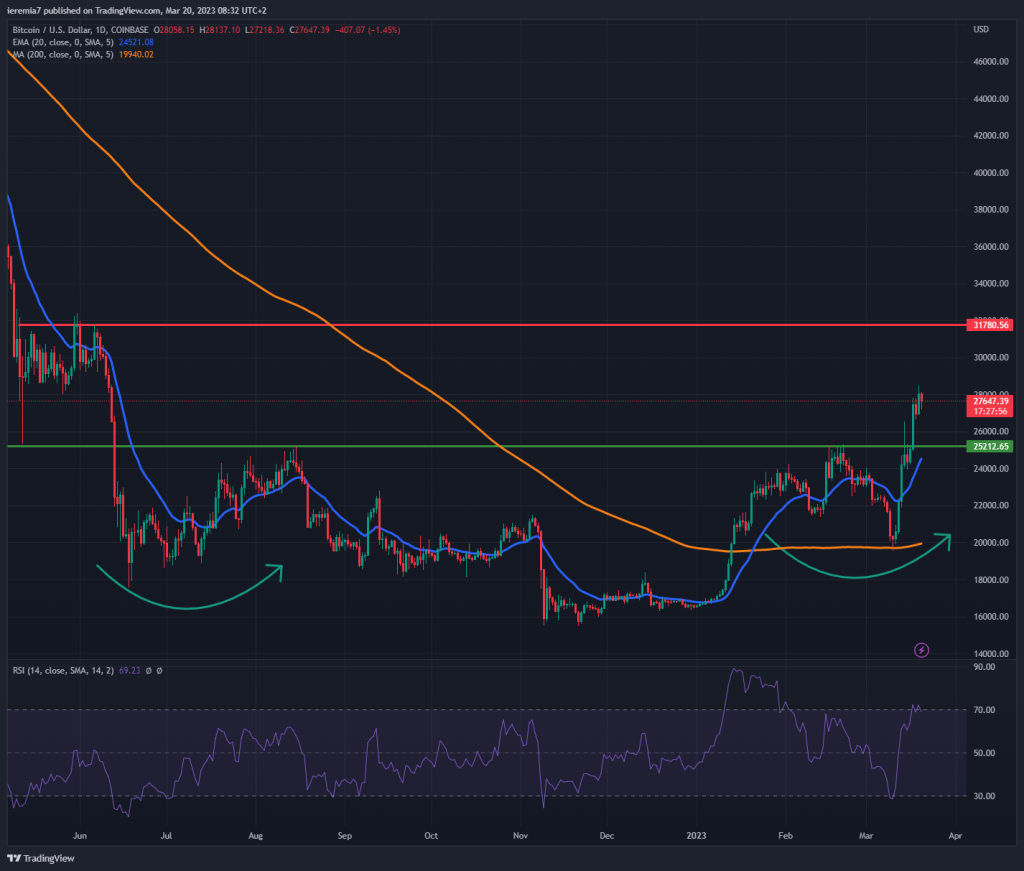 Bitcoin staged an impressive rally last week, despite weakness across all stock markets. Although some experts claim this is a flight to safety and BTC is used as protection at a time when the banking sector is having issues, our opinion is different. Treasury yields have fallen strongly and that could be an early indication of monetary policy tightening.
Crypto traders are trying to front-run a new wave of excess liquidity and bought BTC, benefiting from a favorable technical position. RSI was oversold and on top of that, the daily chart points to an inverted head and shoulders pattern. The neckline is $25,200 so as long as we see the price trading above it, H&S will hold.
If we continue to move up, resistance should be expected around $30k and then $31.7k. Rejections off the lather could be spotted back in June last year, so buyers might want to de-risk and take some profits off the table. The price needs to break impulsively below $25,000 and the daily 20 EMA to suggest material weakness resumed. That could expose the daily 200 SMA once again.
ETHUSD (Kraken)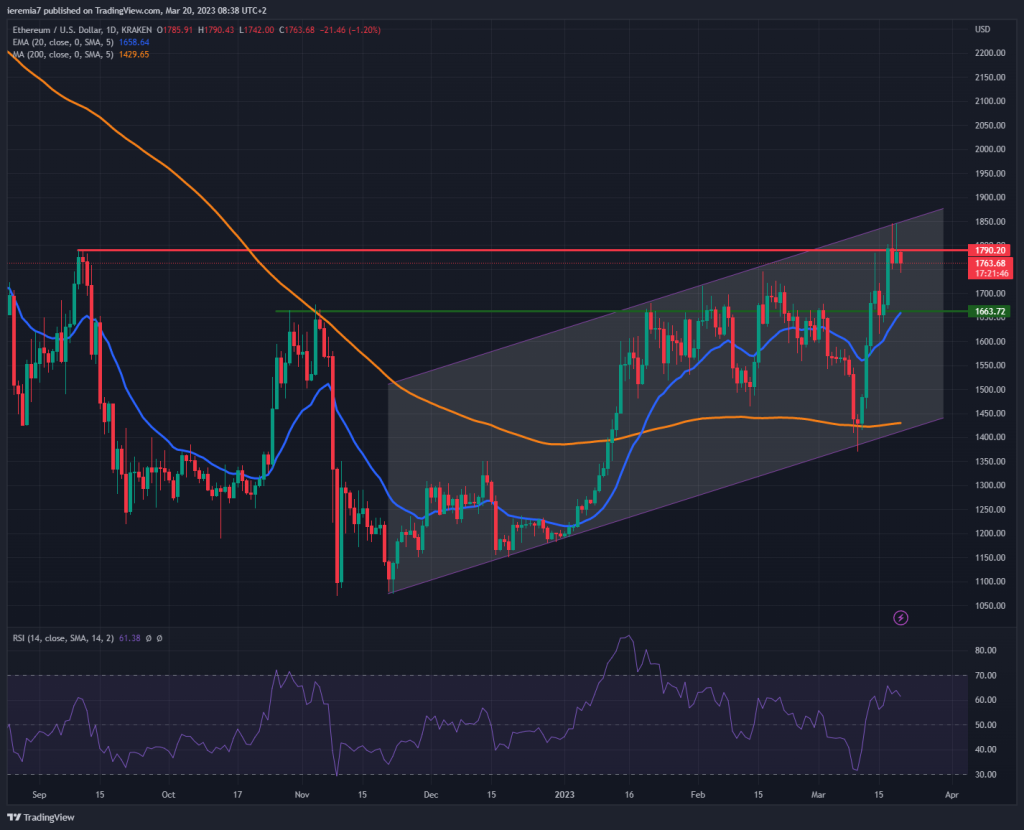 Ether treated the daily 200 SMA as a support and that's where an impulsive move up started. The price breached above the February 2023 highs, yet we are now advising for caution considering the technical picture.
More specifically, ETH has reached the upper line of an ascending channel. On top of that, we already see selling pressure emerging, so a pullback might be on the cards. If the price continues to pull back, buyers should watch for support around the daily 20 EMA and $1,660. If both fail, a stronger selling move might come next, driving the price toward the 200 SMA once again.
Breaking impulsively above $1,800 and outside the channel will be the green light for a move toward $2,000. We believe this is the less-likely scenario at this point, given the elevated sense of uncertainty across all financial markets.
CFXUSDT (Kucoin)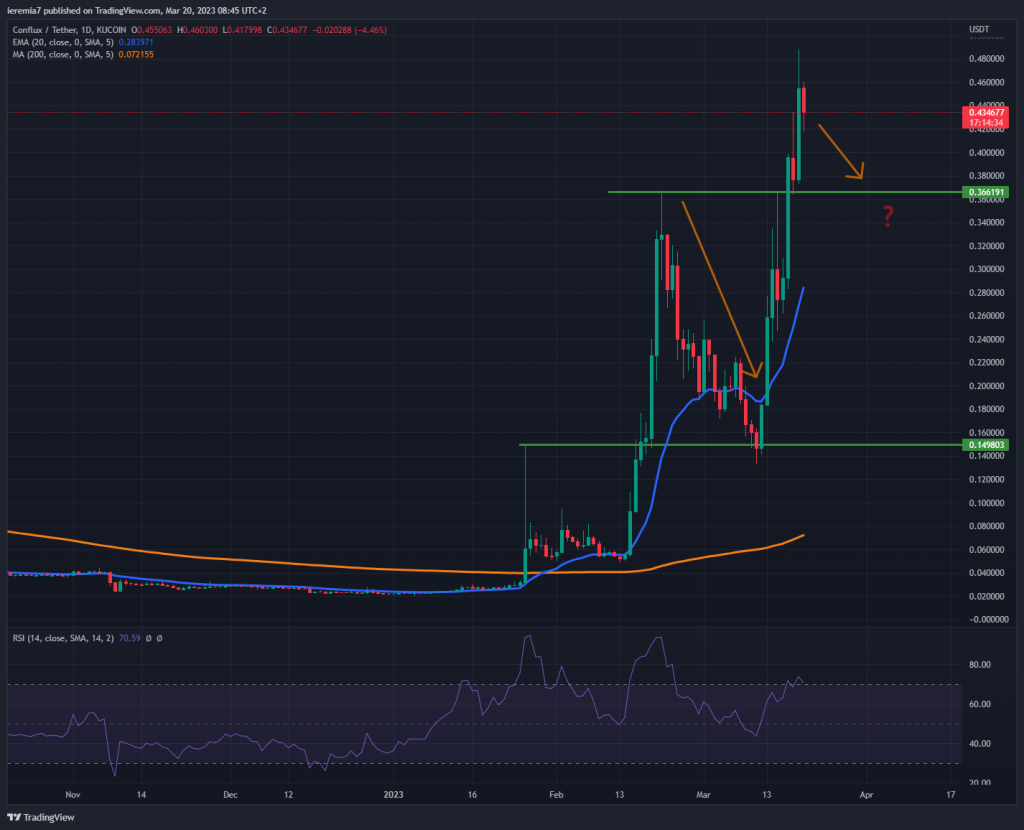 Conflux is one of the best-performing cryptocurrencies last week, up over $123%. Despite such impressive gains, we suspect the rally might soon run out of steam and traders will start dumping tokens in mass. Until then, there's an interesting technical dynamic repeating itself. You can see that each time breaks above a prior high, it starts to trend lower, retests the broken level and starts a new move up around the same area.
Now that CFX is trading around 43 cents we believe it's possible to see some weakness towards 36 cents. Failure to hold as support there will mean the price can move even lower, towards the daily 20 EMA.
Finding upside targets is tricky, given CFX is trading near all-time highs. Because of that, traders can stick with psychological levels, combined with signals provided by RSI or the price action. We think 50 -60 cents is a strong resistance and buyers could have a hard time breaking above it materially. However, if we're wrong on this call, CFX can move up toward the $1 mark.