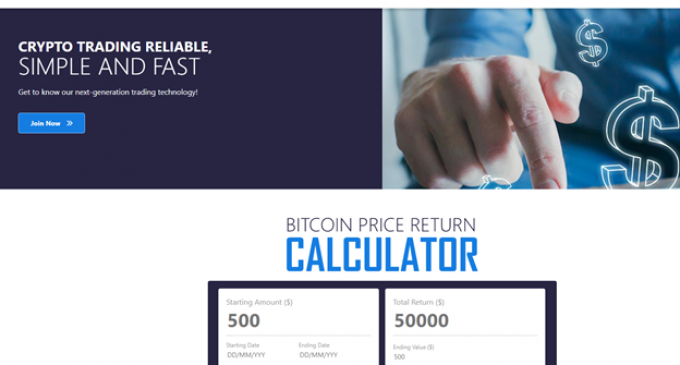 Company's Highlights
MrGuru is an online trading brand with global outreach, aiming to serve customers from all around the world.
It offers access to a broad range of cryptocurrency instruments, including some of the most popular tokens and other altcoins.
At MrGuru, customer support is available 24/6, via email, phone, or live chat.

MrGuru is a cryptocurrency online trading brand offering access to some of the best trading conditions for crypto. For both, beginners and experienced traders alike, the services provided are the right fit and come with multiple benefits to tackle the challenges of one of the most volatile markets in the world. There are no geographical restrictions with this broker, which means anybody can open an account at any point.
In terms of the MrGuru WebTrader, it is a platform designed especially for the cryptocurrency market. TradingView charts, asset alerts, CNBC news, and the ability to make deposits are just some of the features integrated into it.
This is the only platform available with the broker, but it is very versatile, considering it can be accessed via any type of device, including mobile.
Via its trading offer, MrGuru wants to become one of the top choices for traders that understand the long-term potential of cryptocurrencies and want to get involved in some of the most 'in-demand' crypto markets. The brand has a customer-oriented approach, as it had been proven by all the trading functionalities and the reliable support service.
About MrGuru
MrGuru is a promising cryptocurrency trading brand, owned and operated by Mandarella Ltd. The broker is well-known for providing access to a multitude of crypto instruments, competitive trading costs, a modern trading platform, and a broad trading ecosystem designed to assist traders while navigating the fascinating world of cryptocurrencies.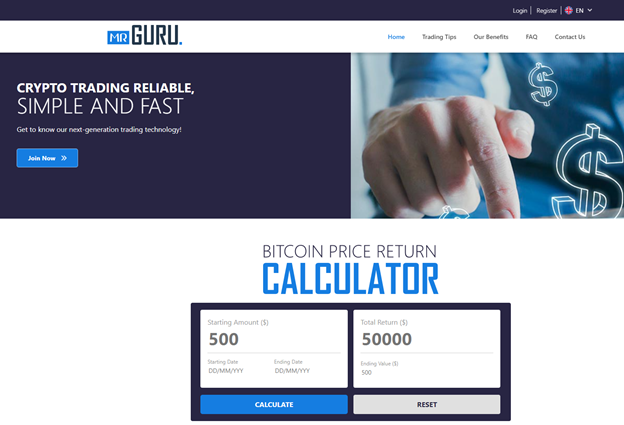 Putting the customer first is part of MrGuru's agenda, which is why the brand had assembled a dedicated support team and other trading surprises for any customer who will decide to open an account.
You can deposit funds in a strong, safe, and secure internet environment, thanks to the care of MrGuru.
Who Does MrGuru Appeal to?
Cryptocurrency traders will find the services provided by MrGuru pretty appealing. The main reason for that has to do with how many cryptocurrencies are available on the platform. If most of the brokers cover just a few assets, in this case, the number increases exponentially, allowing customers to take advantage of many different markets.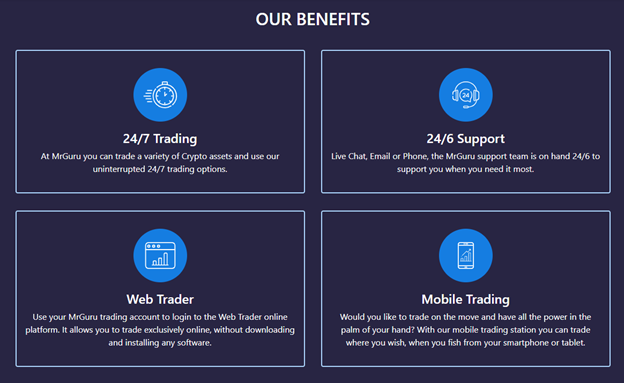 MrGuru Account types
Traders working with MrGuru will have access to a standard account, which integrates all the trading functionalities available with the broker. The account opening process had been simplified so it won't take more than a minute.
Once on the dashboard, customers can deposit funds, verify their identity, talk with customer representatives via live chat, or adjust account security parameters. The MrGuru FAQ section answers more questions on important aspects related to the trading account.
Everything is set up intuitively, so even beginners won't encounter difficulties along the way. Also, from the dashboard, traders will be able to enter the WebTrader, the proprietary platform of MrGuru.
MrGuru Crypto Instruments
MrGuru customers can trade on a broad range of cryptocurrency instruments denominated in Tether, Bitcoin, and Ether. Among the crypto tokens currently available for trading, we should mention altcoins like Tezos, Neo, Cardano, Stellar, Tron, IOTA, and plenty of others, alongside the large-cap tokens like Bitcoin, Ether, Litecoin, or XRP.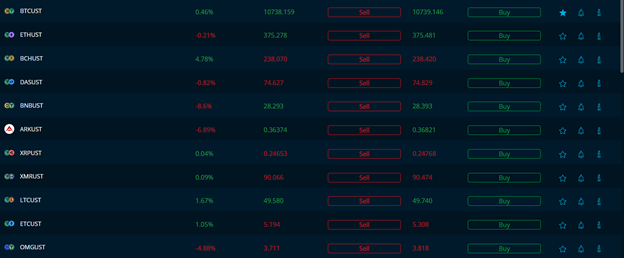 This means traders can take advantage of fluctuations in many different instruments, widening their coverage. MrGuru has a leading advantage when it comes to crypto assets because only a few brands cover so many.
MrGuru Platform
WebTrader is the result of years of research and development. Whether or not relying on a single proprietary platform is debatable, but so far, it benefits from good feedback. Since it can be used on desktop, laptop, Android, or iOS devices, it ensures access to the markets at any point, to help traders notice any sudden market move.
TradingView charts, CNBC news, asset alerts, multiple languages available, the ability to create favorite lists, or make deposits, are just some of the trading functionalities currently available.
MrGuru Customer Support
Live chat, email, or phone, the MrGuru support team is on hand 24/6 to assist customers when they need the most. Since the trading schedule is 24/7, the broker sure to be close to clients one day each weekend. This customer-oriented approach is welcomed and proves once again the solid work ethic at MrGuru.
MrGuru Pros
Tens of different cryptocurrency instruments available on the platform.
Next-generating trading technology built into the WebTrader.
Reliable customer support service, available 24/6 via email, phone, or live chat.
MrGuru Cons
Standard account available for all customers.
Limited educational resources are available.
MrGuru Review Conclusion
The bottom line is that MrGuru wants to be among the top choices for traders focusing on the cryptocurrency market. With so many different instruments available, they can take advantage of movements in many different markets, while using the optimized WebTrader and the full range of features currently at their disposal.