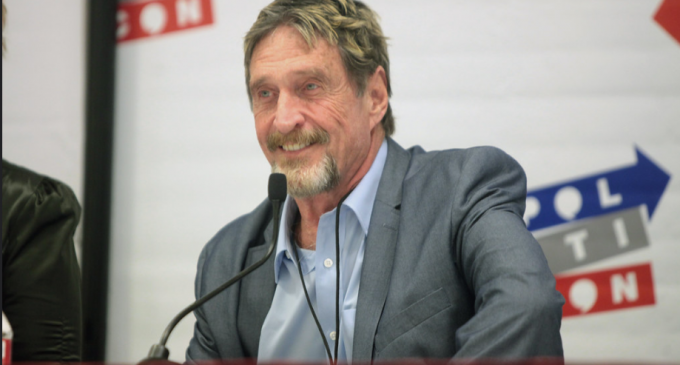 John McAfee, the controversial figure from the crypto industry, is poised to launch a new token later this month, in its quest to provide a new alternative when it comes to privacy cryptocurrencies. He's well known for a series of claims that had proved to be wrong along the way. One of its predictions was about Bitcoin and McAfee predicted it could reach $1 million in 2019, but the reality had been far from that. Here we are in 2020 and he's back with another controversial project, but one that could be interesting for crypto users wanting complete privacy.
Ghost Coin whitepaper published
As you can see on the official website, GHOST is a proof-of-stake privacy coin to "help make you nothing but a ghost when transacting online", using an escrow pool to shield and erase the history of transactions, which are verified using zero-knowledge proofs. The new blockchain will be decentralized and will be controlled by GHOST token holders and users. There's no central company or owners, with a community handling the maintenance.
Same as with tokens like Monero or ZCash, GHOST will ensure complete privacy when conducting financial transactions, something that's not on the taste of public regulators. On the positive side, transactions are processed on-chain in under 60 seconds with just a fraction of a penny as transaction fee.
To earn new GHOST tokens, users can stake (no minimum coin requirements) or run a masternode (20,000 GHOST tokens are required and anyone can run as many masternodes as they wish). The new token will be launched on May 25th, will have a 55 million total supply, out of which 25% will be allocated to ESH token holders at the launching date.
Should privacy be the main concern?
With thousands of different tokens in existence, one of the key issues to consider is whether the world needs so many alternatives to fiat money. Additionally, when it comes to privacy tokens, most of them had not been favored by increased regulatory scrutiny all around the world.
That happens because some of the users advocating for complete privacy when conducting financial transactions might be charged with money laundering. Extreme situations go as far as terrorist financing, but the bottom line is that the wider public is still not keen on taking their finances completely private. The GHOST project had created some hype, mainly because its creator is well-known for media appearances and exaggerated claims.