Etoro crypto broker review
eToro is an online broker based in Cyprus that was founded in 2007. It is one of the first brokers that introduced the idea of social trading and it currently a leading social site on the global scene, with 5,000,000 traders. It is a regulated broker and had been the recipient of several awards.
The goal of eToro was to provide an online financial trading platform that was as the same time user friendly and suited to traders of all levels of experience. Given the huge number of traders they have, the concept managed to become a huge success.
It has a wide variety of trading instruments and managed to keep up with the latest development, introducing crypto currencies for trading as well.eToro introduced bitcoin trading since 2014, being one the first brokers to have crypto currencies on their list. At the beginning, bitcoin was being listed as a stock, not a currency. Traders are buying and selling CFDs, which track the actual evolution of the bitcoin price.
eToro is one of the few online brokers that encourages its clients to connect with one another to trade, learn and share knowledge.
eToro also offers some interesting features to clients like: Personal Portfolios, News Feed, Watchlists and many others.
Trading Platforms
eToro main platform is CopyTrader. It was designed as a tool which could be used to copy other traders' ideas. With CopyTrader traders can instantly see what other people are trading.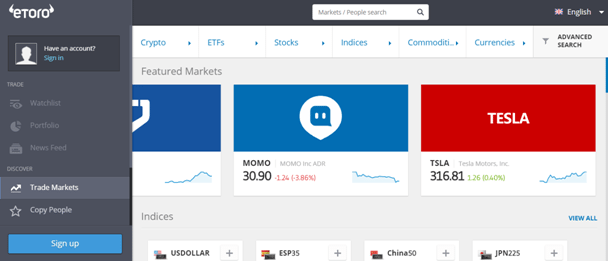 eToro only relies on web-based platform and they have also developed a mobile app, available on their website. Both Android and iODeToro Social Trading apps are available, but still they are still not fully aligned with the new eToro App.

Customer Service
Traders who need help from an eToro representative have two basic options: phone or email support. For traders in Cyprus, UK and New Zealand telephone support is free.