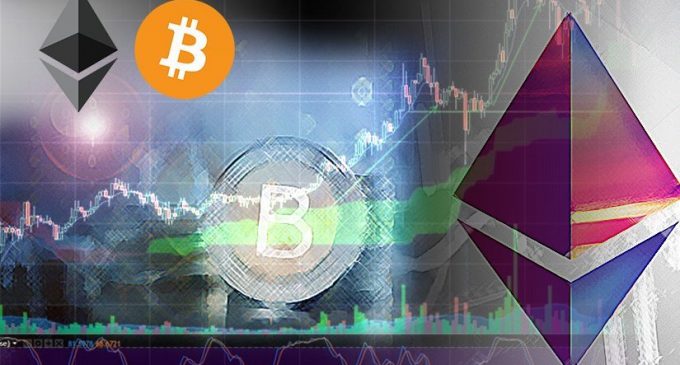 Bitcoin
Bitcoin had traded in a narrow range for the past, but still, it is located above the ascending trend line we've talked about in our last week crypto analysis. Since no breakout took place on the downside, we maintain our view and expect the price to continue to head higher. However, a reduced appetite for buying, which could be seen now, may pose serious threats for the near future. At the current price level, miners are the ones hurt the most. With the level of complexity which requires huge amounts of electricity, they can barely cover those costs.
In case the price will continue lower, the trend line should bring new buyers into the market. If not, last week low, located around 7,400 should be the next support under pressure. Anyways, a breakout below the trend line will mean the current year low, located around 6,000 should be tested, as well.
On the upside, resistance can be seen around 9,000 area. That where the sellers became active four days ago. A break above it will open more room towards 10,000.
Monero
We've talked about Monero in our last two weekly crypto analysis and what we have advised each time was to sell. We were right and the price dropped almost 50%, which is an impressive figure. Even though we can see some reaction from the bulls at the beginning of the week, almost all the gains had been erased until the time of writing.
We expect short-term support to emerge around 192 area. Little below it we have the last week low, which is also followed by the 155 support area. At this particular point, however, there is no sign of impulsive buying.
If the buyers will manage to take control over the order flow, we could see a new attempt to break 237 resistance level. We have a touch this week and a close above it might signal a continuation towards 262.
Ethereum
Widely regarded as the main competitor of Bitcoin, Ethereum is not going through its best period. From the contrary, the price is heavily under pressure, as you can see from our chart. Following the strong selling we saw last week, Ethereum did not manage to recover too much. All the gains that could be seen at the beginning of the week had been erased and now, the last week low seems to be the next significant support.
So, if the price continues to drop, we expect to see support around 464. Buyers emerged there last week and it could happen again. Below that level, the 400 area is also expected to be a place where buyers are parked.
On the other hand, resistance should emerge around 581, where sellers resumed four days ago. If the buyers will manage to break on the upside, 664 should be the next upside target.