About TradeOTC.io
TradeOTC is a CFD broker operating on the international stage. In this review, we aim to provide an objective assessment of TradeOTC's offerings, features, and overall performance in the growing world of Over-The-Counter (OTC) Forex trading. 
Striving for neutrality, we will delve into various aspects, including user experiences, markets covered, account functionality, and industry reputation. The goal is to present you with a comprehensive overview, enabling you to make an informed decision about whether tradeotc.io aligns with your trading preferences and financial goals. Let's navigate the nuances together as we unfold the layers of this unbiased review.

Markets covered
TradeOTC provides a diverse and expansive range of trading opportunities across various markets. In the Forex realm, traders can access over 70 major, minor, and exotic currency pairs, catering to a broad spectrum of preferences. 
The platform extends its reach to Commodities, offering trading options in energies such as crude oil and agricultural cash crops. You can trade equities with a selection of US companies like Tesla, Apple, and Netflix available for trading. 
Additionally, tradeotc.io covers Indices, presenting major stock indices like US30, S&P500, and NAS100. Crypto enthusiasts can delve into a pool of 40 digital assets, including BTC, ETH, XRP, and DOGE. Furthermore, the platform accommodates those interested in Metals, with offerings in precious and industrial metals such as gold, silver, and copper. 
This diverse array of markets positions tradeotc.io as a comprehensive platform suitable for traders with varying interests and preferences.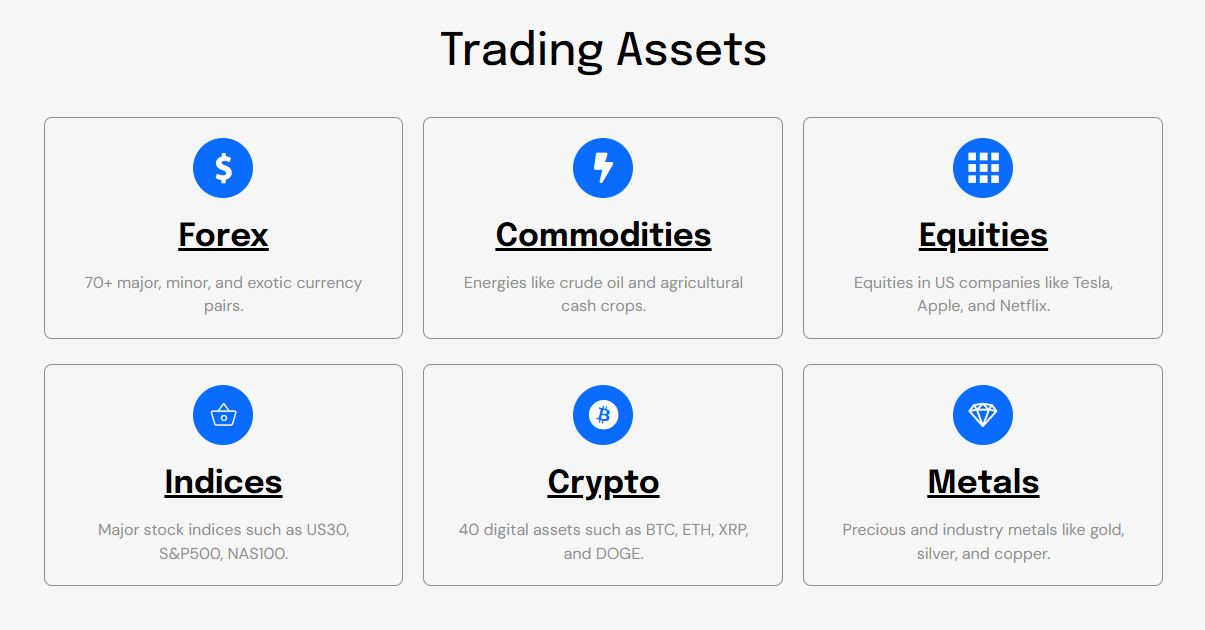 Accounts
TradeOTC caters to diverse trader needs with a range of account types, including Bronze, Silver, Gold, Platinum, Premium, and Diamond. Each tier comes with distinctive features, such as leverage of up to 1:500, providing flexibility in risk management. Traders can benefit from swap discounts, ensuring cost-effective trading. 
Personalized support is a hallmark, with a dedicated account manager assisting at every step. Access to trading signals enhances decision-making, while educational resources, including courses, empower traders with knowledge. 
Security of funds
The brand claims to prioritize the security of funds through robust measures. The segregation of funds ensures that clients' funds are kept separate from the company's own, providing an added layer of protection. With Negative Balance Protection, retail clients are shielded from losing more funds than initially invested, promoting a secure trading environment. TradeOTC.io adopted stringent security standards, employing level 1 PCI DSS-compliant payment providers for financial transactions. 

On top of that, the utilization of the SSL network security protocol safeguards personal and online communication, underscoring the brand's commitment to maintaining the confidentiality and security of user data. This multi-faceted approach reflects a proactive stance towards safeguarding the financial well-being and information of its users.
Conclusion
TradeOTC.io presents itself as a versatile CFD broker, offering a broad spectrum of trading options across diverse markets, from Forex and Commodities to Equities, Indices, Crypto, and Metals. The platform's tiered account structure, ranging from Bronze to Diamond, provides traders with varying needs a range of features, including leverage, swap discounts, and educational resources. TradeOTC's commitment to fund security through segregation and Negative Balance Protection adds an extra layer of reassurance.