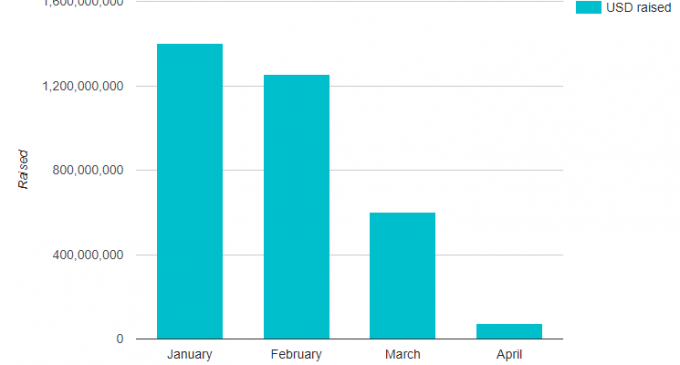 Despite the slump in the price of cryptocurrencies that started at the beginning of 2018 and is still in play, the ICO market is still on high heels. Investors seem to ignore the reduced demand for cryptocurrencies and continue to invest in startups that base their activity on the blockchain technology. As you will see in the following sentences, the market had the best first quarter in history. Still, the numbers on a monthly basis show signs of weakening and that could be due to fears of regulation that spread across all worlds. Also, the sharp drop in the value of cryptocurrencies could be behind this diminishing demand for ICOs.
More than $3 billion raised in three months
According to the icodata.io, the numbers for 2018 don't fail to impress. After raising more than $6 billion in 2017, in the first three months of 2018, there are little over $3.3 billion raised and the total number of ICOs had been 513.
However, we can see a downward path on the chart, as you will notice above, the numbers being $1.4 billion in January, $1.25 billion in February and $600 million in March. Even though the ICO market is still robust, the slump we see in the price of Bitcoin and the other cryptocurrencies, had a negative effect.
Kodak is one of the companies that announced the ICO of a digital coin special designed to protect copyright for professional and beginner photographers. There are other companies as well, willing to implement the blockchain technology, which proves that it is truly a disruptive invention, which will most likely shape the business world that we know it right now.
The Securities and Exchange Commission from the United States seems to be the angriest regulator when it comes to cryptocurrencies. They have initiated a lot of actions against ICOs, the latest one being against the ICO endorsed by the well-known boxer, Floyd Mayweather. The ICO name is Centra Tech and had been sued for selling unregistered securities, as Coindesk has stated.
As a whole, the ICO market is expected to exceed the numbers we saw in 2017, considering the current pace which can be seen in our graph above.