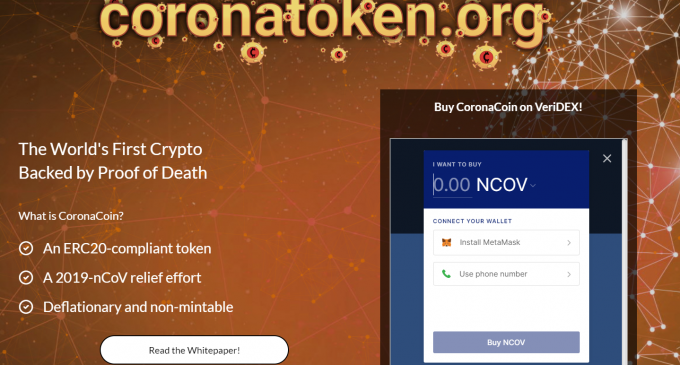 The imagination of cryptocurrency developers seems to have no boundaries, and the latest CoronaCoin token is proof of that. More specifically, now we have a digital coin that allows traders to bet on the coronavirus epidemic, based on the people that get infected. Before we get to talk about it, we must mention that this is not a promotional article and we do not advise anyone to invest in the token, given the lack of transparency it has.
What's the CoronaCoin?
According to the limited information available on coronatoken.org, this is the "world's first crypto backed by Proof-of-Death", in the form of an ERC-20 compliant token. It is supposed to be a 2019-nCOV relief effort and carry deflationary characteristics due to the way the system works.
This does not resemble to any cryptocurrency like Bitcoin or Ether since it cannot be minted and has a supply equal to the current global population. Based on the information provided by Reuters, the CoronaCoin supply will diminish every two days based on the rate of the new coronavirus cases reported worldwide.
The price will go higher if the virus will continue to spread since the supply will decrease and that will create a deflationary pressure. At the present time, there are over 80,000 people infected at a global scale and numbers continue to grow, especially outside China, where the outbreak emerged.
Approximately 85,366 CoronaCoins had been burned until the time of writing and the project enjoyed coverage from publications like Yahoo Finance and The New York Times. Even though the token is deflationary, and it's assumed to be for charity (20% of the total CoronaToken supply will be donated to the Red Cross), we would like to show our reservations regarding the token.
At first, this seems like a typical scam project, since there is no information available on the website regarding the company behind it, where it is located and what are the people working to make the project function correctly.
In addition, people wanting to buy cryptocurrency, can't use fiat money, meaning their transactions cannot be traced. Even though the coronavirus is one of the top trending topics online right now, it is possible that some people may try to find ways to monetize. The system is working like gambling since no one can ever know how many infected people will be in the next few months, and thus how many CoronaCoins will be burned.