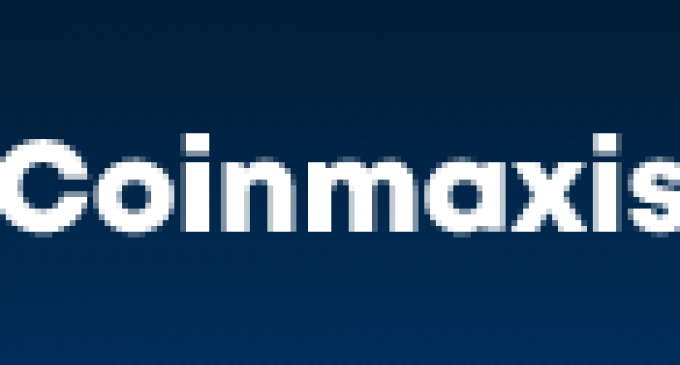 Company's Highlights
Coinmaxis is another cryptocurrency trading platform that is dedicated to gaining the trust of retail traders that still believe in the power of crypto. During the past several weeks, Bitcoin had been an underperformer, while other altcoins were more volatile on a daily basis.
Given such conditions, providers that offer a reduced crypto assets list would have put their customers at a great disadvantage, and yet conditions with Coinmaxix are completely different. After developing an innovative software, which is suited for beginners and pros alike, as well as a generous asset coverage, this is a brand worth considering, especially when altcoins continue to be in the spotlight.

Using this brand, customers have the unique opportunity to be at the forefront of the digital asset revolution, taking advantage of professional assistance each time it is needed. Are you one of those individuals that still hasn't managed to find the right crypto trading platform? Has the crypto coverage been an issue with other providers you've worked with in the past? Our Coinmaxis Review will inspect this brand to see if things are different in their case.
Cryptocurrency Instruments
Altcoins like Ether, Neo, Binance Coin, Stellar, Ripple, Cardano, IOTA, or DASH are where a great deal of market activity is occurring. The Coinmaxis asset coverage is thus very generous in this respect, considering traders will be able to buy or sell short tens of different tokens. The potential opportunities increase, given the competitive asset list.
All the tokens covered are denominated in USDT, which means traders can take advantage of liquid market conditions, accurate pricing, and attractive trading costs. Based on which tokens are the most active, traders can build a favorite list into the platform and analyze only the cryptocurrencies they're interested in.
Trading Platform
Providing absolute functionality and comfort, the Coinmaxis platform is a web-based solution, benefiting from a number of technological features tailored for the challenging market of cryptocurrencies. The company has put in considerable work to develop this software, so that its customers can trade with enhanced security and ease of use.
This is a platform that can be used on any personal computer, regardless of the operating system, due to its web-based structure. Also, if you are using an Android or iOs device, Coinmaxis has made its platform available on all modern mobile devices for the utmost convenience. Trading on the go is a common practice among cryptocurrency traders, especially when open trades need to be managed.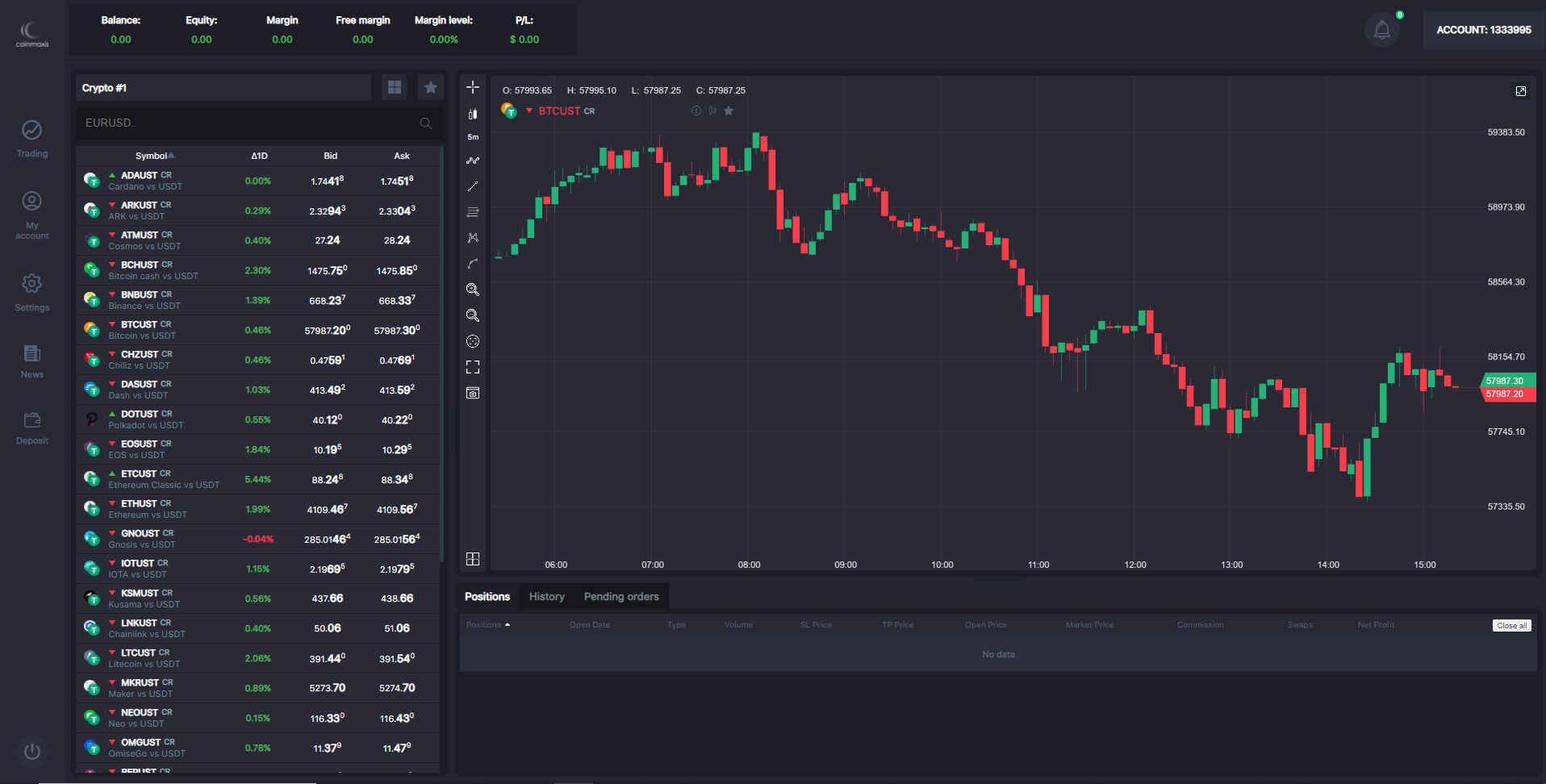 As can be seen in the picture above, the Coinmaxis platform has a friendly user-interface and with all the tools intuitively placed, getting started should be a no-brainer. The platform offers access to some of the latest news and also lets users make deposits without having to log into the account dashboard. This is a solution that integrates auto-trading and other customization features, so that each customer will be able to set up their trading dashboard based on personal taste or trading strategy.
Coinmaxis Account
The Coinmaxis trading account can be opened within seconds, and once on the dashboard, traders can view their trading accounts, conduct financial operations (deposits, withdrawals), access the trading platform, change account settings, or upload identification documents for the account verification process.
As compared to other brands we've reviewed, in this case, there is no method of differentiation between customers, since all will have the same standard account, incorporating all the benefits and features available. Therefore, Coinmaxis treats all of its customers equally, staying true to its core value of leading by example and thus proving that cryptocurrency trading is an activity suited for any individual that may be interested in reaching his financial independence via the market.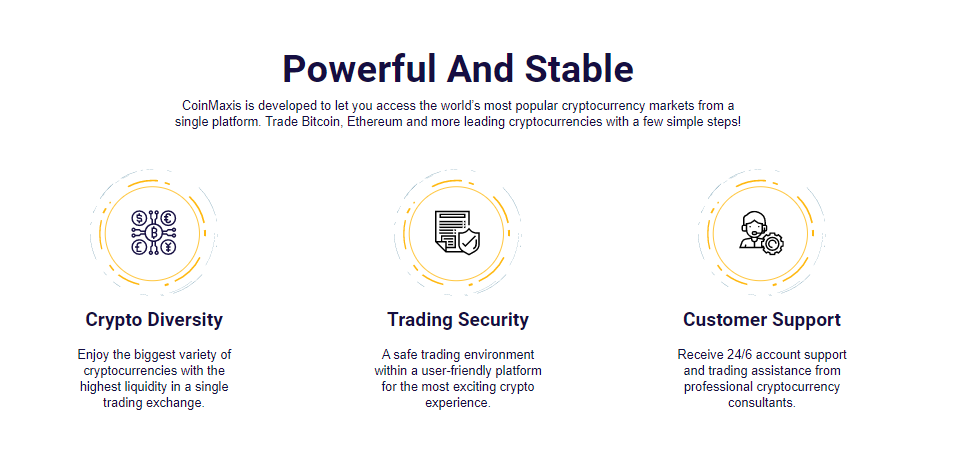 Special Features
Enhanced security and a high level of transparency are some of the main features of the Coinmaxis ecosystem. The company also relies on advanced technologies to ensure a powerful and stable platform, something that's very important when markets are volatile and trades need to be executed accurately, without any delays.
For traders that are learning the basics, there is a dedicated blog where relevant articles are regularly published. A glossary and the support granted by representatives will act as additional guides for traders taking their first steps in the fascinating crypto world.
Summary
Although it is a relatively new crypto trading platform, Coinmaxis has managed to impress with its advanced technologies and their impressive set of services and features, which will be very enticing for many individuals who may not necessarily have the funding required to set up a trading account with its competitors. A trading account with this brand comes in hand with multiple advantages, enabling full control over one's finances. This proves to be an optimal place for traders that believe in Bitcoin and other altcoins that are now leading the markets.