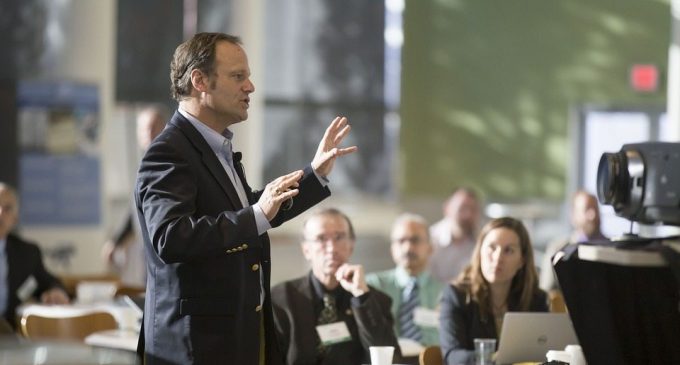 If we talk about Initial Coin Offerings we must apply some of the rules of traditional investing. We are dealing with advanced technology (aka blockchain) but still, we need to follow some basic principles that go back for centuries in the world of investing. One of them is related to information. If you want to make an investment, what you really need after you acquire the necessary education is information about the things you are going to invest in.
This time we will focus on ICO conventions and will try to explain why is important to attend this kind of events. We'll make some suggestions and recommend some websites where you can find up-to-date information related to the events that will take place in the future.
What are ICO Conventions?
ICO Conventions are events, conferences, expos etc. where blockchain-based companies come to present their projects. These types of events can represent a good opportunity for any kind of person, no matter if we talk about investors, beginners, developers, and hobbyists can join and see what companies from the ICO and blockchain industry want to present.
Why should someone attend this kind of event?
The advantages are numerous, but we must say from the start that you can have the unique opportunity to talk face-to-face with experts and representatives from blockchain-based companies. You will not just read a white paper and read posts on online forums. You will get live feedback from people directly involved in ICO projects. This is a huge advantage, especially if you are thinking to invest in ICO.
The odds of encountering a scam company at these events are very low since fraudulent companies operate behind closed doors and do not have a great exposure to the public. ICO conventions are the right place to find innovative companies which are eager to educate their future clients by presents some of their actual products.
How can someone spot ICO or blockchain events?
We've found some websites that actually have a lot of information about the upcoming events. Two of these websites are coinstaker.com and coinlauncher.io. Feel free to check them along with other ones which you can find, in order to get as much information as it is possible about the events.
Some negative aspects of ICO Conventions
We have to talk about money, as well. Most of these events require entry tickets which most of the times are not for free. That means you must be able to allocate some capital in order to be able to talk face to face with representatives at those events.
Some of them are for free and you can choose those. Also, you need to consider the fact that not all the events are in your town. You will need transportation and a place to sleep. This adds up to the total cost. Again, you can choose events that take place in your country and near the place that you live, so this won't be an issue.
What insights may you get at these events?
You must understand that these kinds of events are gathering cryptocurrency experts, various figures from the world of digital assets which are able to discuss in greater details the subjects like market dynamics, the direction of the future, innovative technologies from the industry and how the blockchain technology will be further implemented in the economy.
Besides this valuable information from experts, you are also able to meet other people like yourself, eager to learn more about ICOs and cryptocurrencies, willing to invest time, money and energy into this industry.
Getting live feedback from experts plus also getting feedback from other usual people could help you understand a little bit better what kind of impact these ICOs are having on the population.
Don't forget that supply/demand laws still apply, as long as we have a market (in this case digital assets market) so we have the need for more people getting involved in ICOs, cryptocurrencies. Only if this thing will happen we can see cryptocurrencies and blockchain-related technology used on a large scale in the future.
Having a long-term vision
You must understand that by attending this kind of events you won't have any immediate rewards and you won't receive anything. Your only goal is to go there and try to learn as much as you can. In the long run, you will see that you will have a much better competitive advantage as compared to those people who just read articles, or watch online webinars.
A direct experience and communication with people involved in blockchain companies can be an abundant source of information which you must not miss. The industry is still at the beginning and there are a lot of things under development. If you start to educate yourself from now, you will see results coming in the future.