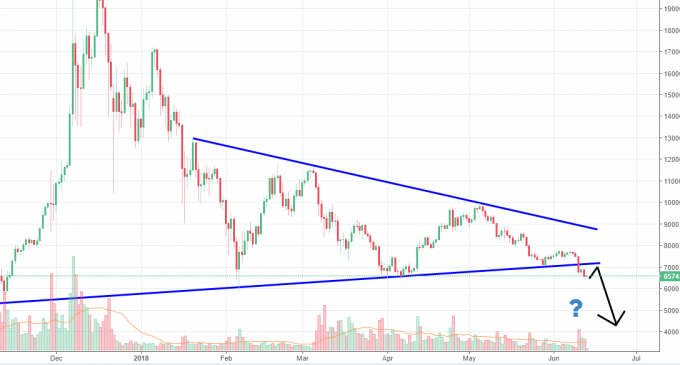 Bitcoin bearish momentum had continued to accelerate and now the coin sits around a low seen last time in February. In our last weekly analysis, we have warned that a sluggish response from the bulls will result in a bearish move and that is what we are seeing right now. Also, for several weeks in a row, we've talked about a triangle-type consolidation on the daily chart + diminishing interest from the buyers.
The opinions are varied, some people saying that the Korean exchange crackdown is behind the move, others that there is no news behind it, just a continuation of the bearish trend that started at the beginning of 2018.
Bitcoin bubble continues to burst
Various analysts have been flashing alarm bells since the end of this year, claiming that Bitcoin is a bubble that will eventually burst. Judging by how the price had performed over the months, we must say that they were right.
What's more important, however, is the downside breakout of the triangle pattern. Any technical trader looking at the chart right now will simply say "Houston we have a problem" since this could be a signal for further weakness.
Several reasons could be behind the move
In our previous article, we have talked about the Bitcoin price and people's interest. We have found that there is a correlation between the searches on Google and the price of Bitcoin + a correlation between the new wallets per month and the price of Bitcoin.
The second factor which has a great influence from our point of view is the increasing pressure that comes from regulatory agencies. Bitcoin and the other cryptocurrencies had been involved in a lot of scandals related to price manipulation and money laundering, which had contributed to the diminishing demand and reduced appetite for digital assets.
There's also a question on what gives value to cryptocurrencies, some claiming that the price of cryptocurrencies is overvalued. One's things for sure that the current situation could reverse only if we will have a regulatory framework in play that could be friendly with the companies from the industry.
The main effect it could have is institutional money pouring into the industry, which could be price supportive. Until then, as long as the price of Bitcoin will remain below the triangle pattern, things do not look good for the buyers. There could be raising concerns around Bitcoin miners as well since if the price will continue falling, they will not be able to cover their expenses.