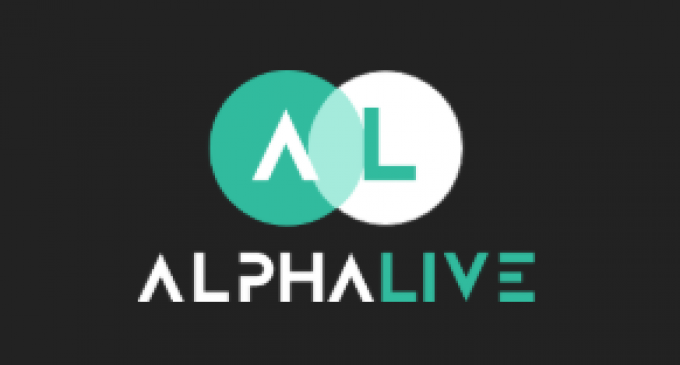 Company's Highlights
AlphaLive is an online trading brand focused on providing trading services for a wide range of cryptocurrency instruments. With this brand, customers can buy or sell different crypto against USDT, BTC, or ETH, with leverage, without having to hold the underlying instruments.
One of the most important things to note is that the brand is solely focused on the cryptocurrency market, representing a great choice for traders who want to have a crypto-denominated portfolio. To help you figure out whether AlphaLive is a brand worth working with, we would discuss some of the most important trading features.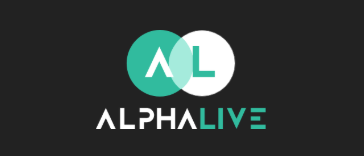 Cryptocurrency Instruments
Starting with the trading instruments, AlphaLive has a strong advantage due to its focus on the cryptocurrency market. At the time of writing, you can trade more than 30 different crypto instruments, including Bitcoin, Ether, XRP, ZCash, as well as altcoins like Tezos, Stellar, Tron, OMG, or Dash. Traders are able to trade crypto with 1:5 leverage.
Since we're talking about cryptocurrency derivatives, there are no costs involved other than the usual spreads and overnight swaps. There are no blockchain fees, deposits via credit card are free of charge, and only withdrawals could be subject to a fee.
As opportunities occur on a daily basis in the crypto market, AlphaLive made sure to cover a diverse set of crypto instruments. That's why customers can trade crypto against Tether, Bitcoin, or Ether. No crypto-to-fiat instrument is currently available, but with USDT, traders will benefit from the same quote as if they will trade crypto against the US Dollar.
Trading Platform
The AlplaLive trading platform is one of the most important tools developed by the brand. As a web-based trading software, it's available via any modern browser and can be accessed at any point, enabling traders to keep an eye on the markets constantly. Convenient trading software can be hardly found, which is why AlplaLive decided to bet on a proprietary solution. At first glance, the user interface is simple and intuitive. The platform integrates TradingView charts, which is great news for traders relying heavily on technical analysis.

Deposit methods can vary, depending on the country of residence, but most of the customers will benefit from credit/debit card or BTC deposits. The good news is that they can deposit funds into their account easily, directly through the AlphaLive Web Trader. Other notable features are asset alert, account summary, and news section providing up-to-date market developments from the popular media company CNBC.
AlphaLive is also giving the modern trader a mobile platform, keeping it simple, while maintaining the utmost security and reliability. The brand believes digital currencies are the future and wants to enable traders to sit at home or in the office to trade and benefit from 100% support. The AlphaLive mobile app is currently available for Android users, only, integrating most of the features seen with the web-based trading solution.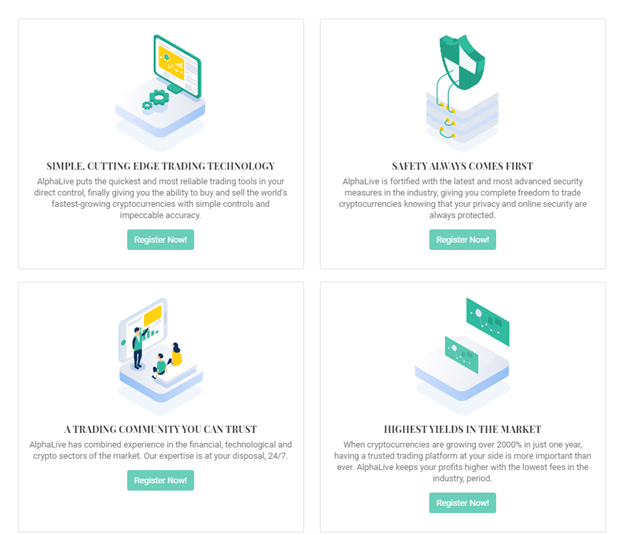 Account Types
Unlike most of the other brands we've reviewed, AlphaLive has a different approach when it comes to account types. All traders will benefit from a single account type, no matter their initial deposit. In doing so, all clients will have access to all the trading resources in an equal way. To fund their trading accounts, traders can use a simple credit/debit card deposit. The minimum amount requires is $200 and that would be all to start trading with AlphaLive.
At first glance, the brand seems to be aiming to attract a wide number of cryptocurrency traders, allowing them access without having to deposit a lot of money. Other cryptocurrency brands are asking customers for larger deposits, but that's not the case with AlphaLive, and that's surely something worth mentioning about AlphaLive,
Special Features
AlphaLive puts the quickest and most reliable trading tools in the direct control of customers. That is why the brand currently supports TradingView charts, asset alerts, and has developed a proprietary trading software suited for the cryptocurrency market. At the same time, AlphaLive is fortified with the latest and most advanced security measures in the industry, giving you complete freedom to trade a wide range of cryptocurrency instruments, with complete privacy and funds security.
Behind the brand, sits a team of individuals specialized in the financial, technological, and crypto market sector. Their expertise is available 7 days a week via phone or email. This is one of the few brands offering support 7 days a week. Lastly, AlphaLive ensures fast order execution, a must-have trading feature in the world of cryptocurrencies.
Summary
AlphaLive marks its emphasis on the cryptocurrency market by covering more than 30 different crypto instruments and via a proprietary web platform and mobile app, AlphaLive wants to bring cryptocurrencies to a wider audience of traders wanting to benefit from one of the rapid-rising markets in the world. This can be a suitable solution for traders looking for trading opportunities in the cryptocurrency market.