Bitcoin
At the time when we wrote our last analysis, the bitcoin price seemed to head higher and it continued to do so. The price surged towards the 16,000 area then started to tumble again. We mentioned last week as well the 15,700 level and suggested it could generate new selling pressure. Our assumption was correct and as you can see from our chart, the price is currently around 13,000, almost 3,000 US dollars lower. The selloff had been triggered by new negative news for Bitcoin. News about South Korea planning to shut down a few Bitcoin exchanges had been one of the main reasons. At the present time, South Korea accounts for a fifth of the world's cryptocurrency trade, and that hurts bitcoin and other digital coins as well. Also, India's Finance Minister compared Bitcoin and other cryptocurrencies with Ponzi schemes. He also said that this kind of digital money does not have any intrinsic value and speculation is the only reason why the prices had been going up. The government of India had taken big steps towards cryptocurrency regulation, another factor that could influence Bitcoin and other cryptocurrencies in a negative way.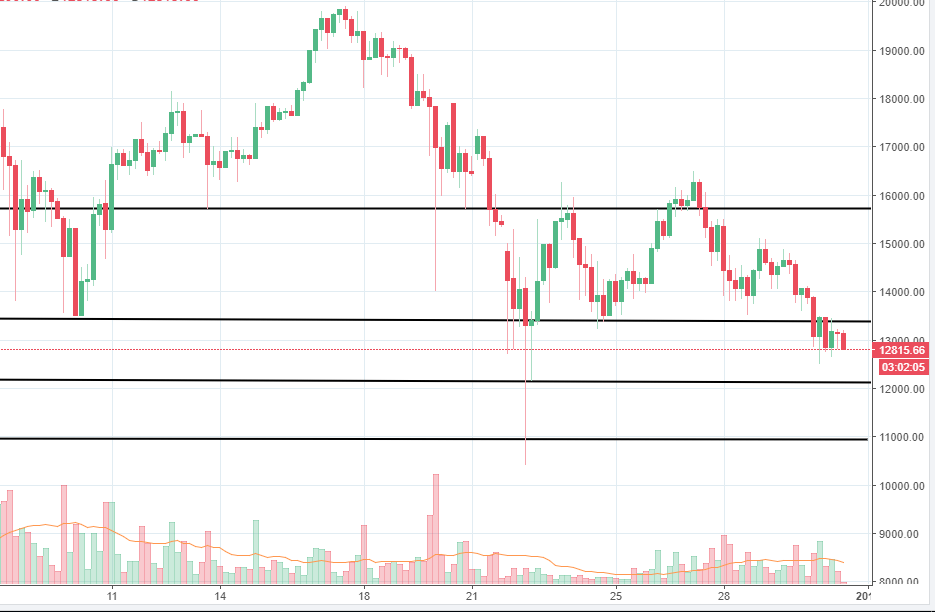 Now moving to the technical analysis, the price broke below our support located around 13,380 and there is still no significant sign of buying interest. We expect the price action to continue to head lower and reach 12,150 areas, where some buyers might step in. If the selling pressure continues to drive the price lower, the 11,000 area could follow, then.
Ethereum
The Ethereum price had a slightly better performance than Bitcoin in the last 7 days. The price had found support around the 650 area and managed to reach 770 on December 26th. Since then, selling pressure had resumed, but the volatility had been reduced. The price had been hit by news of a potential exchange shutdown in South Korea. Also, there are raising concerns about security risks in the Ethereum system. Even though it came with additional features, people are beginning to see some weak spots as well. Since the cryptocurrency industry is a new one and there is still more to do until it will develop fully, the next few years will most likely be packed with a lot of structural changes. Because of that, the valuations will have to suffer as well.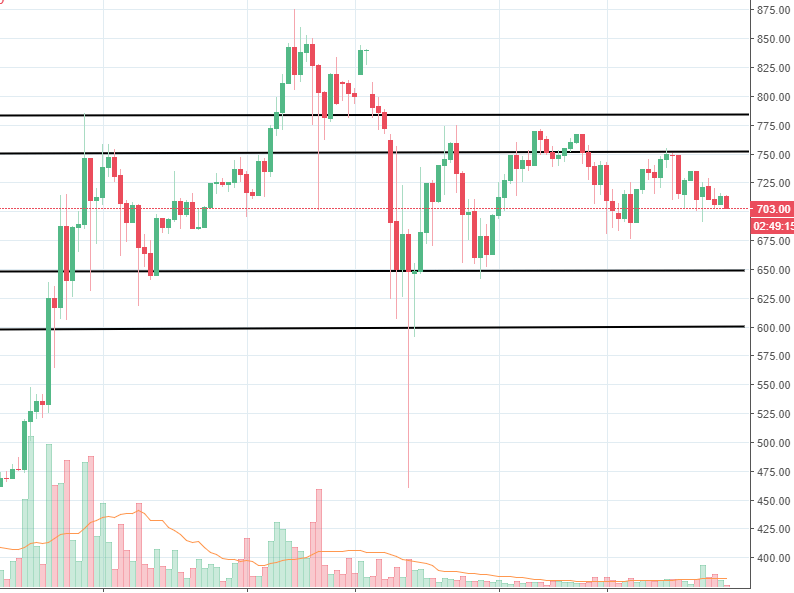 In terms of the technical view, we believe the Ethereum price could continue to head lower toward the 650 support area. Below it, 600 should be another demand zone as well. On the upside, resistance is expected around the 760-780 zone, as we can see some spikes there. The outlook seems negative at this point and pressure could weigh on the price for the next few days.