Information about the company
MGC Logic is a professional crypto trading broker, owned and operated by New Olympia Inc, which provides a sophisticated solution for many traders around the world. It is a leading and trusted cryptocurrency trading platform, dedicated to providing nothing but premium-quality online trading tools.

The company offers to its clients a highly customizable and tailor-made solution to cryptocurrency trading, no matter of prior experience or knowledge. With a focus on providing the best trading features, good customer support, educational material, and a safe environment, MGC Logic is an option worth considering by all cryptocurrency traders.
Innovative trading platform
Considering that the cryptocurrency market is one of the most challenging markets in the world, MGC Logic had developed its own web platform, aimed at offering the best cryptocurrency trading experience.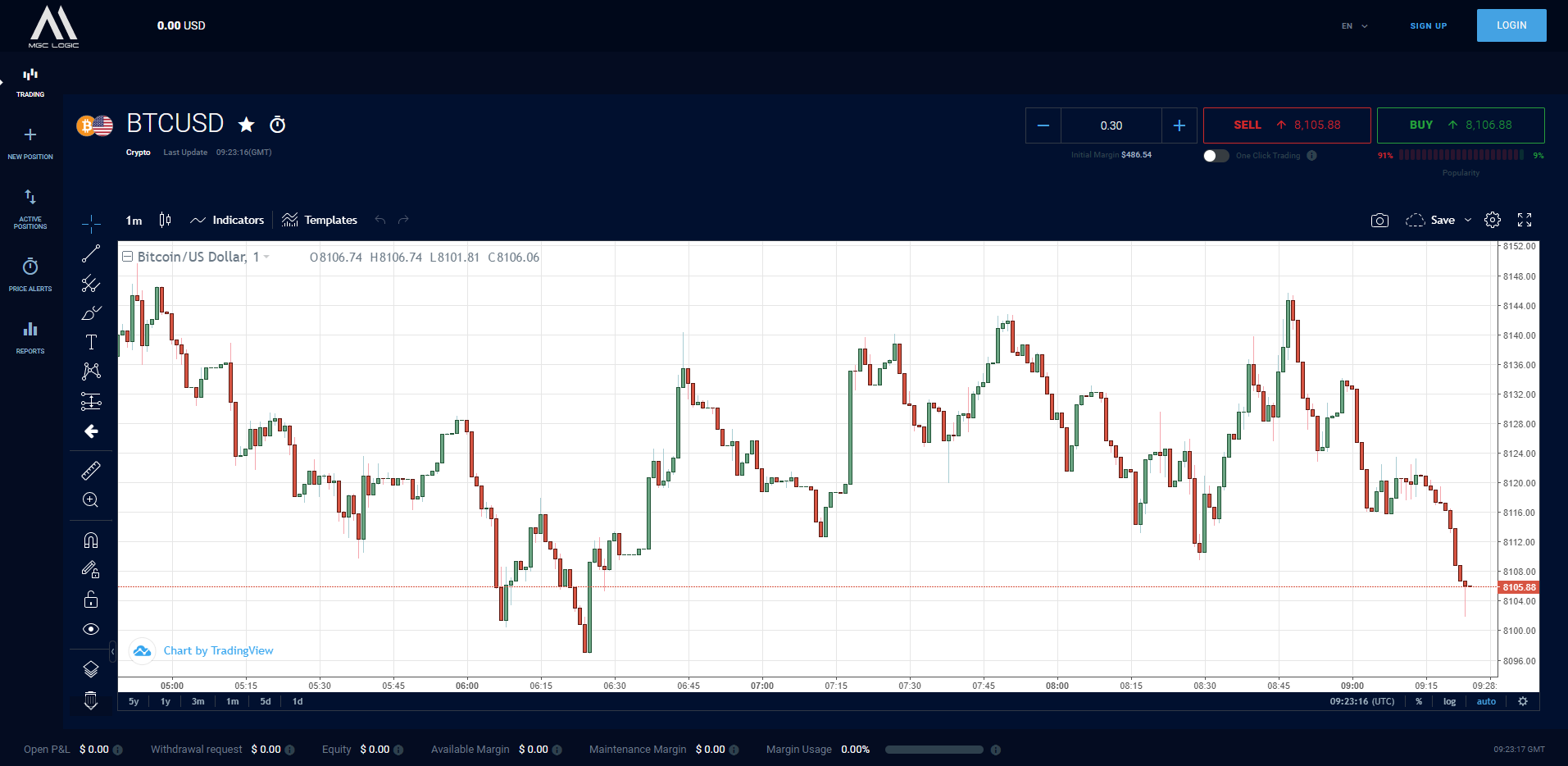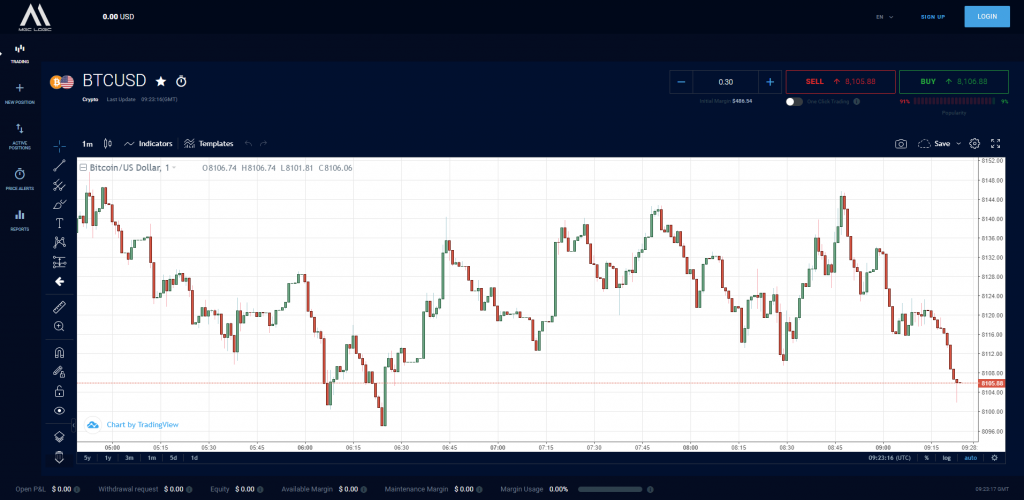 Available on desktop as well as on any mobile device supporting a browser, the platform offers access to 32 cryptocurrency pairs. Fiat pairs that include US dollar, Euro, and Australian Dollar make it easy to switch from crypto to fiat and vice-versa with ease. Crypto-to-crypto pairs enable clients to move from one token to another, without having to exchange to fiat first.
Price alerts, reports, one-click trading, instrument popularity feature, margin trading, stop loss and take profit, are just a few of the features incorporated into the MGC Logic platform.
Account types
Any person can open a Basic account with MGC Logic for as little as €250. Even with the most basic account, clients will get access to Pro webinars, daily market review, educational center, and 24/6 support services.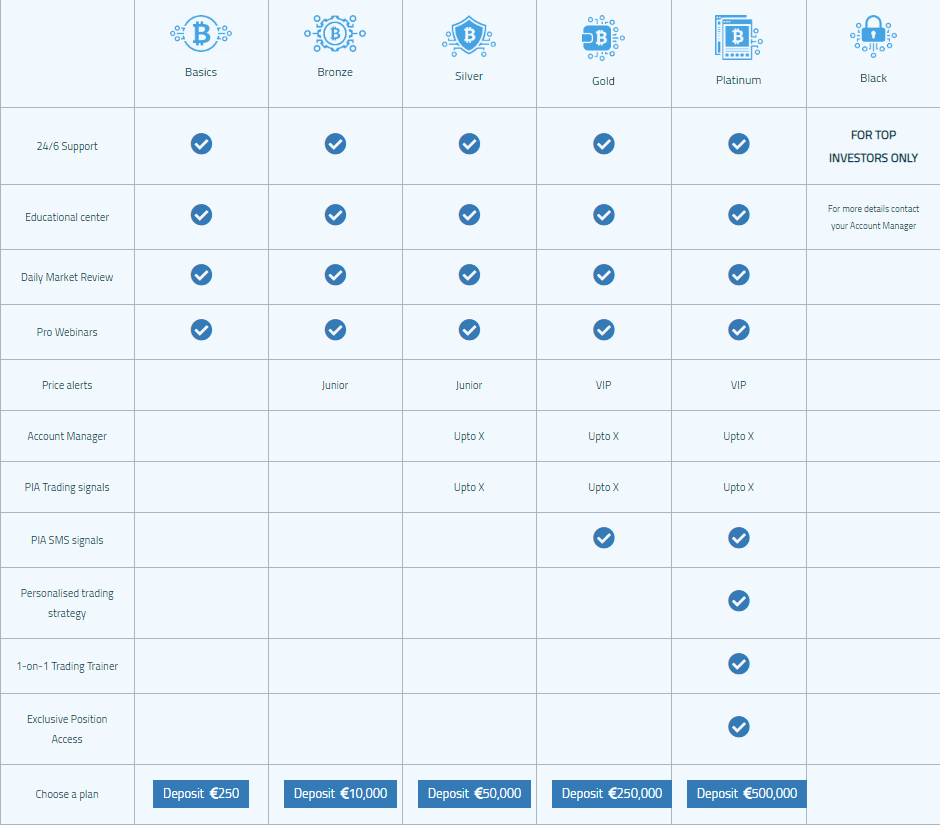 Clients who can afford to invest more can choose between Bronze, Silver, Gold, Platinum, and Black accounts. Additional features like price alerts, account manager, exclusive position access, 1-on-1 trading trainer, and others, are included for these clients.
Using credit cards, wire transfers, and e-wallets, clients can fund their account fast and start trading cryptocurrencies with MGC Logic.
Education
In order to help cryptocurrency traders gain more insight into the industry, the MGC Logic Academy had been packed with a lot of valuable resources. Clients will have access to technical and fundamental analysis material, weekly market review, video chart analysis, asset index, as well as introductory courses and free ebooks.
Initial Coin Offerings
MGC Logic does not only provide access to cryptocurrency trading services, but it is also a platform that wants to support new blockchain-based projects. In the ICO section, clients will find projects endorsed by the company, having the ability to get involved in new offerings by buying tokens at a discount.
Assets You Can Trade With
Ethereum
The digital currency is based on a blockchain technology to help merchants block other online third parties from accessing their sensitive financial information. MGC Logic has a lot of information and tips on how you can benefit from trading Ethereum. So, to trade Ethereum as assets via the MGC Logic platform, you'll need to react quickly to price changes of ether for their real world value in currency without physically purchasing it. 
Litecoin Trading
Litecoin is widely referred to as the silver of Bitcoin's gold. In other words, it's the closest competitor of Bitcoin, which is considered the most popular cryptocurrency in the crypto-sphere.Besides, since its transaction speeds are very high, at 2.5 minutes compared to Bitcoin's 10 minutes, you can react fast to Litecoin's price changes, thus making trading very profitable and one of the more popular cryptocurrency among MGCLogic traders.
Bitcoin Cash
Bitcoin Cash is considered a relatively new entrant on the trading markets. However, established global exchange platforms such as MGC Logic is one of the many platforms that have introduced the crypto to their trading portfolio.
Dash Trading
The Dash trading platform is designed to help first-time and experienced cryptocurrency traders conduct their online businesses safely. The platform's Instantsend and Privatesend features offer users the best peer-to-peer trading experiences. Also, users can gain access to useful information from MGC Logic Education center. Remember, an informed trader makes informed decisions, and thus more profits. Dash is much faster than Bitcoin, which makes it more scalable than the latter.
Ripple Trading
As a cryptocurrency trader, you can buy and sell Ripple for fiat or other digital currencies. With MGC Logic, you quickly launch your Ripple Trading platform and turn into a lucrative online venture. Some of the Ripple (XRP) pairs you can expect include EUR/XRP and USD/XRP.
Safety and Security
Privacy Policy
MGC Logic has taken all the precautions to ensure the confidentiality and privacy of all clients are protected. When clients register with the company, they'll be required to provide some personal information to confirm their identities and protect their trading accounts.
This means that the collected information is used to protect you against criminal activities such as hacking and money laundering as you trade various cryptocurrencies. The company has an easy-to-understand Privacy Policy that is designed to ensure the security and safety of all clients.
As a cryptocurrency trader, you're required to supply true and accurate personal information to help the company achieve this. Besides, you'll be required to declare that you're registering on your own behalf and not impersonating any individual for fraudulent purposes.
AIM Policy
As a member of the Financial Action Task Force in the UK, the Joint Money Laundering Steering Group was formed in a bid to help curtail money laundering. MGC Logic has implemented several Anti-Money Laundering policies to help fight this financial crime. Some of the AIM policies of MGC Logic include:
Customers must provide sufficient proofs of identity

Client identification records must be maintained with the utmost security

All clients must be thoroughly checked to ensure they're not suspected terrorists before being approved

All customers must be informed that their personal information will be used for confirming their identities

Customers' transactions must be closely monitored

Ensuring that transactions from third party exchange houses or financial transfers such as Western Union and cash are not acknowledged.
KYC Policies
MGC Logic is constantly dedicated to ensuring that it safeguards its customers' integrity and private information. They use various security measures and fraud controls to ensure it keeps the integrity of your transaction information. So, you'll be required to provide your deposit method for MGC Logic to secure your transaction information properly.
As part of Know Your Customer policy, you'll be required to provide details such as:
A valid copy of your passport

A recent utility bill receipt that contains your valid name and address

Copies of the credit card you used to deposit money on your account

A history of your online purchase transactions   
Fast and Easy Registration
You'll be required to have a SWIFT code to help MGC Logic identify the banks from where you're transferring your money from. You should contact your bank to give you the SWIFT code.
To update your personal details in your account, go to "My Account" and click on "Personal Details" to edit anything you wish to change. In case you forget your password, simply click on the "Forgot Password" button to generate a new strong password. The registration process is not only easy, but also free.
If you have any complaints, you can fill out the complaint form and send it to supports@mgclogic.com; alternatively, you can also contact MGC Logic via their official email – support@mgclogic.com.
To create your account or register, access "Register" on the home page and fill out all the mandatory fields. Once you finish filling out and submit, you'll receive an email with a verification link to welcome you on board. If you encounter any difficulties during the registration process, you can quickly contact the MGC Logic support team to help you out. On your "My Account" section, you'll access everything you need to know about your progress, including transaction history, deposits, and withdrawals.
Minimum Deposit, Leverage, Spreads & Withdrawal
Deposits
Clients are allowed to deposit $500/ 500/500, and the maximum acceptable deposit is $1000/1000/1000. MGC Logic always ensures that their clients' deposits don't fall into the hands of fraudsters or unauthorized employees.
When depositing funds for the first time, you'll be required to provide valid proof of identification. You can deposit funds into your account through:
Credit or Debit card: Our payment methods are recognized internationally. You can deposit money into your trading account through credit and debit cards. They accept Visa and MasterCard, too.

Wire Transfer: You can also deposit funds through wire transfer on the web. Our dedicated support staff is always available 24/7 to help you out with the process.
Withdrawals
You need to adhere to all the MGC Logic rules and guidelines when withdrawing money to your account. You need to submit a valid photo ID, credit card copy, and proof of address as a first-time client. Once you have provided these proofs, you will be required to fill out a client information form for the withdrawal process to begin.
Sign the form and submit it. You may have to wait for up to five business days to get approval from your service provider. Your funds will automatically show up in your account immediately your withdrawal has been approved.
You can withdrawal your money from the account either through credit card or wire transfer. When withdrawing funds, there aren't any minimum conditions to observe. If you decide to cancel the withdrawal and return the funds to your trading account, you can do so even after the process has been initiated.