Company's Highlights
MarketsPilot is an online Crypto broker specialized in cryptocurrency trading services. The website marketspilot.com is owned by Click World Ltd and had started to offer its services since 2018. Although this is a relatively new trading name, we want to talk briefly about some of the most important features. Hopefully, at the end of the review, you'll be able to asses whether this is the right broker to trade crypto.

Cryptocurrency Instruments
After opening an account with MarketsPilot and after installing the desktop version of the SIRIX platform, we got to see what type of instruments are currently available. The company currently offers crypto-to-fiat cryptocurrency pairs, covering all the top tokens in the market. Bitcoin, Ether, Bitcoin, Cash, EOS, Ethereum Classic, Ether, Litecoin, Lumens, Monero, and XRP are available for trading against the US Dollar or the Euro. Spreads are variable and the leverage varies from 1:200 and 1:500, depending on the account type.
Trading Platforms
MarketsPilot offers a proprietary trading software called SIRIX. It comes in four different versions for desktop, browser, Android, and iOS devices. On its website, the company labels the platform as "a good fit for every level of experience" and after taking a close look at it, the interface is very intuitive and easy to use. Choosing to create a brand-new platform had enabled MarketsPilot high flexibility when it comes to integrating the features traders need in their day-to-day activity.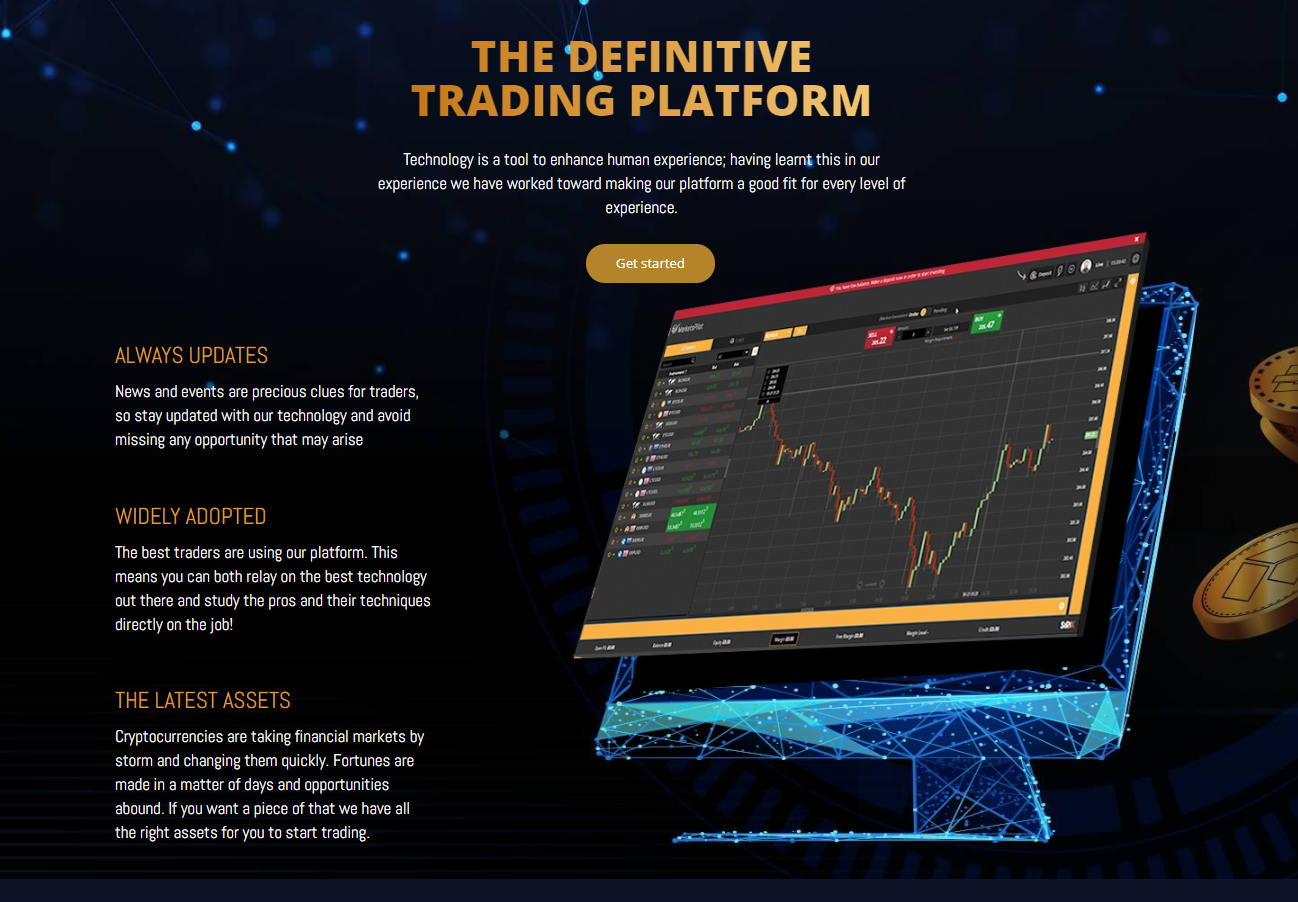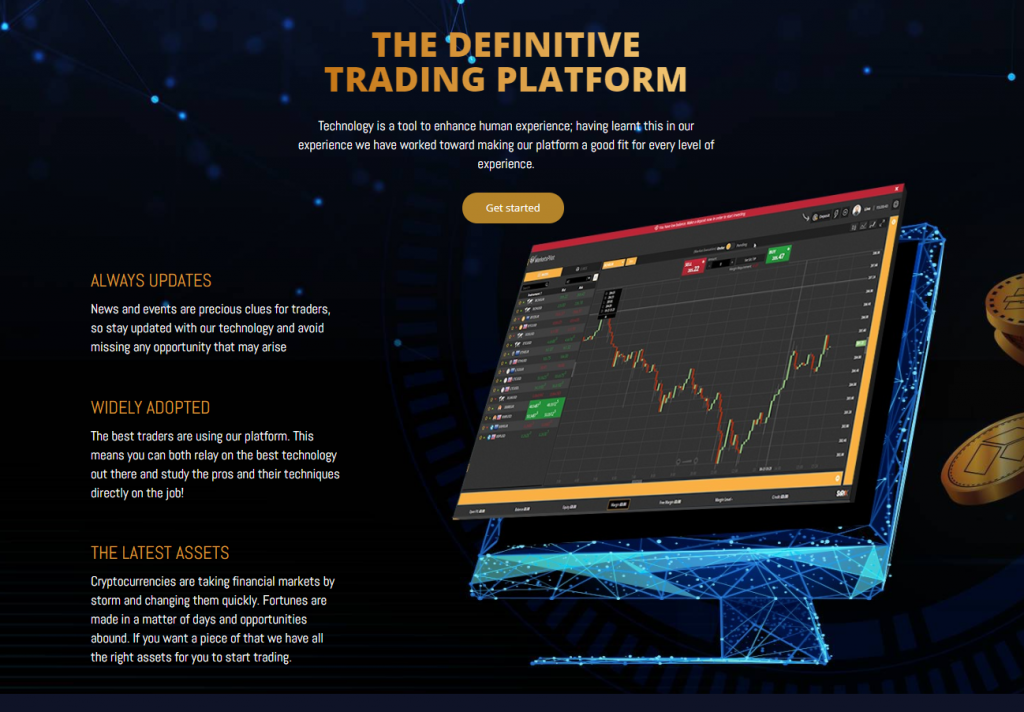 Alongside the traditional trading features (multiple chart types, time frames, price indicators, drawing tools) SIRIX has some added functionalities as well. Clients can make deposits via the platform, without having to log in from the website. In addition, social trading is one of the core MarketsPilot features. On the right side of the platform, traders will get to see two windows, one for top-ranked masters and another for the social stream. Using it, clients can follow and compy cryptocurrency experts.
Trading on the go is also possible thanks to the Android and iOS versions. With the cryptocurrency market still volatile, MarketsPilot is fully aware that clients need to be in close touch with their account at any point.
Account Types
Diversity in terms of trading account types is also present. Clients wanting to open a student trading account, carrying the most basic features, must make an initial deposit of $1,000. Deposits can be made using credit/debit cards, in Bitcoin, or alternative payment methods like WebMoney.
Aside from the student account clients can choose between advanced, semi-managed, fully managed, pro, expert, and 1 million club accounts. The number of features is different for each one, depending on what clients might want for their trading. However, as the number of features grows, so does the minimum deposit, which goes as high as $1 million for clients wanting a 1 million club account.
Special Features
Student account holders will get access to a pack of basic features designed to enable them to trade in proper conditions. Access to the platform is free of charge, the maximum leverage is 1:200, there is an account manager assisting clients, and access to a monthly live webinar is ensured.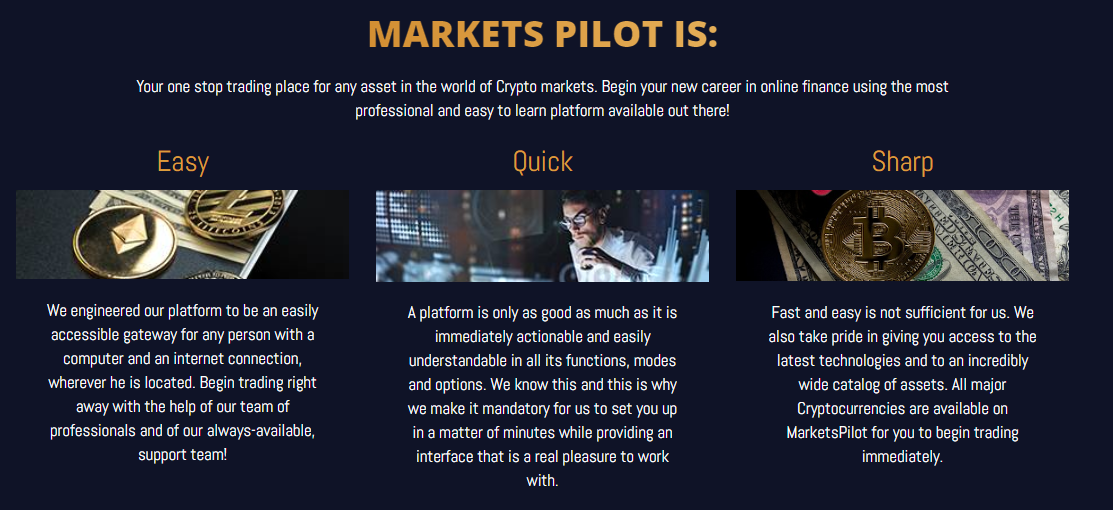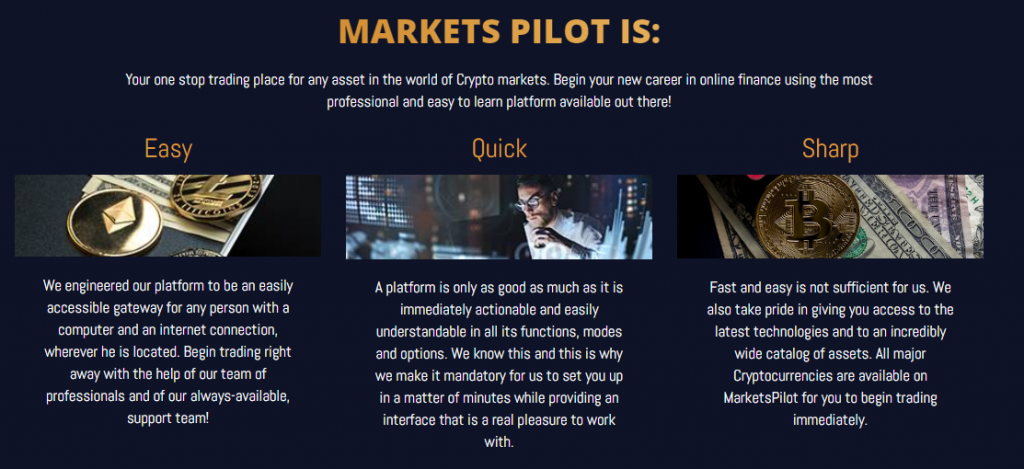 For the other account types, clients will get access to features like expert advisers, automated strategies, leverage up to 1:500, weekly reports, unlimited live webinars, and in-depth research.
Summary
MarketsPilot tries to provide a personalized offer for cryptocurrency trading, given the diversity of its trading features. It's now up to each individual trader to decide whether it will be best to trade with the company. The only downside is that it covers only fiat pairs, not allowing traders to trade cryptocurrencies against each other.