Brief Description
Finq.com is an online broker offering trading services to retail clients, enabling them to have access to more than 2,100 instruments. The company is operated by Dilna Investments Ltd, which is the primary payment provider and website operator.
The online broker comes with a complete offer that covers all the requirements for professional trading, including 3 different platforms, latest market news, economic calendar, and diversified trading instruments.
The company wants to focus on the Arabian markets, wanting to attract customers from countries like Russia, China, Malaysia, Vietnam and many others.

Account types
Finq.com had designed a diversified offer in terms of trading account types, wanting to provide access to the financial markets a wider variety of customers. The minimum account size is $100 and for a basic account, customers receive access to all trading platforms, 24-hours customer service, and daily market analysis. The other account types (classic, gold, and platinum) have increasingly more features attached, since the account size increases, as well.

Trading platforms
Three different types of platforms are being offered by finq.com, as follows:
The popular MetaTrader 4, which offers access to 370 trading instruments from 5 different markets: global equities, currencies, bonds, indices, and commodities.
WebTrader – a browser-based platform which offers access to all 2,100+ trading instruments available at finq.com. Traders have the ability to trade directly through a browser, without installing any software.
Mobile trading – Android and iOS-compatible trading platforms are at the disposal of finq.com customers, allowing them to trade with their smartphones while being out of their trading desk.
Assets
In terms of trading instruments, finq.com offers access to more than 2,100 instruments, enabling traders to diversify their holdings. Among others, the list includes:
Forex
Bonds
Commodities
ETFs
Cryptocurrencies
Indices
Stocks
Cryptocurrency trading
Finq.com is among the online brokers that had managed to include cryptocurrencies on their instruments list. Traders have access to a number of eight different popular cryptocurrencies, including Bitcoin, Ethereum, Litecoin and Bitcoin Cash.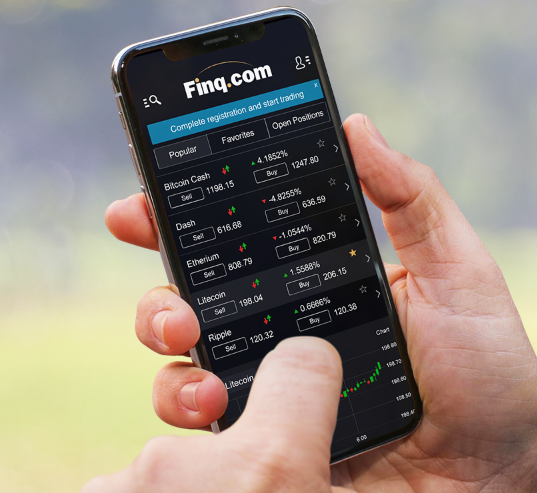 Cryptocurrencies are among the top volatile instruments in the world, which makes them very speculative. Prices can move very fast in a short period of time, so buying coins and storing them in a wallet can be expensive and can take a longer time.
With finq.com, cryptocurrency trading is much faster and cheaper, with spreads ranging from 0.8-80 USD and a leverage of 2:1. Also, via the finq.com WebTrader, traders can trade cryptocurrencies including during weekends.
Summary
Overall, finq.com has diversified offer for its clients, offering access to more than 2,100 instruments, four types of trading accounts, and three types of trading platforms.  The company had also included 8 cryptocurrencies on its instruments list, enabling traders to get involved in the rapid-growing market of digital assets.