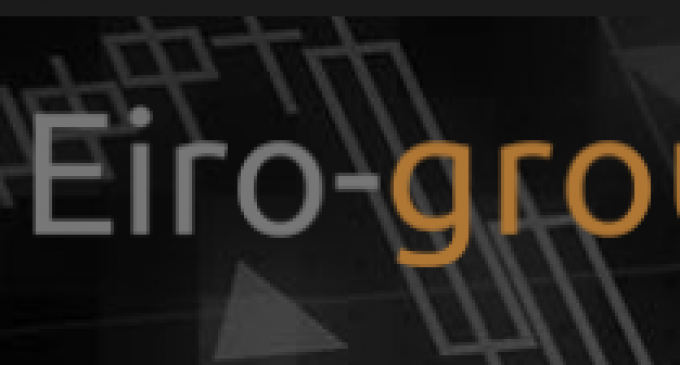 Company's Highlights
Eiro Group represents a well-suited online trading platform designed for optimal trading on a broad range of instruments, including cryptocurrency. The company is aware of the demands in the retail trading industry and because of that had managed to integrate multiple benefits, as follows:
Financial advisors – a team of experienced consultant at the customer's disposal
Dedicated support – available 24/5 to provide traders with exceptional support
Security – usage of a variety of security protocols designed to protect both personal information and customer funds.
Effortless platform – a web-based trading solution, compatible with any device and the right tool to trade anytime and anywhere.
Although the brand is providing access to a variety of leading asset classes, our focus today will be on cryptocurrency trading. Let's see if Eiro Group is a platform worth trading with, considering the features it offers and as compared to what other competitors are offering.

Cryptocurrency Instruments
One of the first details traders look after when choosing a crypto trading platform has to do with the asset coverage. At Eiro Group customers can take advantage of thousands of popular assets and close to 20 different cryptocurrencies. All the crypto instruments currently part of the offer are denominated in USD and can be traded with flexible leverage.
The list of tokens includes Bitcoin, Ether, XRP, or Litecoin, as well as multiple high-potential altcoins like EOS. Cardano, Neo, Stellar, Tron, Dash, IOTA, and QTUM. Spreads will be different for each, as well as the overnight swaps. Traders need to consider the 0.2% commission that applies for each crypto transaction.
Customers have two options:
Trade only cryptocurrencies and gain exposure on a selection of tokens supported by Eiro Group;
Trade crypto in combination with FX, stocks, indices, ETFs, commodities, and bonds.
As compared to other providers, the Eiro Group cryptocurrency list is well optimized and offers the opportunity to take advantage of price movements in altcoins that are not yet supported by large brokerage houses.
Trading Platform
Eiro Group believes that in order to satisfy a broader range of customers, a personalized trading experience is a must. As a result, the company developed a brand-new platform, incorporating only the tools and features that have a proven efficiency. A simple user interface, asset alerts, risk management tools, advanced charting, and various other settings had been included.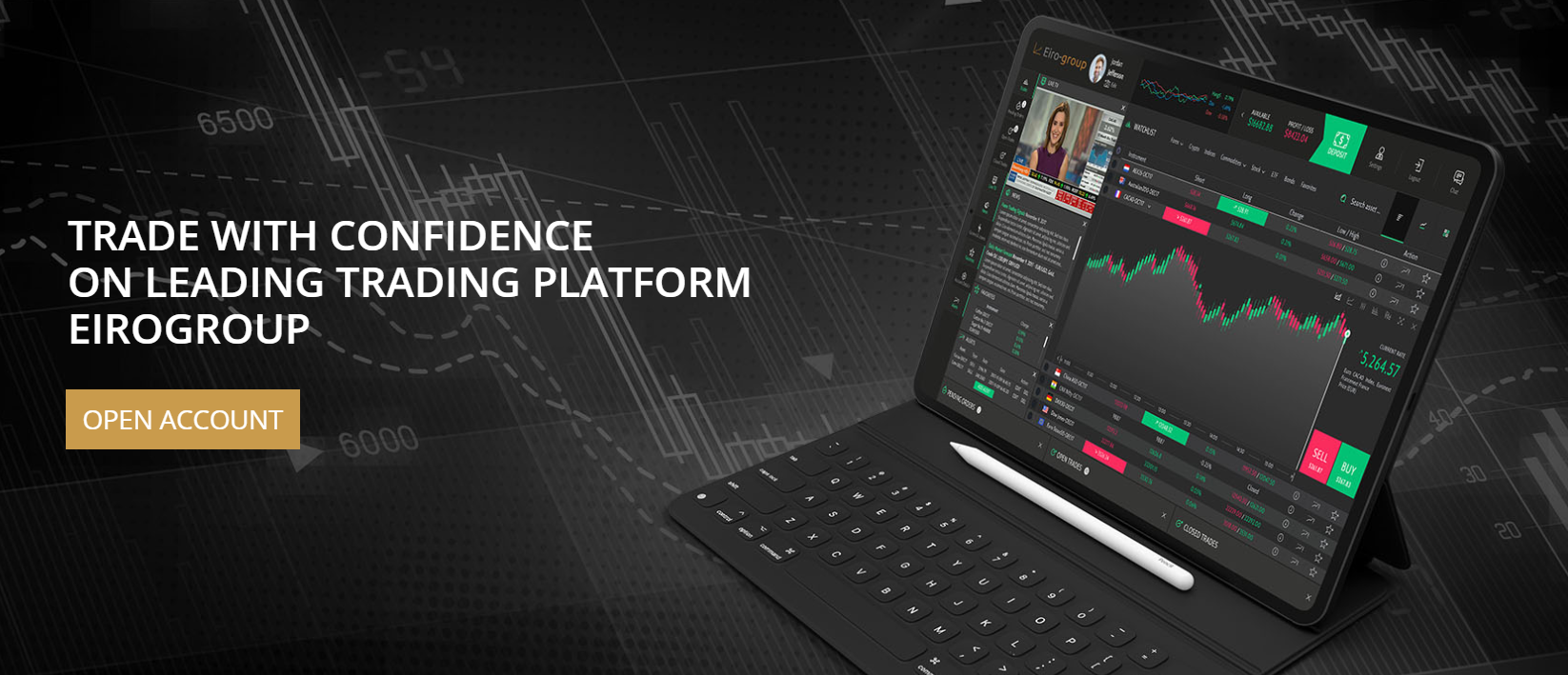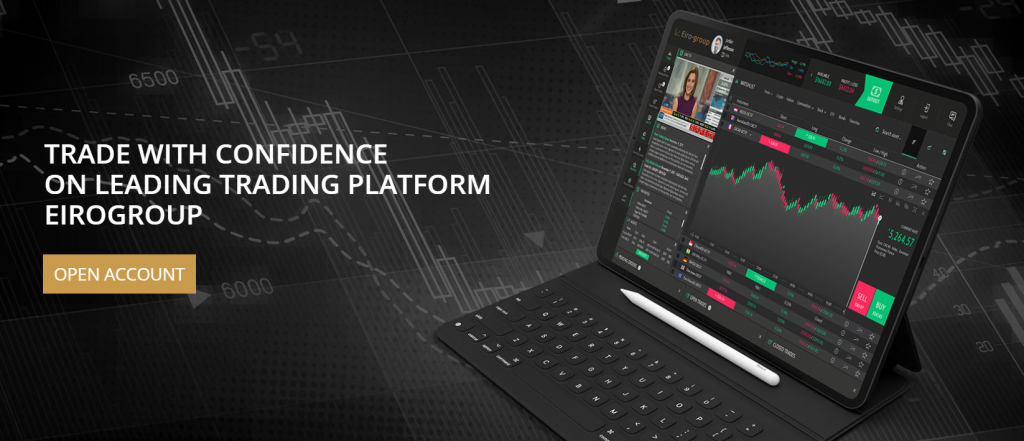 Traders have access to the latest highlights thanks to live TV and market news, integrated into the platform. They can see the gainers & losers for the day and build favorite lists. On top of that, the platform allows deposits or withdrawals, as well as reviewing the account history or the profile.
Accessible via any browser, you can use this trading software from any device and any location since the markets are only one login away. In terms of flexibility, the solution is attractive, but we hope Eiro Group will do its best to launch mobile apps in the near future.
Eiro Group Accounts
With generous account types offerd, Eiro Group wants to reach traders of different kinds and provide them with the necessary toolbox for efficient trading. At the time of writing, clients can choose between 6 different accounts:
Basic
Silver
Gold
Platinum
Diamond
Millioner Club.
To incentivize new customers to join, Eiro Group offers a loyalty bonus starting at 10% (for basic account holders) and as high as 100% of deposit (for millioner club accounts). On top of that, trading alerts and signals, insurance level, daily market reviews, and support from an account manager are granted.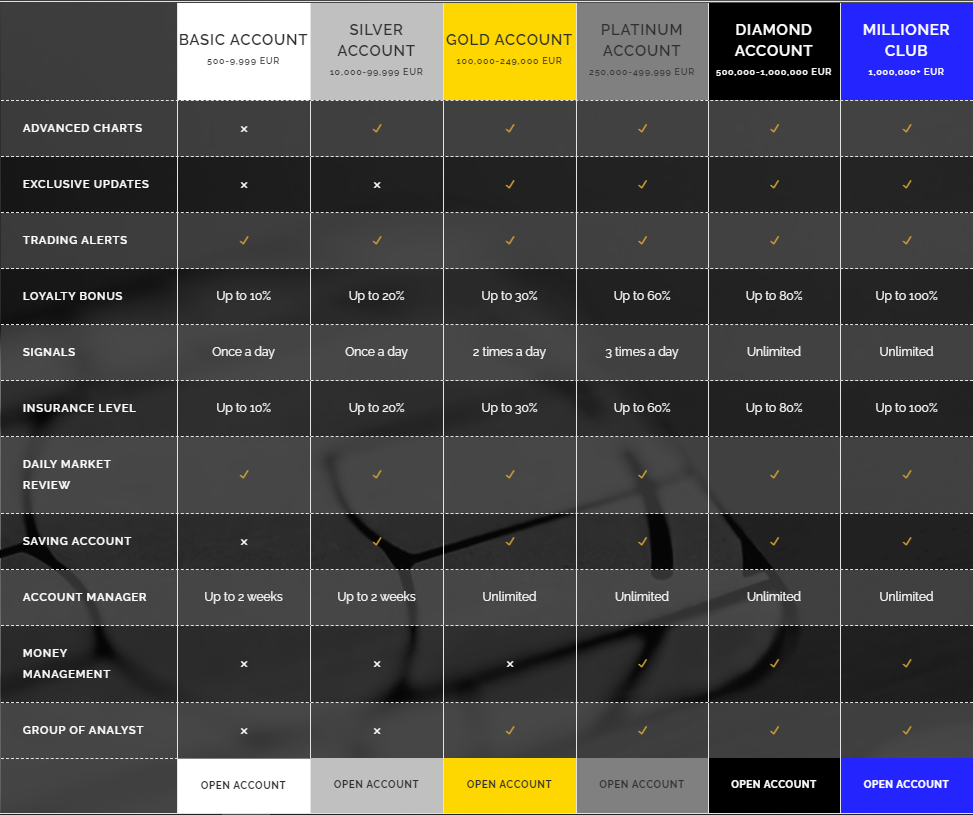 According to the Eiro Group account policy, all traders will need to provide several documents, including ID information, scanned copies or pictures of utility bills, scanned copies or pictures of debit/debit cards, or bank statement proof.
Special Features
The trading services provided by Eiro Group are diverse and include, among others, access to a savings account and money management. Aside from basic and silver accounts, the other traders will get access to a group of analysts, as well, and take advantage of the expertise of a team of trading experts. Exclusive updates and the loyalty bonus should be mentioned, but traders need to consider the terms & conditions associated with the promotion.
Summary
Eiro Group is a brand designed for an audience of international traders that want access to financial markets same as those living in developed countries. Its offer is very diverse and covers cryptocurrencies, among other leading asset classes, as well as a proprietary platform and other trading tools. For more information on the trading benefits available, feel free to check eiro-group.com.