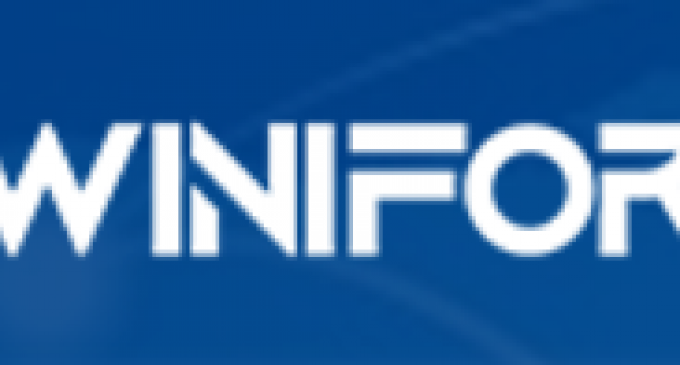 Company's Highlights
WINIFORD is a cryptocurrency trading platform launched in 2020, wanting to provide traders with secure access to the crypto markets. Using a user-friendly and responsive interface, 24/6 customer support, and the ultimate trading experience with market leaders, it was designed especially for traders all across the world, excluding jurisdictions like the US, Canada, or the EU.
It is important to consider that this is a platform solely focused on cryptocurrencies and there are no other asset classes supported at the time of writing. Taking this into account, does it mean that WINIFORD is among the best choices for traders wanting to trade crypto? Read our WINIFORD review until the end to find out more about what you can get with this brand.

Cryptocurrency Instruments
Aside from trading Bitcoin with WINIFORD, there are tens of different other crypto assets included on the platform. Asset diversity is one of the benefits you will find with this one, which should be good news, given that many cryptocurrencies had been more active than Bitcoin in 2020.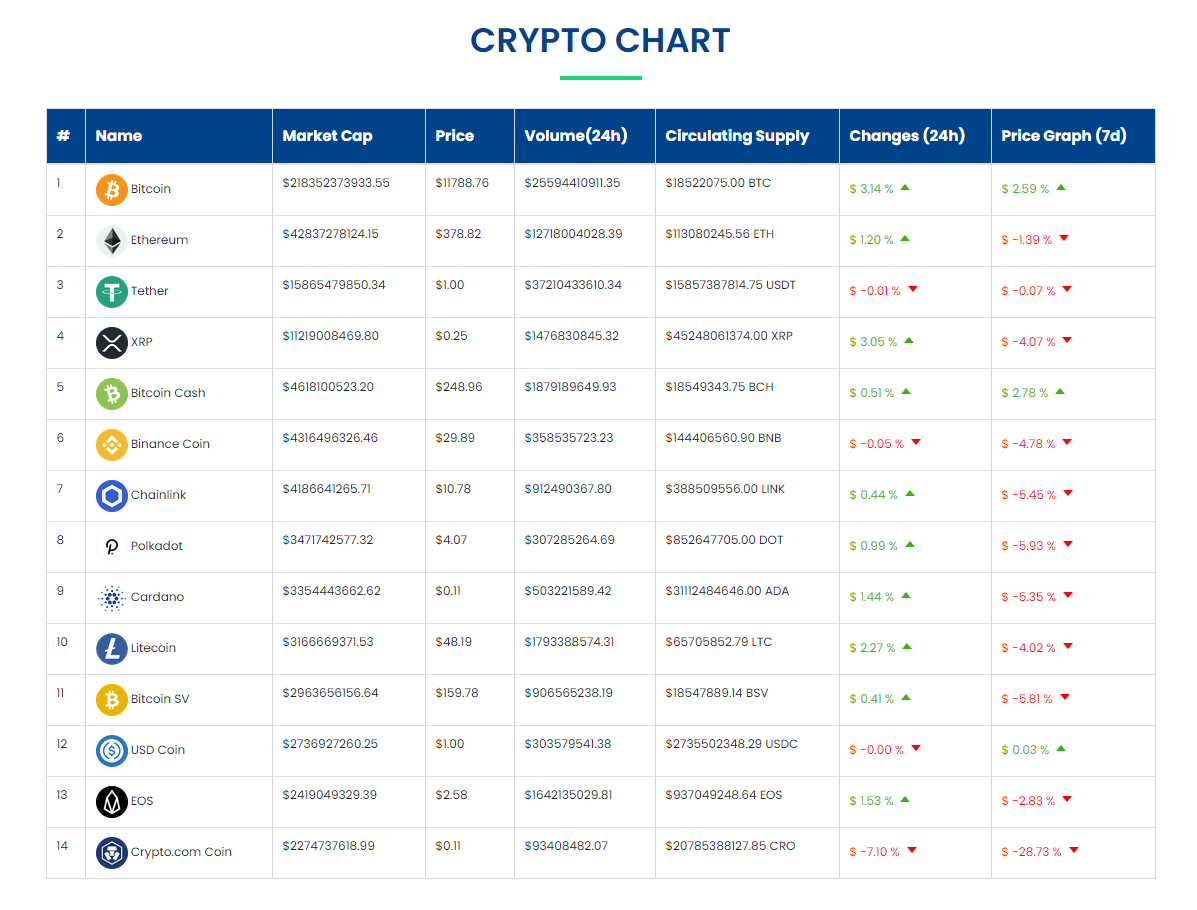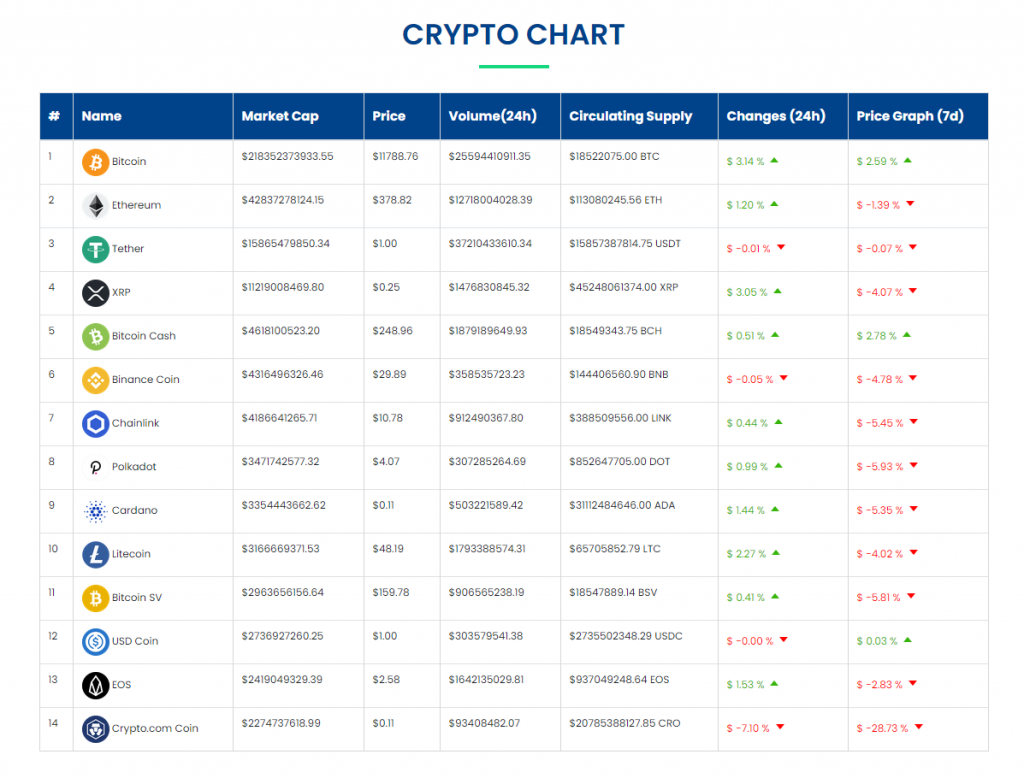 Trying taking advantage of them is possible with WINIFORD, considering altcoins like Ether, Litecoin, XRP, ZCash, Neo, Cardano, Tezos, or Tron, are currently available. You can trade all of them against Bitcoin, Ether, or USDT, benefiting from liquid market conditions and advantageous trading costs.
Keep in mind that small cryptocurrencies tend to be more volatile and because of that, you will be able to use the risk management tools integrated into the WINIFORD platform, as we will see in the next section.
WINIFORD Trading Platform
With so many different trading platforms in the market, WINIFORD had chosen to differentiate from the competition. To do that, it provides access to a browser-based trading platform, promising fast execution, a rich pack of trading tools and features, as well as a simple user interface, so even beginners won't have trouble using it.
Among the most important tools integrated with the WINIFORD platform, we must talk about TradingView charts, CNBC news section, and one-click trading. Cryptocurrency traders need to find the right balance between technical and fundamental analysis, while at the same time, be able to open or close trades fast, even when volatility spikes.
That's exactly what the WINIFORD platform aims to provide and based on our recent testing, there was no major issue found with the software. It can be accessed even via mobile since it does not require anything else than a browser. A mobile app would be a plus, but in the meantime, mobile trading is possible even with the web platform.
Account
Traders that can't afford to make large deposits for enhanced trading conditions are the main beneficiaries at WINIFORD. That happens because there is only a standard account available and all trading tools and features will be provided to all clients.
WINIFORD had simplified the process as much as it could, so now it should take a few minutes from registration to deposit, and starting to trade crypto. Still, that does not mean the verification process is no longer needed. All clients will need to provide identification documents, in line with the KYC requirements.
This is an important aspect to consider because no withdrawal request will be processed until the verification steps are not completed. Still, making a deposit and starting to trade can be done before that.
Special Features
Alongside the usual features found with any crypto trading platform, there are some that make WINIFORD stand out:
Proprietary platform – WINIFORD wants to provide a unique trading experience and to do so, relies on a platform built in-house.
Customer service – a client-oriented approach is ensured via a customer support service available 24/6, alongside a 24/7 trading schedule.
Trading tools – TradingView charts, CNBC news, price alerts, favorite list, or one-click trading are just some of the tools currently available that can help traders daily.
Cryptocurrency coverage – with tens of different cryptocurrency instruments currently available on the platform, WINIFORD makes sure that clients can take advantage of a broad range of tokens, including Ether, Litecoin, Stellar, Tron, XRP, Monero, Tezos, and others.


Pros and Cons
Support for tens of different cryptocurrencies.
24/6 customer support service.
Simple platform with numerous tools integrated.
No mobile app is currently available.
Residents in several restricted jurisdictions can't trade with WINIFORD.
Summary
Although a recently-launched crypto trading platform, WINIFORD comes with multiple benefits for people that choose to open an account. In case you are a trader looking for a provider solely focused on crypto, you should take a look at what WINIFORD has to offer.
Cryptocurrencies are projected to remain very active in the near term and WINIFORD wants to be the main gateway for traders fully aware of the growth potential associated with digital money.